Top AR/VR Advances in Education Industry for 2020
by Abin Thomas, on Sep 16, 2020 10:32:38 AM
AR/VR has had a slow yet significant impact on the education industry. It has made learning possible in environments that are practically impossible in the real world. According to a report by Goldman Sachs, the revenue for VR/AR educational software is expected to grow to $700 million by 2025.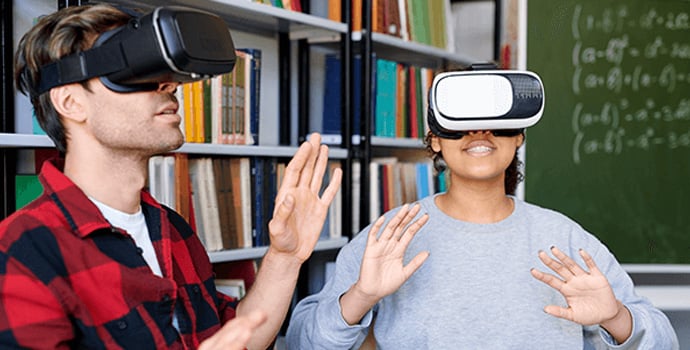 A number of schools around the world have already started experimenting and successfully employing AR and VR as a supplemental learning material in various academic subjects to keep up the learning curve through the pandemic.
This blog represents an array of educational use cases and examines all the advantages and potential barriers that AR and VR solutions will face in education.
Challenges of AR/VR in the education industry
AR and VR solutions offer numerous benefits to educators as well as students. It can alleviate challenges that the education system faces today, such as the low attention/motivation and knowledge retention, by offering a deeper level of understanding with the help of content visualization and engagement.
Another challenge of using augmented reality technology is that teachers may face some difficulties to use them in real-time. Virtual Reality, on the other hand, faces challenges related to high costs of hardware, accessibility, and lack of quality content are some of the constraints that have kept VR distant from the transformation in the education sector.
Using the mobile channel can help address the challenges of cost as well as complexity with inexpensive AR/VR mobile app development.
AR/VR Use Cases
With rising investments in AR/VR, the content quality has improved and the technology now is implemented by educational institutes all over the world. The technology channeled on mobile phones can prove to be a vital breakthrough for the learning industry in the year 2020 and beyond. It would allow students to step back from memorization for exams and enable them to study through effective participation and practice. It's vital for educational institutions to get in touch with experts who can train them on various aspects of AR and VR to help them learn the right tools that will positively impact the student learning experience.
Here are some of the use cases of AR and VR technology that can be made accessible through mobile apps:
Virtual Trips to History and Geography:
Immersive applications enable students to experience what one had experienced in the past and see a historic moment with the help of digital reality. VR headsets can be utilized for field trips to museums and countries while sitting in the classroom or even at home. This will offer students opportunities to experience historical events contributing to a deeper understanding of the subjects.


Medical training and learning:
Immersive technologies can be used in the curriculum of subjects like chemistry, biology, physics, etc. Applications can depict complex processes like the human brain and portray the abstract notions in digital reality. It empowers students to club the theoretical and pragmatic aspects of the subject. Immersive realities can boost students' interest in innovative solutions that are more captivating than monotonous lectures. It also enables you to use safe and effective medical simulations to train trainee paramedics medicine students, reducing risk, and boosting their self-esteem.


Classroom Training:
AR/VR apps can transform mediocre and boring sessions into interactive and appealing experiences. The technology lets students understand and memorize information better. For instance: the AR app can let students witness the virtual existence of dinosaurs in action and traverse varieties of animal and bird species in the real-world.


Student Recruitment:
Virtual tours through VR based mobile apps allow students to examine the school or university campus anywhere in the world. These virtual tours are less costly and help increase student's engagement, it then helps them make their decisions about the university they would like to enroll in.


Remote Learning:
VR apps can help students in distance learning through online courses and make the lessons more interactive and intuitive. This will help create a classroom learning experience and will also garner greater interest from the students at remote locations.


Doing homework and assignments:
AR apps can help students in doing their homework and scan elements of their books through apps. AR apps can also help send and share media files by teachers.


Explaining difficult concepts:
AR and VR apps can help students learn difficult concepts through their 3D depictions in the apps. They can also help students visualise theoretical concepts and grasp details faster.


Group learning:
AR and VR apps can help students as well as teachers in facilitating group learning and help them communicate verbally along with showing their body languages and mapped facial expressions through avatars. This can also help students to learn from and share their knowledge with students from diverse backgrounds.
AR/VR advancement in 2020
As 5G gets more accessible, the potential of faster data transfer will largely increase the probabilities of AR & VR 3D content sharing in the education industry. Intuitive applications, AI, software with cognitive abilities, and various other nuances are improving and fueling implementations of AR & VR in the education industry.
Amidst the COVID crisis, Universities worldwide took steps towards AR/VR to foster learning through the lockdown.
The University of Carolina lets students convene in a virtual visual space for group debates next to allocated virtual whiteboards rather than watching a lengthy recording.


Case Western Reserve University employs the HoloAnatomy app to let students learn the human body right from their homes.


The Ministry of Education of Argentina has designated a virtual reality segment on its educative portal to offer students an immersive experience of learning with a 360-degree setup.
Conclusion
Augmented and virtual reality is revolutionizing the teaching and learning process. The accessibility of AR/VR will grow as new head-mount screens and mobile applications come through to offer scalable immersive experiences in an optimized cost, particularly in a lockdown situation triggered by a pandemic. Immersive technology has the potential of being the most prominent breakthrough in the education industry.
To get the most out of VR and AR experience, get in touch with a virtual reality app development company for a comprehensive digital strategy for educational institutions.
Next Reading: