10 Stunning Use Cases of AR/VR for Event Management
by Abin Thomas, on Sep 28, 2020 3:02:48 PM
Technologies have played a massive and vital role in the event planning industry. From using facial recognition to marking audience attendance to giving them an immersive experience of the event, technology has helped both event planners and the company stakeholders in achieving an edge in their marketing efforts. AR/VR in that regard has proved to be the most promising technologies of all in the light of the COVID-19 pandemic crisis. Luckily, what could have led to an unfair shutdown of the event industry instead led to a whole new array of opportunities with the remote immersive potential of the AR/VR technology.
Goldman Sachs recently reported that live events and other forms of video streaming will become the biggest chunk of software event planning revenue from VR and AR by 2025.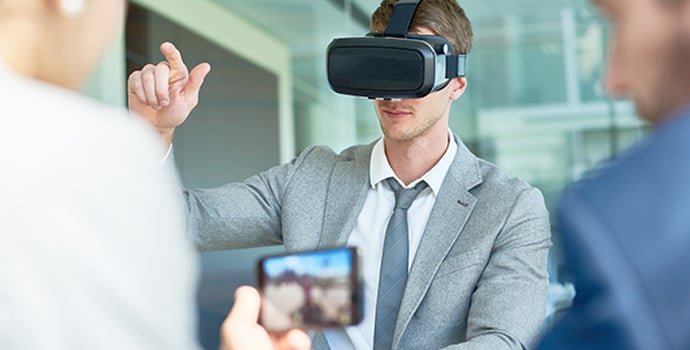 In this blog, we will take a look at some of the most regenerative and effective use cases of AR/VR technology for the event industry.
Improving Participant Engagement
AR/VR can fuel networking among attendees. It can help facilitate interactions with AR video through tokens and intuitive business cards. By loading tokens with necessary contact details, videos, stats, and photos, it can help event planners and guests to narrow down their to-do-list. The devices like Google Glasses for events have earned a lot of traction recently. It can help attendees access the professional details of attendees at the event. David Haas, director of digital solutions for FreemanXP, has been using Google Glass for his internal meetings in Google Hangout and says that wearing Google Glass lets him go on the show floor, along with the virtual presence of his entire team or clients in the Hangouts.


Gamification of Events
AR technology clubbed with a little gamification can turn a mundane conference into an engaging event full of learning experiences. This can be done by adding AR-based leaderboards, relevant gaming interfaces, and interaction opportunities. Planners can also engage attendees into digital treasure hunts, and set up amicable competition stations while improving event experience with AR.


Event Venue Navigation
For physical events, AR technology can help visitors navigate their way to the event venue. Just as in-store navigation with AR works, event venue navigation can be aided with AR for conferences and summits. It can help attendees to avoid getting lost in pavilions and labyrinthine panel sprawls by using event apps as well as conventional navigation services like Google Maps.


Improving Presentation and Pitches
AR-based event apps can help participants deliver presentations better with a clear elaboration of the scope of the project backed by statistical data and screening of concepts. If the project has attained some progress already, AR-based apps help in comprehensive presenting of the progress with in-depth explanations, as well as the elaboration of inner details of a mechanism or an infrastructure blueprint or a 3D prototype of a property. The same can be applied to a completely virtual event conducted with a VR based app.


Virtual Attendance
VR based devices can help attendees to interact with other participants remotely and attend training sessions virtually anytime by accessing a live account. Remote viewers can experience events just as they would do physically and leverage partnerships, co-branding, as well as sponsorship opportunities. Planners can also let attendees post content on their social feeds to influence a bigger audience base in real-time. Visitors can truly experience exciting events like walking in hotel grounds or trekking trails with the help of VR headsets or virtually attend a wine trade fair with detailed information on each wine in a virtual setting.


Product Demonstrations at Events
Businessmen can showcase a broad range of products, their working and potential benefits for the users in a VR based app, and reduce costs and resources associated with renting spaces for product displays. Planners can also provide a virtual demo of the product to the audiences in which they can use the product themselves to analyze the product working and make a buying decision. This can be applied to both virtual as well as physical events. Taiwanese consumer electronics company HTC Corp. recently conducted a VR tech conference, using a collaborative training and education application that works with a variety of VR devices. The event saw participation from over 2,000 registrants from over 55 countries.


Training Event Staff
VR apps can help organizers with training systems that can help train their staff with 3D representation of a factory floor plan or an event space. They can also help the staff to make impactful decisions in the absence of authority in the virtual environment which can be later reset or updated when employed in real-time. Mercedes Benz employs AR training by creating 3D videos of models to train their workers at each level.


Experiential Brand Campaigns at Events
VR/AR-based apps can help stakeholders create memorable experiences and establish a closer bond between brands and customers at various events. VR technology can be leveraged to create immersive campaigns and empower customers to have truly enriching experiences. In the sports industry, immersive tech is already prevalent with giants like Coca-Cola advertising with immersive tech at major global events.


Speed up the RFP Process
Virtual reality also makes it easier for venue managers to reach out to event planners as well as vendors and show them the insides of their space, employing Social Tables and 3D photo-realistic diagramming tools. Cvent's Supplier Network lets you navigate an interactive floor plan for event venues. Another firm, Virtual Fam Trip owns a database of event spaces worldwide which planners can explore without stepping out. Some under-construction facilities may also have tours for visualizing their final event space.


Driving Traffic at Events
AR apps can help drive traffic for your event. For instance, Google's AR Core app facilitates guests interaction in trade shows and brand hosted conferences in unique ways with the help of elements such as educative pop-ups, customizable games, etc. Advertising these highlights prior to the event can boost ticket sales.
Conclusion
The event industry has undergone significant and partially detrimental changes recently. Hence, event planning might seem quite intimidating given the social distancing norms and general human skepticism against crowd gathering. Thanks to immersive technology, event planners can still connect with their attendees on a real, authentic level through digital and hybrid events to avoid social contact.
The apps backed by the VR and AR technology can be used before, during, and after any event to aid the event planning process and amaze the guests and make them feel secure on the event day. If you're just setting your foot in the event industry or are already established and need help implementing event technology, make sure you get in touch with a virtual reality app development company.
Next Reading: