10X productivity with Intelligent Automation led last mile F&A integration
by Navin Gupta, on Nov 19, 2021 7:01:32 PM
Estimated reading time: 2 mins
Today, most small and midcap businesses are highly automated. Their business operations and F&A sections, are not only automated by also adept at fast processing, which make them easy fits and important constituents in multiple value chains. The primary ask in a value chain is being able to manufacture and process in a just in time manner, having cash flows enough to procure the components and the spares for fulfilling production, and paying their staff. They have to keep their supplier vendors, customers, and employees equally happy in order to sustain their presence in the value chain. However, whenever paper-form processes and swivel chair operations linger on despite the process automation, whether in order processing or in F&A operations, it builds in process latency and inefficiency. The solution to this dilemma is, naturally, Intelligent Automation.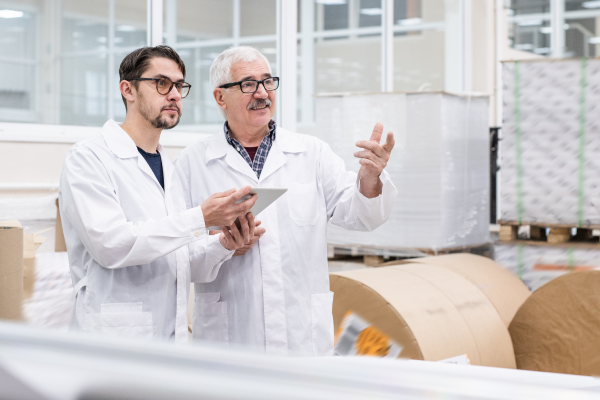 What is Intelligent Automation?
Intelligent Automation is the holistic combination of Robotic Process Automation or RPA, Intelligent Document Processing or IDP, and Analytics that is built on top of and across existing automation systems. It is leveraged to roll-out end-to-end automation and seamless integration in scenarios, where paper is still in use and is replete with a high order of swivel chair operations or copying the same data between different standalone systems.

However, Intelligent Automation goes much beyond simple end-to-end integration. A layered use of Artificial Intelligence (AI) / Machine Learning (ML) at important junctures in a process flow turns the Intelligent Automation into a self-learning animal. Preliminarily defined business logic and exception handling executed during mammoth data processing allows the system to become super intelligent over time.
Intelligent Automation led last mile F&A Integration
When businesses receive purchase orders (POs) or service orders (SOs) in paper-form and the payment processing is in the form of paper-invoice and paper cheques, the process execution requires data entry at various stages, with to-do items falling out of the cracks, at times.

RPA bots of the Intelligent Automation ensemble allow to systematically collect the POs and SOs from all incoming channels to a common folder. IDP allows to ingest the information from the unstructured data in these document images and PDFs and integrate it with the ERPs and other core automation systems to process the order further in the Digital Finance & Accounts (F&A) setup.

The same mechanism is used for processing invoices, contract agreements, or any other document received in the paper-form. This Intelligent Automation led last mile integration overcomes the associated swivel chair operations and manual data entry, eliminates latent inefficiencies, and allows to institutionalize complete automation.

Related functions, including business operations and procurement, which also have paper-processing are also the right candidates for implementing Intelligent Automation for the last mile process automation. This integrated and holistic approach allows the businesses to improve processing speeds in the F&A function and at all levels of business operations.
Benefits of Intelligent Automation led last mile F&A Integration
Improves turnaround time by manifolds.
Increases enterprise productivity by 10X.
Eliminates process inefficiencies and lacunae.
Improves internal and external customer satisfaction.
Cloud leverage allows remote operations and monitoring.
CoE led approach allows enterprise level roll-out.
In summary
Manual operations and paper-based processes breed process latency despite enterprise automation. ERP systems and core automation systems leave scope for improvement when process inputs are in the form of paper-form and PDF based unstructured data. The Intelligent Automation ensemble built on top of enterprise automation systems allow businesses to eliminate process inefficiencies and improve 10X productivity.
Next reading