4 Key Mobile UX Patterns To Avoid In 2022
by Smitesh Singh, on Mar 24, 2022 3:00:17 PM
UX is the protagonist of an app. Even before its utility, a good UX does the groundwork of retaining a user when he first arrives. The more user-friendly an application is, the more users get engrossed with the application. This is the reason why app designers mix and match multiple design types and see what best works for the users before deploying a design.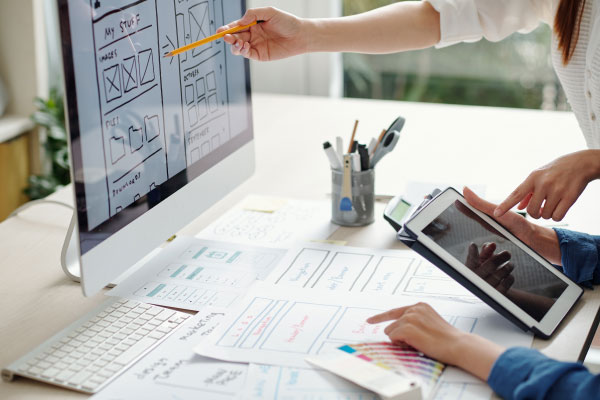 However, in the process, it is easy for designers to neglect or overlook one aspect against another they deem more important. It is one or two of these neglects that can make or break the entire app experience for users. Moreover, users in the year 2022 are more attuned to mobile phone experiences on both websites as well as mobile apps. Therefore, in this blog, we shall take a look at a few of the common mistakes that app designers could make:
Overdoing and hiding the navigation

A very clever and easier practice for designers is to add too much content on a small screen such that the navigation becomes hard to figure out. The navigation usually is discovered as a shadow behind a functionality, a design, or a button. Examples of hidden navigation include Tabs and Tabs with a plus sign and more options, a progressive collapsing drop-down, scrollable navigation, etc. Once pressed or hovered, users scroll through categories. However, visible menus are becoming a trend these days. Hence, designers are devoted to making navigations more visible.
Icons Accumulation On Screen

The mobile screen is small. Therefore very small pieces of content cannot be fit in, one popular practice amongst designers is to add content indirectly in the form of icons. This creates a pile of icons at times hard to distinguish and identify. This also hides the actual functionality that an icon is supposed to be fulfilling. Pictograms however take lesser space than icons. People can also engage with them as they look more familiar. With certain popular pictograms, users can be compelled to spend higher time on the app and explore it more.
Gestures

The multi-touch trend thrilled users with the features like pinch to zoom, and swipe. With these trends, gestures became increasingly popular with a range of apps being created for exploring gesture controls. Gestures invited designers to save screens, such as with the swipe feature the delete or remove button was wiped out. However, gestures are hidden, people need a tutorial of the app to figure them out or use it excessively to find out hidden functionalities. However, the problem with gestures is that something that is hidden will less likely appeal to customers as they won't figure it out instantly in the app UI.
Tutoring the app usage

Most apps have a tutorial of the app as users first open it. Although for highly functional apps, it is useful having a tutorial at hand for the basic apps, a tutorial can be a nuisance for tech-savvy users who are already familiar with the app UI. This also adds an additional burden for designers, without fulfilling any real need. Especially for the apps that have too much going on, on the main screen already, tutorials are a big no. Progressive onboarding is the alternative for this. It can help interact and engage with users. For example, apps like Zomato do not explain to users how to order food. The alternative is asking users their preferences in the form of questions, locating their demographic, and showing options for food nearby.
Conclusion
In the world of UX, one arrangement may work well in one application and may not in another. It is all a matter of trying and figuring out. The listed recommendations that we made are on the basis of our personal experiences with UX designs that helped us learn and unlearn things about what works in UX. It is important to keep trying and figuring out the best practices to follow. Therefore, no one can really forecast how your design will turn out. However, it is a good practice to have someone experienced do the task for you. To begin your journey with mobile UX, get in touch with a UX design consultant.