A Fleet Tracking App: Latest features and Trends
by Smitesh Singh, on Mar 24, 2022 3:03:38 PM
In recent years, fleet management software underwent significant transformations due to technological advancement and the impact of the pandemic. It is a method of vehicle monitoring with the help of telecommunications and informatics. It also falls under the IoT since it uses sensors to collect data about a vehicle and its driving behavior. Smartphones are the most reliable form of telematics devices because most of them have precise GPS and good connectivity with needed sensors. They can also be used in combination with other devices such as hardwired devices for fleet monitoring. Hence, specialized monitoring and tracking apps are in great demand today.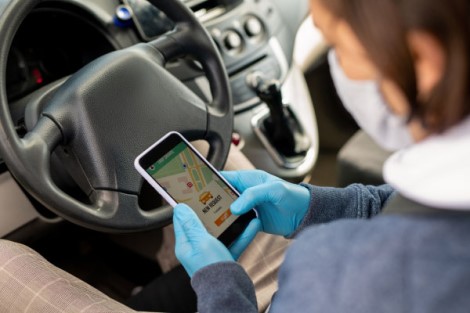 How does it work?
A fleet tracking app or software will work on the basis of data that is gathered through sensors in mobile or other installed devices. The sensors consistently collect data and send it to the cloud for later processing. This data might include driver's behavior, fuel consumption, idling time, car position, driving speed, tire pressure. So, what are some basic features and trends of fleet tracking apps that will help app users channel this data and deploy it for best results?
Implementation of in-cab videos
Video telematics has been the hottest technology in fleet management in 2021 and is staying in 2022 as well, according to research. These solutions are empowered by the AI technology that facilitates driver training, data collection, unbiased witnessing. The implementation of in-cab videos provides an unbiased view of the events and 76% of the respondents in the report stated that in-cab video monitoring helped reduce false accusations. Additionally, such video solutions can train drivers to drive more accurately and safely and they can collect the data about the routing, driving behavior, and in-cab environment to later use these findings in workflow optimization.
Reduction of costs
A fleet management app can help stakeholders keep a tab on the state of things, with a visual dashboard and analytics tools to track elements that lead to increased costs. These include factors like the idle state of vehicles, timings for maintenance needs, or inaccurate behavior of drivers. An app can help owners better manage their fleets and reduce spending. An app can also analyze data and inform stakeholders what vehicles need to be rotated and where preventive maintenance should be applied. In this way, they are able to prolong the vehicles' lifetime and support their business.
Remote management and training of drivers
Just like education embraced distance learning, fleet businesses also switched to remote meetings and training - and it turned out to be a great decision. With remote training and management, drivers are now more willing to participate in meetings as they can attend them from any place and at a convenient time. Also, their training has become much more efficient since every driver receives a personal one-on-one experience thanks to remote learning. This, in turn, has a long-lasting effect on the status of the fleet and the quality of services since drivers are becoming more responsible and knowledgeable.
Implementation of IoT and AI
Fleet owners have to do their best to remain competitive, maintain a high quality of service, and make sure the transportation conditions are suitable for the transported goods. In this way, artificial intelligence and the Internet of Things are their best choice as these technologies can provide 24/7 and real-time fleet tracking, notify drivers or fleet owners about any issues, and provide reports on the current status of the fleet.
Summing up
Using a fleet tracking app is probably the only way a business can keep afloat in current conditions. If a fleet owner is not able to monitor the state of their business and the upcoming opportunities, it would be hard to maintain a healthy workflow and ensure the safety of drivers and clients. Hence, we highly recommend implementing a smart fleet tracking app that will help both you and your drivers take your business to the next level by making data-driven decisions. If you are a fleet owner, now is the best time to think about optimizing your fleet management system and possibly getting an app developed to keep up with the upcoming trends next year. Get in touch with a mobile app development company.