8 Benefits of Document Management Systems for paper-intensive businesses
by Navin Gupta, on Aug 18, 2021 9:24:10 PM
Estimated reading time: 3 mins
Many business enterprises in the insurance, healthcare, and legal, which are paper-intensive have to process papers day in and day out. The workflow follows a certain procedure, which generates more paperwork at each step. Using simple document processing and productivity tools, such as MS Office, and physical filing systems, which are insecure, are less competent at managing a manual and an extensively paper-driven work culture in a dynamic market. Document Management Systems are very helpful in such scenarios.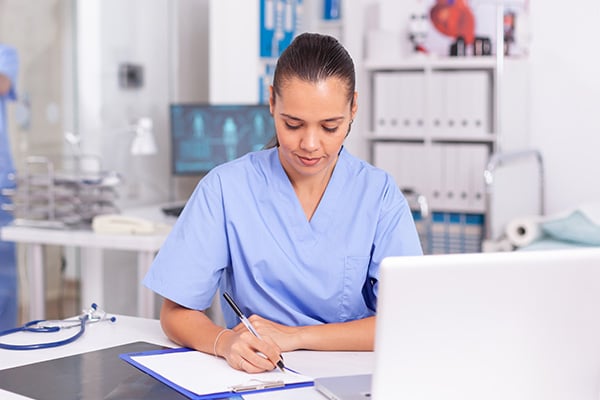 What are the common business challenges in a paper-intensive business environment?
Mammoth, archaic records and paper storage systems pose many challenges to the smooth functioning of day-to-day work:
Manual storage: Most physical data repositories are in the control of a select few and customer front-ending executives and juniors don't have direct access to the repositories. They have to route access requests through their senior reporting to officials.
Latency in customer service: Customer response has to be dynamic. In absence of a direct access to enterprise information, a latency creeps in the handling customer queries that could result in loss of customers to competition.
Time consuming: Searching paper-based physical records is time consuming. Landing up with the required information takes anytime between a few hours to a number of days. It is detrimental to a dynamic business environment and hampers productivity and efficiency.
Loss of records: Physical storage of data in manual files at times results in loss or misplacement of records. Manual handling of the records many times also results in wear-and-tear. Rodents and fire also pose a perpetual threat to manual storage of files and records.
Security breach: When records are taken out of the manual storage repository, they can cross many hands resulting unsolicited access and security breach. Tampering of manual records is also a predominant risk.
What is Document Management System?
Document Management Systems store the digitalized records and the extracted information safely and securely in a centralized, cloud-based digital repository. These systems alleviate all the challenges associated with physical storage of documents and records. With role-based access and multi-factor authentication, Document Management Systems eliminate unauthorized access and security breach. Metadata and executive summary provision allows seamless search and ready availability of the required information at the right time, anytime anywhere. Document Management Systems are usually adept at storing structured data. It is a subset of Enterprise Content Management Solution, which not only stores and processes structured data but also unstructured data, such as videos, website content, email, etc., as well as routes the data through workflows for in-built approval management.
What are the benefits of Document Management System?
Document Management Systems offer immense benefits. These include:
Metadata and summaries: These are powerful features that allow quick search of the documents and assist in eDiscovery and efficient customer service.
Centralized operations: These systems ensure centralized records management
Collaboration: Document Management Systems allow teams to collaborate across geographies, handle queries better, and with faster turnaround time.
Rapid format conversion: The feature allows rapid conversion from PDF to MS Word or MS Excel and vice versa.
Document versioning: The systems support versioning throughout the document lifecycle. Different versions can be stored online to quickly revert to an earlier version as and when required.
Integration: The systems can be easily integrated with enterprise productivity systems, including Microsoft Office.
Security: The systems ensure role-based, restricted access, multi-factor authentication, and digital sign-in thereby ensuring safety and security.
Audit trails: The Document Management System retain audit trails through the document development lifecycle, right from document creation, versioning, to the end of life cycle.
In summary
Paper-intensive work environments require efficient Document Management Systems to support a dynamic work culture. They offer much more than simple productivity tools. They allow to tame and manage an ever-growing repository of records. They enable businesses to eliminate the challenges associated with manual storage of paper files and folders as well as support a collaborative, fast paced business environment.
Next reading