Future of Contactless Payments
by Abin Thomas, on Sep 1, 2020 7:46:06 PM
With the coronavirus crisis, germaphobia has caused unprecedented public concerns about viral transmission via cash or other physical means to get chores done. People want to avoid any physical contact as much as possible turning to all-digital methods for things that earlier involved human physical interaction. One prominent area that is expected to see rapid digitization in the coming years is contactless payments.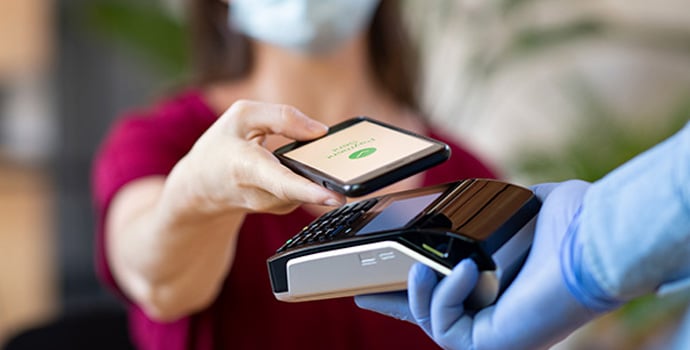 Moreover, with digital technologies evolving rapidly, the demand for contactless digital payment methods is expected to soar tremendously in the coming years. According to Juniper Research, contactless payments are expected to triple by 2024 reaching $6 trillion worldwide from $2 trillion this year. This can be directly attributed to an increase in OEM mobile wallet and contactless cards for transactions.
The real differentiators that can keep your business floating through the tough times will be the ability to provide commodities and services at customer's fingertips with seamless and contactless digital payments.
How do contactless mobile payments work?
The payment systems in mobile can store card details, credit, or debit, enabling customers to pay securely in-store or online. They can simply wave or tap their phones around the specific radio frequency reader. Retailers and stores that have their own apps can get an interface for one-tap secure payment systems with the help of a skilled team of developers.
These systems employ short-ranged radio waves in order to interact with the supported hardware for payment processing. They are also very secure, and not very vulnerable to hacks. They can also harbor the details of the retailer's loyalty scheme besides just the payment information. This is somewhat similar to One tap check-out system of Amazon.
The one-tap payment system in mobile works on NFC or near field communication technology. This technology uses radio signals proved to be effective for a 20cms short-range distance from the device to send data for the payments in-store.
After a user downloads a dedicated payments app or the retail app with a one-tap payment system, they can link any number of cards. Many of these systems need a mandatory photo of the cards along with security questions answered to authenticate the payment, making the entire process extremely secure.
One-tap payment system stores and synchronizes loyalty cards as well as electronic coupons by the store. All the cards are linked and set up in a similar manner and can be used as per the user's discretion. The entire process for a user to add the card and utilize it for a merchant site transaction requires two steps: The card issuer such as Visa, American Express, Mastercard, etc. should agree upon the protocols to work with your payment system or with other prevalent payment systems like Apple Pay, Amazon Pay, Samsung Pay, etc.
The merchant should have the set up for an operable NFC reader known as the NFC terminal to process the transaction in a particular payment system.
Another ground-breaking invention is of small radio frequency identification implants in the hands of buyers that allows them to make payments just like credit or debit cards in any store that supports it. These chips are RFID chips that also work on near-field communication technology but RFID can effectively scan from many feet away to process all the transactions in seconds. The payment information can be monitored and managed through a mobile app that can also give users insights on the history of transactions.
A number of merchants that are new to the technology are reluctant to deploy it immediately as they are accustomed to their customers using conventional credit cards and have built a rapport with it. Although, the embracing of smart cards and payment apps amidst the pandemic, and convenient use of contactless technology unified with existing models of NFC terminal, is likely to expedite the adoption and expand the compatibility for mobile payment in upcoming years.
Payment Procedure
The contactless payments in-store are very convenient and easy to do. Users usually only have to unlock their phone, go to the payment app, and hover it at a distance of few centimeters from NFC terminal, enter the pin, or scan fingerprint on the payments app in their smartphones.
For online transactions, users can choose a preferred system for contactless payment from the options and checkout to make the final purchase. In any case, only stored and card which is the primary method of payment in the app will be charged as the customer swipes it around the magnetic reader. Customers' app is also automatically credited with reward points or cashback that is valid on certain purchases.
Benefits of Contactless Payments
Here are some benefits that are accelerating the adoption of digital payments in the industry.
Convenience
Various technologies ranging from touch-sensitive to waving and gesturing are empowering the world to experiment and innovate, consistently contributing to the convenience and ease of use. Contactless transactions are the brand new hygiene. All this has led to increased adoption of wireless technology employing radio frequency while making life extremely simple for the users.
Speed
Connected devices, swiping and entering numerous customer details, and cash payments contribute to latency and hinder the timely completion of tasks. Offline computing and smart cards in unison with synchronization capacities enable retailers to provide speedier transactions to their customers while keeping up the interoperability and compatibility factor.
Pay and Go
The payments sector is now slowly embracing the dynamics of consumer behavior. There are enough use cases that have been successfully implemented such as type or touch-based methods, contactless or gesture-based transactions. The contactless payments make it possible for people to securely conduct transactions via a smart chip that can conduct the transactions in offline mode and later synchronize it online. This fosters speedy distributed processing with the assistance of gesture-based input.
Conclusion
Today, technology leaders in the digital space are actively experimenting with contactless payments. Although, many implementations are still not interoperable and need additional resources like a 24x7 connected ecosystem, additional costs etc. This ultimately becomes a roadblock to many companies that are just starting out with these digital initiatives.
To be truly endured, the methods for contactless payment must provide accessibility and interoperability anywhere while solving multiple uses cases, convenience, and speed of transaction to offer smooth gesture interfaces like tap and wave for quick payments.
It is advised to work with an experienced enterprise app development company to facilitate digital-payments and hence a profitable business outlook in the upcoming years.
Next Reading: