How Gamification is Making a Difference in Modern Healthcare
by Rajesh Shashikant Renukdas, on May 6, 2021 5:17:03 PM
The role of emotional well-being and recreation isn't a novel idea in healthcare. However, technology has devised a brand new paradigm that demonstrates the effectiveness of inculcating an element of fun in helping ease-out, if not cure, symptoms of numerous diseases. According to research, the global healthcare market for gamification is forecasted to reach $13.5 billion by the year 2025. Clearly, healthcare gamification is gaining unprecedented momentum and healthcare enterprises are expected to actively implement the concept to reap its benefits.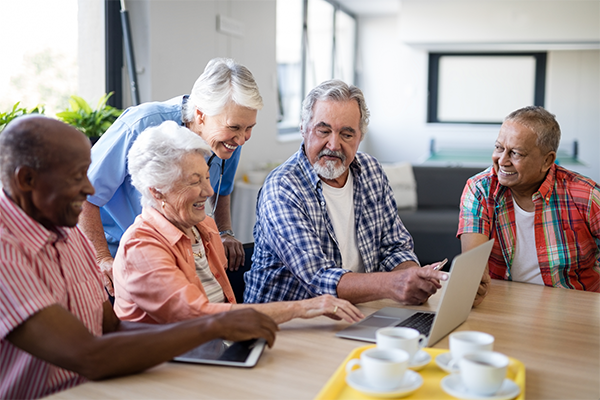 In this blog, we talk about how gamification combined with healthcare and telemedicine can boost the confidence of patients in healthcare and enable them to reduce their recovery period significantly. Let us begin by understanding what healthcare gamification is:
What is Healthcare Gamification?
Healthcare gamification is encouraging the use of video games, alongside fun and competitive elements through exclusively designed apps and websites during the treatment of diseases that have previously responded remarkably in doing so. Gamification is also typically employed in health and wellness apps linked to health, disease prevention, medicating precautions, education-driven simulations, and other telehealth programs.
Use Cases of Gamification in Healthcare
Exercises for Disabled Patients
Many people who get disabled due to spinal trauma or dysfunction and are using a wheelchair remain at risk of getting cardiovascular diseases. Exercising is tough for them, and most of the time they lack motivation. A mobile app that can connect with the wheelchair, and be employed as a controller in special games can help patients practice exercise as a part of their daily routine. For instance, an immersive virtual reality rehabilitation game can be developed to enable patients to play in a simulated environment. This can help them become more willing to do their sitting exercises as well as certain movements to help their disability as compared to conventional rehabilitation techniques. It may also help them exercise for a longer period of time.
Helping Manage Fatal Diseases
Missing medicine routines is a huge problem in patients. Some forget to take the drugs at times, others don't refill the prescription at all. In cases, doctors are dealing with life-threatening diseases, it gets an extra important issue to solve. A mobile game can be designed to reward patients every time they take their medications on time. This can bolster the treatment adherence rates, while also improving the self-efficacy of a patient, and confidence in defeating the disease.
Management of chronic diseases
Helping patients comprehend a chronic condition can help to simplify medication routines with the use of gamification. Patient compliance rates also can be significantly increased to obtain better outcomes. Diabetes patients, for instance, can make use of a gamified app for getting reward points, every time they exercise. This app can also help them connect with a community of diabetics and compete with them on various tasks. This will enable them to cherish a sense of togetherness and competition at the same time, and also encourage them to self-manage their condition to maintain a healthy life.
Healthcare apps for children
Kids and teenagers usually don't understand the critical reasons behind prolonged therapies and medications and think of their illnesses as short-term setbacks. They usually crib to swallow pills or take shots, and dread being in a hospital altogether. Gamification elements can help children forget they are undergoing medical treatment, and take their medicines as a part of a mobile game. Kids can win points by doing physical quests and treasure hunts completing missions. The rewards earned can be converted into virtual rewards, such as a toy of their favorite avatar, or physical gifts delivered to their homes.
Physical therapy and rehabilitation apps
After an injury, it becomes difficult as well as time-consuming to perform many physical activities independently. A telerehabilitation solution for patients can help a doctor control and suggest the movements of patients practicing physical therapy exercises. The app can also connect the patients with an animated instructor model that guides them on doing these exercises.
Gamification Techniques
Following are some basic and fundamental elements of gamification that can be incorporated into an app:
Setting up a progress bar to quantify success so far in an activity, invoking competitive instinct.
Integrating social media platforms to allow users to post their progress and results with their friends/other players. This creates a winning spirit in them each day.
Awarding points, medals, stars, achievement badges, or giving virtual currency through each level.
Tracking measures of blood glucose, insulin, food intake, and other related info and creating a weekly leaderboard.
Counting the frequency of fluctuations in blood glucose levels and suggesting precautions and exercises help.
Connecting healthcare devices such as pulse meters, heart rate monitors, temperature sensors, etc., and recording data to customize activities in a game.
Datamatics developed a Virtual Reality-Based Mobility Solution For Alzheimer's Patients by consulting physicians and specialists to understand the disease and design a rehabilitation process through gamification. The app assigned an engaging task to users with progressive dementia, such as occupational therapy, that helped motivate them in doing more on a daily basis. The app resulted in 100 percent engagement and improved motivation, social interaction, and learning in patients.
Conclusion
Gamification elements increase the engagement of patients and empower them to be more involved in their treatment course. These apps can also help people focus on staying away from the hospital in the first place, by enabling them to keep a tab on their own health.
Thus, healthcare providers must get their hands on high-end and effective technology solutions that can make the journey to health a matter of fun and games. To avail fruition with gamification, businesses need to know the settings it is deployed for and its outcomes in various scenarios. It is therefore essential to work with a reliable company with expertise in the gamification of health and fitness apps with prior experience in building healthcare technology products.
Next Reading: