How Neobanks are Sparking Disruption and Fostering CX in Fintech
by Abin Thomas, on Aug 25, 2020 5:49:21 PM
Neobanks or digital-only banks have not only permeated through the walls of traditional retail banking but have also succeeded in building trust and offering high levels of customer satisfaction. Although adopting digital channels and banking through apps has become a prominent and profitable phenomenon for stakeholders, neobanks that operate entirely on an internet-based model, are garnering greater interest due to their lower operational costs and higher convenience.
They have enabled bankers and finance professionals to not only build trust with customers but also serve them with the convenience of state-of-the-art online-only banking doing away with overheads like customer visits to physical banks, infrastructure costs, maintenance costs, etc.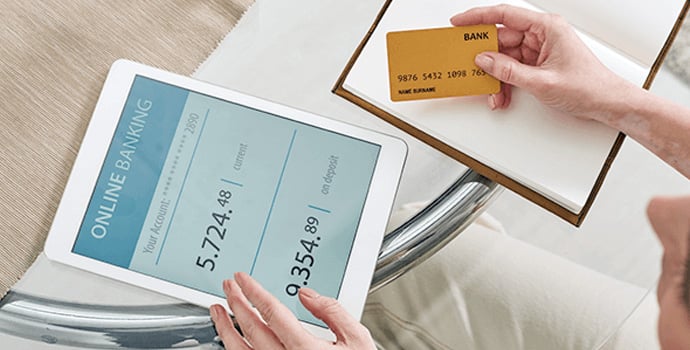 Hence, stakeholders need to stay updated and embrace the latest trends that surface in mobile banking to retain and grow their customer base. In this blog, we will take a look at some of the trends in neobanks and the perks that are completely changing the way consumers bank:
Expanding Marketplaces
Existing neobanks are constructing marketplaces to offer products that are customer-centric, to pave way for a reliable version of digital banking. This concept is likely to broaden across industries bringing in more customers from the small and medium business market. Hence, targeting medium and small businesses through personalized offerings like loan provisioning, wealth management, etc. through apps will become a key driver of sustainable growth for neobanks this year.
Effective customer targeting
Neobanks are data-driven and they have access to a bigger repository of customer data as compared to the traditional banks, as they can monitor customer behavior via the use of their banks' apps. They can have their data analytics engine linked with their front-end and back-end systems. This will place them in a better position than the traditional banks and enable them to serve a bigger range of specific customer needs within their target markets.
Management Tools
The neobank apps can be made full of functionalities to manage customers' money. Some fundamental features that neobanks have included:
Real-time alerts on savings as well as spending
Exhaustive insights on the expenditure as well as spending behavior
Categorizing money requirements for various uses
AI-driven products for money management
Agile & Cost-Effective
Neobanking drives its roots from advanced innovations as well as state-of-art technologies. Neobanking can quickly incorporate the dynamics of consumer banking. with mobile owning the supremacy of implementing new functionalities with an agile blueprint. The structure is inexpensive because it aids in minimizing costs and offering seamless operations alongside lowering costs to users.
Benefits of Neobanks
Improved Customer Experience
The primary benefit of Neobanks offer is enhanced customer experience. Their main motive is providing excellent customer support along with contemporary solutions suited well to the requirements of modern customers. Neobanks have also expedited accounts opening reducing the time to minutes and doing away with the overhead of tedious paperwork. The neobank app's interface is much easier to navigate for users. They also offer customers a way to facilitate cost-effective transactions.
An autonomous operational model
Autonomy is the basic fuel for a neobanks' successes. Their architecture and operational model enables the teams to generate products that best suitable for the business requirements, without excessive and error-prone human intervention and governing protocols. Even the conventional banks are beginning to embrace this model while more neobanks surface in the coming years.
Transparency
Neobanking apps have a transparent model with a detailed operational preview is given to the customers. The model of transparency brings in financial reports annually, highlighting the good as well as bad sides, along with offering a customized user interaction. Also, finance professionals spend only the amount that they can actually afford. It comes with no extra costs or heavy fines.
Easy-to-deploy APIs
API's are provided by neobanks for users to reap the benefits of digital capabilities via mediums like mobile and web. The architecture for open API is the easiest to deploy making it a mainstream phenomenon for Neobanks. This fosters seamless integration for the accounting as well as the payment banking infrastructure. APIs also link banks along with the third-party companies that co-operate to meet the regulatory requirements, demands of customers, to facilitate the sustenance of financial institutions.
Analytics and Insights
Neobanking apps can also provision dashboard solutions with detailed insights. The dashboard has a high-end as well as a smooth interface that provides valuable insights linked to all various transactions; receiving as well as sending payments. Neobanks offer deeper insights to help users manage their finances. Deep insights remain crucial for businesses to reduce expenditure along with boosting productivity as well as revenue.
Some Popular Neobank players
Neobanks are offering a mobile-first banking experience to its customers. Some of the key players of the industry include:
N26 - Germany
N26 provides a debit card with benefits like cashback on brands subscription along with exclusive discounts on travel, wellness as well as entertainment. N26 also has the facility to pay users two days prior with a direct deposit. Customers can open an account with N26 directly on their phones. There is no extra fee for maintaining a minimum balance, maintenance, etc. Other perks include a facility for personalized sub-account creation, quick transfer, infinite ATM withdrawals, and live alerts.
Banco Original - South America
Banco Original is a south American bank that lets users open a direct current account online. Other features include unlocking cards as well as passwords via the app, along with the points in credit card to trade purchases, managing expenses with an automated financial manager, selection of investments with minimized input values, instant card point redemption, monitoring overall investments through cellphones, etc are other services offered by the bank.
811 - India
811 is a digital bank account product by Kotak Mahindra Bank in India. The product was inaugurated in March 2017 and was named after the day of demonetization that is November 8th, 2016. It is also a zero maintenance bank, that also offers a virtual card that lets users have up to 6 percent interest annually for their savings account. The bank doubled its consumer base to 16 million users within two years of its inauguration.
Conclusion
The power of neobanking and the possibility of its ubiquitous existence is irrefutable. Although, despite a great start, neobanks are likely to face a number of challenges like mediocre UI/UX, difficulty in getting customers to switch from their trusted banks, not having the right strategy in place, and lack of expertise that can lay down a sturdy roadmap for growth. Hence, your endeavor to become a trusted and established banking entity on the internet needs to start with hiring a reliable app development company specializing in product engineering services. So, get in touch with the best development firm and get your online bank up and running in no time!
Next Reading: