How to Develop AR/VR Based Social Media App?
by Smitesh Singh, on Feb 14, 2022 12:33:58 PM
AR/VR or augmented reality and virtual reality have gained a significant level of popularity among users in the last couple of years. In social media, it has established a milestone with all its new and advanced features. People are fascinated by filters, face swaps, AR avatars, etc. These technologies and tools have inspired entrepreneurs and engineers to craft more and more social media apps based on AR/VR. In this blog, we will have a look at how entrepreneurs can leverage AR/VR in social media apps to gain a significant advantage over their competitors.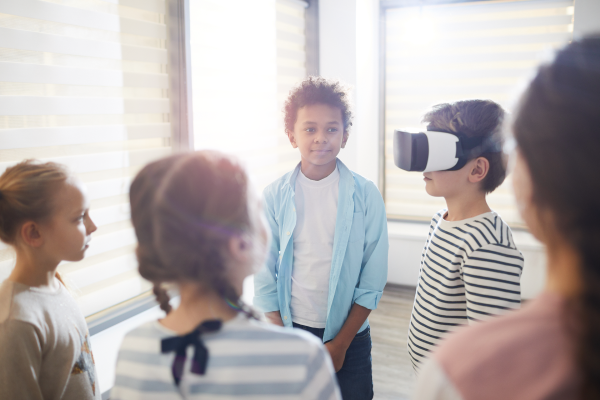 AR/VR in Social Media - A Recap
Snapchat is an outstanding example of a social media app based on AR, with a variety of augmented filters. Snapchat's success also led numerous entrepreneurs to use AR in the various digital marketplace as well as social apps. In 2016, an app called Pokémon Go rolled out and instantly became popular amongst the youth.
Since then, AR/VR-based social media apps have been leveling up their features and functionalities. Instagram also started using AR/VR in its features and filters, as a result of which its the number of users rose significantly. These filters can be employed in still or motion pictures, videos, live streams etc. Instagram also enables people to create customized filters or avatars and upload them for public use.
Let's discuss the benefits that AR/VR is offering for the enterprises:
Content delivery transformation
Ever since the inception of social media, 2D has been the prime format of the content exchange. However, since past few years, AR/VR has transformed the way that content delivery is done in the tech-savvy world. People have also adored the performance and the look and feel of 3D content, and so all of the social media apps are expected to adopt this method of content sharing. The content, be it advertisements, entertainment, or educational, will now be delivered with AR/VR-based filters and avatars. This has also given rise to a whole new level of competition among all the social media companies.
Social media VR shopping experience
Before AR/VR came int picture, users were able to see a product through multiple angles over social media platforms, but with augmented reality in social media, they are able to try the product virtually and make wiser buying decisions. They can also do away with the hassle of visiting a brand store physically. Users can now easily feel and try the products virtually in a world generated by AR/VR integrated in social media apps.
Live events through AR/VR
Live events have been a trend these days. People love them for the spontaneity of experiencing a remote ongoing event right from the comfort of their homes. With AR/VR, the live event viewing experience is being transformed completely; viewers can now simply get a feeling of being present at the live event's location. AR/VR tech is also increasingly being used by brands and enterprises for broadcasting live events to engage more audience, and more audience means more advertisement reach, and this means more and more conversions.
Reviews Sharing
Since the digital marketplace section was integrated with social media, an addition of a ratings and reviews section is seen. This gave users more information about a brand's products. Before this, people had to look up for the product reviews on Google or other search engines, but with the advent of AR/VR, reviews just come up whenever a user clicks on a product. Since people receive reviews as well as ratings automatically, companies can deliver improved products to create a strong image and credibility over the platform.
Enhanced Brand Awareness
With the help of AR/VR, enterprises can generate an immersive experience for the customers. This not just makes their brand popular but also improves their sales figures. For example, eyewear firms enable users to virtually try-on glasses with AR/VR experience to give users a deeper understanding and picture of the respective product.
Features to be Considered
Here are some essential features of an AR/VR app:
Stories: To enable users to share a video or photo that lasts 24 hours with the public.
Lenses : The lenses enable users to create videos as well as photos with the help of AR objects.
Realistic Filters: These enable users to include virtual effects in their pictures and videos.
Video calling with filters: These enable users to include advanced filters in a real-time video call setting.
Geo Filters: Geo filters enable users to include a virtual demographic tag in their content.
Memories: These enable users to pin their favorite content in their timeline or profile.
Explore feature: Allow users to explore the content of other users on the platform, save them, and share.
Conclusion
AR/VR is expected to grow exponentially in the future. Users seem excited and more than happy to employ these technologies to make their customized virtual posts and post it to their followers. In order to develop a social media app with AR/VR technology that attracts the youth of today, you will need a reliable development partner that understands the AR/VR market as well as the technicalities. To convert your social media ideas into a working app, get in touch with a VR/AR app development company.