Institutionalize Healthcare Mobile Apps for efficient Health Management and seamless Digital Experience
by Smitesh Singh, on Mar 27, 2023 3:56:43 PM
Estimated reading time: 3 mins
Key takeaways from the blog
Mobile apps augment Healthcare Services to manage emergencies with a calm mind.
The apps leverage Digital Experience through simple and intuitive user interfaces.
The apps enable multiple automation use cases for medical caregivers and patients.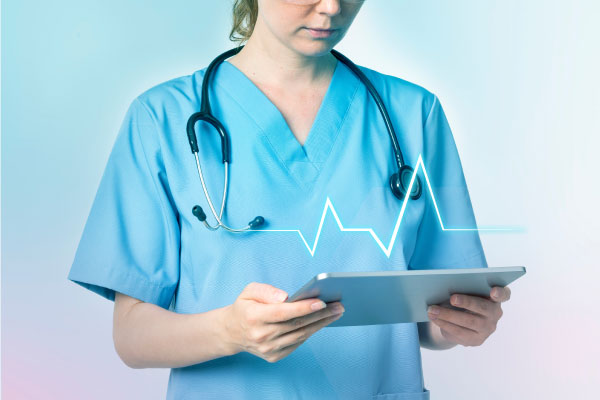 Healthcare Service providers have to be vigilant in a dynamic world while handling thousands of in-patients and out-patients. Medical emergencies are unforeseeable and the Healthcare Service providers have to be prepared for all scenarios. As emergency situations are highly volatile, they have to approach them with a calm and calculated mind. At such times, having the entire patient case history at a glance along with the parameter trends is paramount for saving precious lives. Hence simple and intuitive user interfaces that offer a seamless Digital Experience are crucial to Healthcare.
Why are Healthcare Mobile Apps and wearables important for Healthcare?
Healthcare Mobile Apps are important to the Healthcare Services environment where every moment is critical to life. The apps enable the medical fraternity to entirely focus on the human aspect of caregiving while automating the rudimentary tasks of recording the fundamental parameters and integrating them with a central database that is accessible to doctors and families.

When hundreds of the staff work in shifts to provide care to thousands of patients almost on a daily basis, relying on manual records hinders service efficiency. The Digital Experience enables Healthcare Service providers to bridge the gaps and focus completely on human life while maintaining their calm and mindfulness in a chaotic environment.

The Healthcare Mobile Apps and wearables are modular in nature. They automate fundamental procedures in a healthcare institution. In addition, the mobile apps and wearables in the kit of Healthcare Service providers or paramedics enable them to save lives in the most unpredictable scenarios.
For example: Recently a medical professional aboard a long-haul flight saved a co-passenger by steering the person to safety through multiple heart attacks across the low-air pressure zones till the flight landed and institutional medical help was available.
Benefits of Healthcare Mobile Apps
Patient engagement: Know your patient like an old friend even while administering care to thousands of patients. Engage with patients and their families like a friend instead of just medical service providers.
Integration with core systems: Integrate the data from wearables directly into the databases. Reduce data entry errors and update the data in the systems in real-time. Generate dashboards for a quick overview of the patient's health status.
Intuitive user design: Easily handle the apps on multiple devices and navigate across the different screens with a few clicks while on the move. Maintain your calm while steering across different wings and departments hosting patients with different degrees of health emergencies.
Highly accessible data: Get data at your fingertips while attending to different patients across different wings on the mobile phone in case of emergencies. Rely on data points instead of gut feel while administering care across the wings.
Track parameters: Monitor patient health and vital parameters trend line at the click of a button. Eliminate paperwork and steer clear of chaotic file maintenance and knowledge transfers across different shifts of paramedics.
End-to-End record management: Maintain patient records and histories right from onboarding through follow-ups and recovery. Nurture a familial bond with your in-patients and out-patients over the years.
Medication alerts: Set beacon alerts for medicine administration near the patient bed to alert paramedics in case of a delay in administering a particular medicine or intravenous injection.
Follow-up alerts: Set follow-up alerts for in-patients who get discharged to conduct the prescribed medical test and transmit the report to the Health Service provider.
Data management: Manage data of patients without having to engage separate real estate sections for paper-file storage and reduce space constraints.
Healthcare Mobile App Use cases
Hospital in a briefcase: Use wearables and apps in your medical kit to navigate successfully across emergency situations while on the road.
Hospital in an ambulance: Use monitoring devices to communicate data to doctors and administer emergency care before reaching institutional care.
Family connect with hospice:

Use apps that have role-based restricted data access to caregivers and family and stay in the know of the patient's health status.
Simply put
Healthcare mobile apps are critical to monitoring and managing patients' health. As Health Service providers approach emergencies as a team, the mobile apps enable them to coordinate the care administration across different wings, shifts, and time zones. Mobile apps and wearables are the modern-day silver bullets for most health emergency situations that enable Health Service providers to steer the patient across to safety.
Next reading