Latest Trends in Cryptocurrency Apps
by Abin Thomas, on Aug 3, 2020 6:20:05 PM
Cryptocurrency has taken the world by storm. The number of Blockchain wallet users has been growing since bitcoin creation in 2009 and has crossed 50 million in June 2020. As a result, a number of new startups, altcoins, exchanges, etc. that aim at offering better and improved omnichannel cryptocurrency experience are coming up.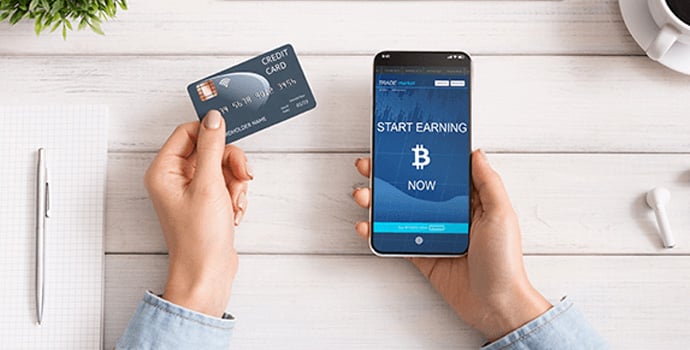 Mobile phones continue to play a significant role in cryptocurrency adoption worldwide. Some organizations are already realizing retail implementations of cryptocurrencies as a payment medium while others are leveraging them as investment assets. In this blog, we'll take a look at some of the latest trends across industries in cryptocurrency apps that will be shaping up the trajectory of growth for enterprises. So let's begin:
Finance and investments
Fintech
Approximately 77% of the financial services sector will implement blockchain and cryptocurrencies for some parts of their operation by 2020. In fintech, blockchain already finds applications in areas like digital ID, insurance, customer authentication, etc. Blockchain is also fueling a more efficient and secure global payment interface through remittances, microloans and more.
Moreover, with cryptocurrencies becoming an extra investment asset just like stock trading, bonds, and other securities, users need a functional interface that will let them keep a check on their cryptocurrency investments. Apps that can track multiple cryptocurrencies and send notifications when cryptocurrency prices reach a certain threshold will garner great demand. A news section to keep users updated with what's new in the industry is also a useful component to be included.
Coin Stats is a cryptocurrency price app that keeps a track of more than 3,000 currencies across 100 exchanges. Users can sync their wallets and the exchanges they want to make a complete portfolio of their trading. Some more features in the app are price alerts, portfolio sharing, a widget, and newsfeed. Investing.com is another standalone crypto news app. The app shows you prices for 1,300 altcoins and other currencies. There is also a module to keep a tab on profit and loss for cryptocurrencies.
Datamatics built a cryptocurrency wallet for a trading platform for a leading Binary Options Broker in Australia. The app provided information in real time, value of the Bitcoins invested. It also offered inbuilt monitoring of all incoming and outgoing transactions through a slack notification whenever a suspicious transaction was encountered.
Ewallets
Cryptocurrency wallets are slowly becoming a prominent way of conducting transactions and buying goods. CoinDCX was the first of cryptocurrency exchanges across India that successfully integrated bank account transfers, letting users trade cryptocurrencies with Indian ruppee instantly. Its recent campaign TryCrypto aims to bring the total number of crypto users in India to 50 million. Hence, with customers in such numbers holding cryptocurrencies, crypto payments will soon become a widespread phenomenon. Crypto wallet apps typically have integration for all major cryptocurrencies, the ability to send and receive Bitcoin payments, PIN protection, two-factor authentication, support for native languages, QR code support, TOR blocking etc. Cobo is a multi-cryptocurrency wallet app that supports more than 80 global currencies and comes with advanced tech in cryptocurrencies including Proof of Stake, master node pooling etc.
Retail
Digital Marketplace
Retail fashion & luxury industry is expanding rapidly to satisfy the dynamic needs of customers. Blockchain and cryptocurrency integration into websites and apps for brands will let them do away with crippling industry challenges by enhancing operations of supply chain, and minimizing the grey market and counterfeit product risk. Apps can be integrated with interfaces for sharing verifiable claims for authenticity, tracking the product provenance from source-to-sale, etc, quick payments, etc. Blockchain and cryptocurrency integration within platforms can also enable tokenization of non-fungible assets for cusomters. These assets can be bought, held, exchanged any time, from anywhere in the world. One of the top Swiss online retailer Digitec Galaxus last year revealed that it will now be accepting cryptocurrencies as payment means with support for all major cryptocurrencies. The shop sells more than 2.7 million types of products, ranging from wheat beer to gaming PCs.
Entertainment
Crypto gaming
With advanced technologies, experienced developers, and open source tools, blockchain gaming is unlocking immense value for gamers as well as creators. It is quite evident that an open and transformational entertainment economy will take over soon. Through blockchain, digital reward systems can enable players to collect collectibles in the form of digital cryptocurrencies while making the game fun and profitable. This in turn will also pave way for a friendly environment that promotes mass adoption of digital currencies. One of such games is known as Bitcoin Mining Simulator or BMS. It lets you mine bitcoins in a hassle-free manner. The simulator lets users to buy virtual rigs in an effort to mine bitcoins while profiting through their sales at market value. The game begins with simple machines till user gathers enough coins for their mega farm purchase. It even lets player to consistently enhance the farm to get better return on their investments.
Music
Cryptocurrencies and blockchain can offer an optimized revenue platform for artists. The current distribution model for videos and music audios offers little or no profits for artists due to high transactional costs and intermediary profit cuts. Blockchain and crypto-based apps for streaming videos and music will let artists monetize their music effectively. A platform VibraVid based on a cryptocurrency known as BeatzCoin lets artists upload files over the platform to be stored in a storage solution that is decentralized and is developed through BTFS or BitTorrent File System. Through files stored over the decentralized network, the probability of failiure of the central point is reduced and non-censorship is ensured. The platform also lets artists to keep maximum share of the profits from sales. It also provisions fan support for their favorite artists via micro-transactions, reward listeners etc. with cryptocurrencies, hence incentivizing the two groups simultaneously.
Sports and esports
With the development of a number of use cases of blockchain and cryptocurrencies across sports, brands and organizers are redefining how leagues, teams, athletes, and fans engage with each other. Here are some use cases of sports-based cryptocurrency apps:
Offering Incentives as well as rewards to foster fan interaction and generate improved multi-partner loyalty schemes
Offering programs that inspire fans to take actions like buying goods
Verifying the authenticity of products to minimize theft and counterfeit commodities
Designing as well as producing next-gen collectibles through digital infrastructure
Creating markets for collectibles trading while improving digital goods traceability, in-game commodities etc.
Incorporating facility for athletes to sponsor their training in return for projected income, loyalty programs, etc.
UX requirements of Cryptocurrency apps
A visualized dashboard to show user balance and recent spending right on the home screen.
Integration for real-time price updates, trading volume, and market dominance of cryptocurrencies where applicable especially in fintech
Currency converter, news, and support for popular altcoins and stable coins like Bitcoin, Ethereum, and others
Simple and clean UI with smooth and guided navigation
Conclusion
Despite a lot of heat revolving around its regulation, security, and inefficiency as traditional money, entrepreneurs hold optimistic views of cryptocurrency and perceive it as future money. Nevertheless, cryptocurrencies are definitely one of the top technologies that will trigger disruption across industries, paving the way for a speedy, cost-effective, and secure way of making transactions. To channel all the constructive aspects of the technology, enterprises need to ally up with high-end software product development services to get a clear vision and objective of building cryptocurrency-based apps for their brands. Get in touch today!
Next Reading: