Tips To Create Successful UI Design and Hence An App
by Smitesh Singh, on Aug 16, 2022 11:34:30 AM
Conceptual UI designs have been in trend for a while now. These designs help enchant and engage users with intuitive designs with sturdy concepts. A design concept is a basic idea behind a UI design that appeals to the onlooker and the viewers. It offers a description through images, sketches, and even text form. This helps designers create unique designs that can speak to the consumers and bring value to the plan. Creating conceptual designs need information on the audience and building a design that can trigger users to perform valuable actions. In this blog, we will take a look at what a conceptual design is and how to develop one.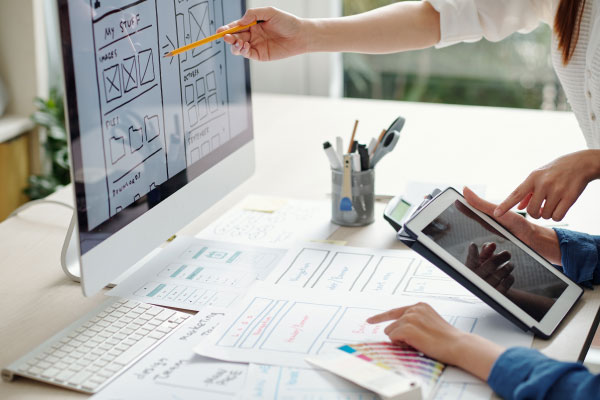 How to begin creation of a UI Design Concept?
After going through what a design concept is, let us now look at how we can create one. In the section ahead, we break down necessary steps to create a design concept.
Dig into the Project
The first step to crafting a design concept is understanding the project thoroughly and documenting its requirements with respect to design. Understand the end of the product and decide how your design can help accomplish the objectives of the product.
Give your ideas a voice

Since concepts are thoughts, one should list them out. This step is all about documenting everything that you think. Furthermore, write down related keywords that strike your mind. Creating words will help you design characteristics that will express your thoughts.
Be inspired by Brilliant Designs
Keep reading good-quality blogs and be updated with the latest trends in the market. Follow all areas of design regularly. Figure out the reasons behind the success of the previously built designs with respect to method, color, layout, combination, or typography.
Develop the Design Concept
You need to beautify the UI part after visualizing your ideas. At this step, you need to develop the design concept. Choose colors wisely as the right colors make clients remember a brand. The visual style of your product differentiates your designs from your competitors.
Best Practices - UI design
Embed undo functionality
Users are usually reckless when using a new app, it is, therefore, important to empower them to undo their actions in an app as soon as they realize they've done something wrong. Users this way can backtrack quickly and rectify their mistakes and proceed as they were before committing the mistake. Users can this way explore your product app or website without hesitation and undo the errors exploring unfamiliar and new avenues in your app. On contrast, if there is no undo option a user might get stuck in a process and would have to abort the entire workflow and restart the process again while being extremely careful of not committing the same mistake again. Typically, almost all modern GUIs have an 'Undo/Redo' functionalities expecially the text as well as graphics editors. The Undo option can be very helpful in acses where users happen to pick a functionality by mistake.
Build easy-to-traverse interfaces
Navigation in an app or UX must be clear & self-explainatory. Users should enjoy the exploration of interfaces in any software product. The most complex B2B software that are full of functinalities shouldn't overwhelm users to the point they become afraid to perform an action. A good user interafce prioritises the comfort of their users offering them a clear context of their position in an app and various routes to proceed further to complete their intended action.
Offer visual signs
Visual cues are reminders for your users. Enable your users to explore and browse your app easily by offering points of information on their paths in the product interface. The titles of a page as highlighted for selected options, and some other visual cues offer users a quick view of their location in an interface. For other rare and significant activities, responses must be a little more substantial. For instance, when entering password in the form for signing up, a good UI should inform users the requisites of a password such as total characeters, etc.
Make the system status visible
Users these days like to stay aware of what's going on when it comes to an app and want to receive feedback on the status of an ongoing process. Visibility of system status becomes critical when end users initiate actions that take up time for a machine to complete. Users despise blank screens while some process is going on in the background. They like some reassurance on the visible screen that a process is going on, such as a progress indicator which acts as a subtle aspect in a UI design making a significant impact over the comfort as well as a users' enjoyment.
Keep in mind the level of skill of users
Users of different skill levels must be able to interact with a product at various levels. Do not ignore tech savvy users over the novice and casual users. Try to craft designs that serve needs of a varied set of users, therefore it will not matter if a user is expert or newbie. Once users get acquianted with products, they shall look for shortcuts to expedite common actions. Experienced users should be offered fast paths and shortcuts to complete the necessary actions.
User experience & user interface designs have a vital role in the app development. To get started with your UI designs, it is recmmended that you talk to a UI/UX design services company and get started confidently on your good UX design journey.