How To Build An Exclusive Ambulance App For Emergency Medical Services
by Smitesh Singh, on Aug 16, 2022 11:03:05 AM
An ambulance is the first thing that comes to the mind of people in medical distress. Available in various shapes and sizes, modern ambulances include all sorts of first aid required, such as heart defibrillators, oxygen supply, external pacemaker, cardiac monitor, intravenous drips, etc.
Despite the availability of modern features, the on-time availability of ambulances continues to be a concern for patients under precarious conditions. Booking an ambulance over a call often turns out to be very challenging.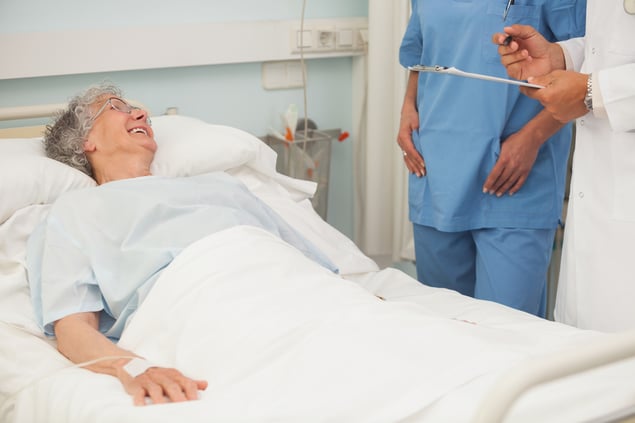 In such scenarios, and especially during an emergency, an ambulance booking app might save someone from death. It is the next big idea in mobile healthcare apps that are drawing attention. In this blog, we will discuss how you can develop an on-demand ambulance app for your hospital or clinic.
What is an Ambulance booking app?
An Ambulance Booking App is a digital solution for bridging existing gaps and building an efficient ambulance service. Medical emergency apps use modern communication technologies, thereby enabling smooth communication with doctors and rescue specialists. The built-in GPS of these modern apps allow patients to send their accurate location to the ambulance drivers, thereby making sure that emergency healthcare is provided to patients at the right place and at the right time.
Must-Have Basic Features of Your Ambulance App
Patient App Feature List
Profile creation: Upon successful installation of the app, customers must be able to signup using their email IDs or social media accounts. Once logged in, they should be asked to fill up personal details like Name, Address, Age, Contact Details, and Chronic Diseases for the record.
Emergency Contact Details: Ask users for alternate contact details like name & contact number as a backup, especially for emergency cases.
Emergency Bookings: In emergency situations, users should be able to book an ambulance without having to spend a lot of time on the app.
Schedule an ambulance: Users must be able to schedule an ambulance for pick-up at a later date or time for non-emergency cases.
Select Ambulance Type: Enable users to select from the list the kind of vehicle, the size, the equipment, and the doctor as per their requirement.
Smart Search: Allow users to search for, or use filters to get better results to customize their ambulance requirements.
Real-Time Ambulance Tracking: Helps users to track the movement and estimated time of arrival of the ambulance.
Share location: Users should also be able to share their live location with the driver to enable ambulances to reach the right spot at the right time.
Contact Driver or Ambulance Assistance Team: The app must allow users to contact the assigned driver or doctor or paramedic with just a click.
Rate Charts: The prices of various services offered by you should be easily visible & accessible by users. For example – A.C or non A.C, fully or semi-equipped with life supports, etc.
Alerts and Notifications: In-App push notifications like booking accepted, an ambulance arrived, and reminders for scheduled booking add to the comfort of users.
Online Support: As such services involve the matter of life or death, 24*7 online support should always be available to users for solutions in cases like unavailability of ambulances, unable to contact the driver, etc.
Driver App Feature List:
Login & Registration: The driver's app must have all the necessary personal details of drivers like name, address, contact number, driving license number, etc for the record.
Accept/Cancel Bookings: Once the driver receives a notification for a service request, he must have the option to accept or reject the request. All rejections should be supported by proper evidence.
Patient details: Upon acceptance of a booking, the driver must receive all necessary information like patient details, a pick-up spot, contact number, alternate contact number as well as an intimation for critical cases.
Start & End Trip: The app must allow the drivers to start and end the trip which will automatically update the availability status of the ambulance.
Route Guidance: AI- supported route guidance must help ambulance drivers to know the shortest way to the destination, disturbances on the way, or alternative routes to reach the spot in the least time.
Quick Communication: Enables drivers to quickly contact the patient or caretaker or concerned hospital with just a click in the app.
Web Admin Panel Feature List:
Dashboard: With a dashboard, you can at a glance, monitor and control all the operations of the ambulance booking app, which is being simultaneously used by various people.
Admin Team User Management: Assigning access to various modules of the app should be in accordance with the role/position of different groups of users in the admin team. Similarly for privileges like View, Create, Edit, Delete record.
Driver Management: Monitoring the activities of ambulance drivers helps to evaluate their performance, attendance, customer ratings, etc.
Ambulance Fleet Management: The admin app should be the controlling point for all its ambulances. From knowing all information like the type of vehicle, vehicle number, size, and equipment, to its availability, current trip status, and scheduled maintenance, everything should be easy to manage.
Booking Management: You should be able to assign a driver, ambulance, or doctor for each booking based on user requirements. Further, under this module, there should be a record of all booking details of past, current, and future trips including customer name, requirement, time taken to complete the request, delays or complaints, if any, customer ratings, etc.
Trip Management: Enables you to have a real-time update about all ongoing trips at all times. This will help you keep a check and also intervene, if required, to offer better & smoother service.
Notifications: Receive notification for say, a new service request, escalations, driver duty cancellation, etc. You should also be allowed to send custom alerts in cases like conducting a driver's meeting, allotment of a new service to a driver, etc.
Conclusion
Online ambulance booking service is a booming business right now. If you are looking for ways to steer clear of the competition and sky-rocket your profits, a medical app development services firm can build end-to-end customized solutions to improve your emergency medical transportation services and enhance your current business model.