Top Digital Transformation Trends for 2023
by Sachin Rane, on Oct 19, 2022 11:55:50 AM
Every digital business and enterprise has a unique modus operandi and vision and thankfully technology has a strategy for all of them. Technology is evolving each year making its intervention in businesses more useful, critical, and inevitable. We've curated top tech trends for 2023 that will become even more popular in the coming years and will hold an excellent case for profitable implementation for at least another decade. These trends are expected to digitally transform various industries and open up numerous opportunities for explosive growth and disruption.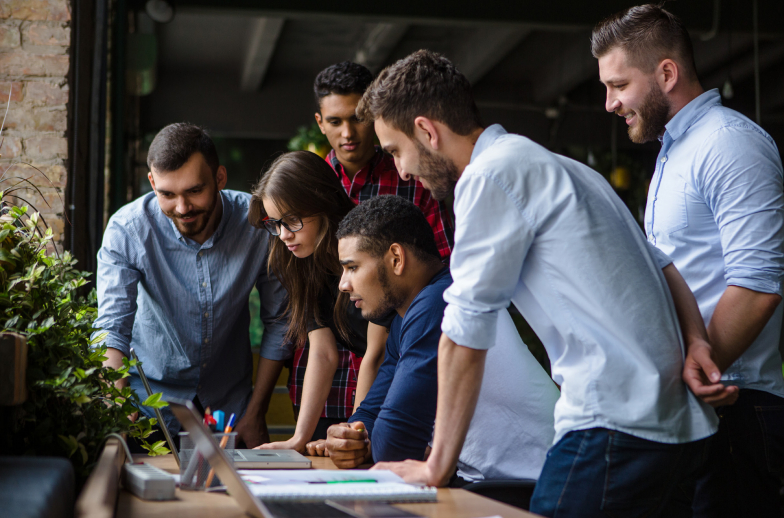 In this blog, we will deep-dive into these trends and look at how they transform businesses:
Artificial Intelligence (AI)
AI makes use of algorithms in unsupervised and supervised learning to generate digital images, videos, audio, text, or code. It learns from data and creates innovative solutions that solve existing problems in new and better ways. AI has the potential to create new forms of creative content in varied fields ranging from medicine to product creation. Datamatics helped one of the largest south-east Asian central banks to develop a user-friendly AI solution that used the latest Econometric Time-Series Forecast modeling to analyze 10 years of data for Banknotes and Coins requirements. The solution had the ability to handle shock events seamlessly and effectively and estimations were precise and accurate.
Enterprise Data Management (EDM)
EDM is an architecture that provides consistent data services capabilities across a choice of endpoints running across multi-cloud environments. It standardizes practices for data management for cloud, on-premise, and edge computing devices. It makes data accessible from anywhere regardless of where it lives. In the next few years, we expect to see lots of action in data management adoption and updates as it proves useful in a number of use cases. Datamatics implemented IBM DataStage for migrating data for one of the largest Middle East banks into a single system after defining multiple business rules for different kinds of data and ensuring that the source data matched with the destination data. The solution helped migrate 400,000 Accounts, apps and Data Warehouse data with zero error rates and high reliability.
Cloud-native platforms enable enterprises to build application architectures with resilience, elasticity, and agility. This helps enterprises thrive through digital change and intense competition in the market. It has also made it easy for developers to publish products and their updates faster without interfering with the normal functioning of the application. As a growing field, cloud-native helps eliminate the bottlenecks that implementations face. Cloud-native platforms help to improve the typical lift-and-shift approach to the cloud that fails to make use of the benefits that the cloud offers and adds complexity to maintenance. Datamatics helped a North American professional services giant to build an azure-based multi-tenant app. Datamatics architected, designed, and developed cloud-based microservices hosted on the Azure platform as containerized services and ensured that regular updates were instantly published and reviewed by the client.
DevOps has long established itself as a vital development methodology in the software industry. Its impeccable benefits like quicker software delivery, higher quality, and customer satisfaction are further pushing enterprises of all scales to actively embrace it. DevOps will continue to evolve and disrupt. Organizations must adopt DevOps to drive considerable IT transformation that directly bolsters their enterprise objectives as well as goals. Datamatics implemented a DevOps solution for a leading international organization. We implemented version control using the GIT repository for Planning Monitoring and Reporting (PMR) application. We deployed the branching strategy for all new features development and bug fixes. The completed branches were released frequently to coordinate and stabilize changes for releases.
A Digital Workplace solution enables enterprises to embrace a highly agile, secure, scalable, and fail-proof operating model to support remote work or work from home culture. This is one of the most popular trends ever since the pandemic and has been highly preferred by enterprises across industries.
For example, Datamatics implemented a digital workplace solution for a leading Asian mutual fund using OpenText as a base platform to digitize the documents and the processing of documents in Decision & Approval and Payment processes. The solution increased transparency within the organization across all the locations which led to agility in the decision-making process. The solution also digitized the payments of over 20,000 transactions that were carried out by integrating payments with the ERP across various locations.
Conclusion
The choice and availability of technologies that can foster and propel business optimization are many. You must therefore plan to expand your technological activities aligned to your business goals in the next few years and set the targets that you would like to achieve with each investment.
Consequently, your aims will define the technological tools and systems your organization needs!