Top Technology Trends: What to Expect in Mobile App Development in 2022
by Smitesh Singh, on Mar 24, 2022 5:41:15 PM
In the world of technology, evolution is synonymous with survival. With modern software feeding on consistent updates and modernization, it is essential to keep a tab on your digital business infrastructure to check for trends, outdated features, customer satisfaction, and more. Even more important is to be quick on the draw to implement and embrace these trends. In this blog post, we will talk about web and mobile app development trends that will dominate in 2022.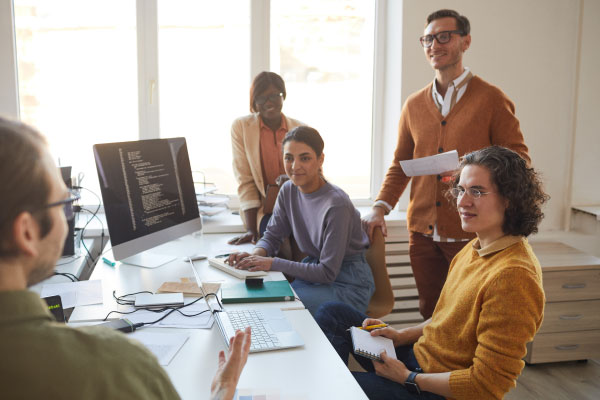 AR/VR - Metaverse theme: In the past decade AR/VR has emerged as the ultimate means of entertainment, interaction, and even commercializing. A number of apps, be it retail, social media, or gaming, are incorporating AR/VR themes because it is something people adore. Facebook's revamp into Meta is another cue that AR/VR is going to be the next big thing. Even research says that the mobile AR market is expected to reach $230.6 billion by the year 2027. AR/VR is increasingly becoming popular for more useful areas like education, remote meetings, navigation, interior design, etc.
Low-code and no-code AI: Past few years have given rise to a no-code AI implementation. As technology progresses and the complexity of its implementation decreases, its cost and time to implementation also decrease. Low code or no code AI is a similar trend. Low code AI involves using an AI framework and tools that use inbuilt components based on AI algorithms, and these can be used as a drag and drop feature to build something on AI. This has enabled enterprises that deemed AI implementation costly and time-intensive. For complex and innovative apps, AI still requires intensive coding.
Wearable App Integration: Wearables have already established a strong affinity amongst people of all ages and demographics. With these devices and IoT technology evolving each day, new features, utilities and innovations come through that facilitate better and improved user experiences. This includes improved wallet access, faster functions, an enhanced interface for device users, etc. App development companies, as well as enterprises, must gear up with tools and technologies that can offer an excellent digital experience to users of Smartwatches, wearables, and other IoT devices, thus having a competitive edge over their competitors.
Cloud-based Mobile Apps: Mobile applications that are based on advanced tech stacks such as AI, machine learning, IoT, etc., usually take up a lot of space on a device. This memory being a prime facilitator of optimal performance is a critical part of any app. A gigabyte-sized AI/ML-based highly functional app isn't very preferable to users. Cloud servers can offer the necessary space for the smooth working of the app which is downloaded instantly and doesn't impact the local memory of the devices. Hence, cloud-based mobile apps are an important trend to look out for this year.
Biometrics Technology: Security has always been the prime concern of users as well as enterprises. Since data across retail, healthcare, and banking apps is pretty critical and sensitive in nature, it is important that all apps must be secured with only the latest technology unreachable by hackers and infiltrators. Biometrics by far has been the most popular technique when it comes to security. The most commonly used biometrics in apps are facial recognition, voice and speech recognition, fingerprints, iris recognition, hand geometry, signature recognition, etc. These biometrics are useful in establishing trusted authentication for mobile apps and are expected to see growth in the upcoming years.
Beacon Technology: Beacon technology is already at its highest popularity and is set to take the retail business to a whole new level. Industries like healthcare, digital marketplace, museums, hotels, etc. are increasingly implementing beacons, which can further be linked through apps to better analyze customer buying behavior by monitoring how often and what they buy with your enterprise app as well as brand stores.
Language modeling: A language model implements deep learning for producing human-readable text and constitutes 175 billion components. Some popular uses of language modeling include emails generation, developing websites and chat boxes, and doing everything that involves creating copies.
NLP or Natural language processing: Enterprises that want to deploy mechanisms to store and use data that is accumulated by apps to gain useful insights on customers through it. This is what NLP models do. They help enterprises collect, store and analyze structured and unstructured data and use various algorithms to derive valuable insights from it. These insights can then be used for making critical business decisions. This year shall see a rise in natural language-based digital enterprises. That means enterprises will either consider or adopt an NL-based strategy in order to make the most out of their mobile app's data.
Summary
Software development keeps undergoing numerous changes, that are focused on easing development and enhancing the performance and utility of the app solutions. To make sure you don't lose out on these trends and fall prey to disruption, get in touch with an app development company and get started today!