Use the Document Consistency Checker & boost Trade Finance operations
by Tushar Dwivedi, on Jun 1, 2021 4:55:03 PM
Estimated reading time: 3 mins
Banks and Financial Services institutions act as intermediaries in trade. They hedge-off the associated risk when two parties transact for buying and selling goods across distant geographies. Trade Finance transactions from either side involve high volumes of paper-form based work, supporting statements, payment orders, invoices, packing lists, bills of lading through multiple stops and transits, etc. Here, each and every document has to be thoroughly scrutinized by domain experts for statutory compliance, anti-money laundering, procedural flaws, etc., which easily takes 3 to 4 hours or more, per case, if all supporting documents are available. This scenario leads to multiple risks, such as stalled or slow manual processing, loss / wear and tear of paper documents, etc.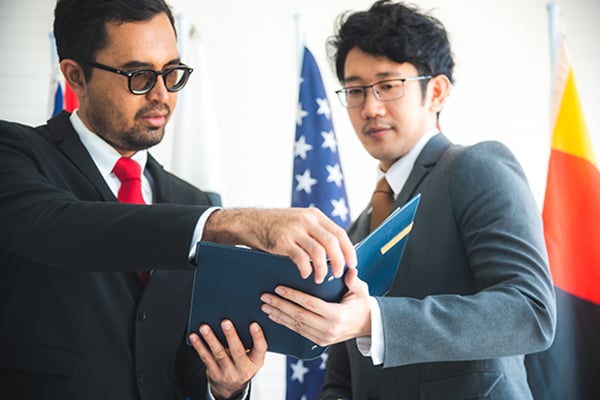 **The G7 nations have congregated on this matter and unanimously agreed on alleviating the use of paper-forms through automation to expedite and expand trade in their region sans the risk of heavy operational costs, delays, inefficiencies, errors, and fraud. They are actively looking out for out-of-the-box process accelerators, such as Document Consistency Checker. It automates document scrutiny and expedites the process to the nth extent, thus requiring only a fraction of the time required for manual document processing in Trade Finance. It allows banks to dynamically support flourishing trade even with the same number of executives on-board.
How does Document Consistency Checker enable Trade Finance operations?
Document Consistency Checker is an out-of-the-box and pluggable module, which expedites Trade Finance operations. It is powered by IBM products for intelligent document processing, enterprise content management, workflows, rules integration, robotic process automation, and data analytics. It automates the manual document checking process of the Trade Finance documents, such as Letters of Credit.

The module first ingests the paper documents, whether structured or unstructured, and classifies the digitized assets according to pre-defined labels, such as bill of lading, invoice, etc. Artificial Intelligence / Machine Learning and NLP-based algorithms, which power the intelligent document processing and ingestion, improve the accuracy levels of data extraction as compared to plain OCR thus improving the straight through processing.

The Document Consistency Checker then uses workflows to route the digitized documents to the enterprise content management suite hosted over the cloud. The system stores digitized documents in unique and case-wise folders. The system is adapted to seamless document storage and elastic search.

The workflows then route the digitized document links for multi-level verifications and approvals across different stakeholders, globally acknowledged anti-money laundering applications, such as Accuity and FIRCO, third party applications for compliance, etc. The stakeholders are mostly stationed across different geographical locations. This is where the cloud-powered setup fortified with workflow management proves useful.

In-built rules facilitates the document verification and scrutiny to fulfil the banking regulations related to different geographies. The rules, such as UCP 600, ISBP 745, ISP 98, Incoterms, etc., are designed by banking related specialists who continue to monitor the global trade scenario.

The Document Consistency Checker module easily facilitates multi-system integration, such as vehicle tracking, bill of lading tracking, core banking and trade finance systems, through an innovative use of robotic process automation and workflows.

The module has in-built provision for intelligence analytics that provides summaries of the progression of individual Trade Finance cases. The module is adapted to generate regulatory reports such as R-Reports, XOS, etc. It also generates internal analytics reports related to business productivity, turnaround time, and other customizations as required.
Business Benefits
Out-of-the-box technology mashup that jumpstarts digitization and document scrutiny operations
Automated document verification and validation with in-built and customized rule-sets
100% conformance to compliance and regulatory requirements
Significant reduction in risk of oversight due to manual processing
Accelerated speeds and improved productivity by 10x
Improved straight through processing
Integrated checks for fulfilment of international banking regulations
Advanced checks for alleviating money laundering aspects through integration with globally acknowledged AML applications and third party sites
In summary
Document Consistency Checker module gives a thrust to the otherwise menial task of document scrutiny that takes nearly 3 to 4 hours per case provided all the documents are available. This improves the operations speed by 10x, improves productivity, and gives a boost to the Trade Finance banking operations even with a limited number of executives.

**Reference: Global Trade Review | 05-May-2021 | Exporters have 12-18 months to prepare as G7 paves the way for trade digitization
Next read