6 Use-Cases of a Field Service Management App for Your Enterprise
by Smitesh Singh, on Jun 22, 2021 9:41:05 AM
Field servicing has become monumental in accelerating growth across numerous verticals. As businesses begin offering end-to-end support for maintenance of deployed resources as a part of their CX strategy, a surge in the field servicing practice is observed through the past decade. According to Allied research, field service is projected to reach $10.81 billion industry by 2026, growing at a CAGR of 16.9% from 2019 to 2026.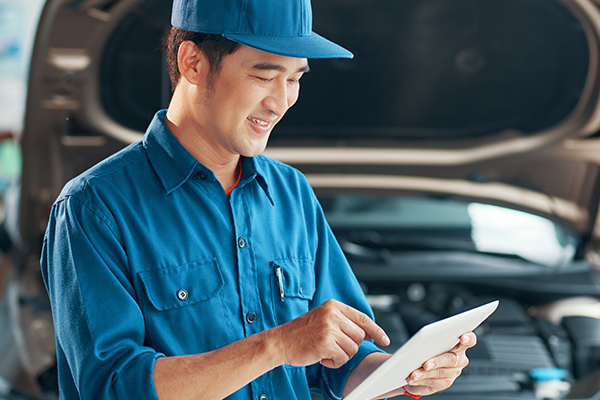 However, a consistent reliance on manual scheduling and booking of field services rife with human error has thwarted efficiency, impeding the collective enterprise effort to offer value. Moreover, with pandemic decimating the global routine, field servicing further faced a death-knell. Thanks to digital transformation initiatives across enterprises, a speedy revival of the industry became imminent, and business woke up to the enormous technology potential in the field servicing department. Let us start by looking at the industries that use field services:
Which Industries use Field Services?
Field service is required in real estate maintenance, commercial and domestics cleaning services, civil engineering, healthcare, construction, agriculture, hospitality, and more. Companies bank on their ability to provision and maintain their resources remotely. When working with a massive fleet deployed at the field site, tracking work orders as well as schedules, availability tends to be a tedious task - one deemed even harder in the presence of dynamic customer demand. To prosper under this situation, many organizations rely on mobility and computing offered by smart devices like mobiles. Hence, these industries can benefit most from adopting custom field service management software solutions.
Field Servicing App - Use Cases
In this blog, we will discuss some practical implications of digitalizing manual field servicing and highlight some value-driven use cases that a field servicing platform can provide.
Management of field technicians and agents - The foremost advantage of having a field servicing app in place, is doing away with human resources responsible for booking, dispatching, and tracking of field service technicians. With automated booking as well as the cancellation, prompt and instant communication with the technician and customer can be established to alert them of service availability, timings, tools, and assets needed and estimated total service time.


Fleet tracking through GPS - For the services that require a fleet of vehicles transporting heavy machinery parts, a GPS tracking device can be attached to the vehicle's OBD port to collect and send real-time data to the app. This can help owners make strategic business decisions such as availability of vehicles for concurrent jobs, nearest vehicles to the site or at the warehouse, along with the availability of these vehicle operators, reducing engine idling time and harsh cornering, optimizing fuel consumption and reducing costs, compliance with FMCSA regulations like Hours of Service and the ELD mandate, estimating fleet maintenance costs through vehicle diagnostic information.


Inventory tracking and management - Field servicing technicians frequently need access to tools, machinery parts and other resources within a restricted time frame. A field servicing app in that regard can help businesses maintain a warehouse inventory and be informed when a certain item is running out of stock. Warehouse managers can track and dispatch requests for goods, and inform the management of any conflicts or discrepancies in the consignments. A technician can further use the app to reach out to the nearest warehouse to fetch the critical equipment.


Big Data for analytics - Big data has become a prognosticator for numerous industries and tapping into it can open up new business opportunities for enterprises. In the field servicing industry, the data collected through the app can help businesses forecast demand, supply, and adjust resource allocation optimally preventing wastages. This data can also help enterprises identify their strongest services and build a robust market strategy around them. The data collected through fleets on fuel usage, condition of vehicles, and vendor invoices can further help develop a lean strategy for logistics.


AR/VR for remote maintenance - AR/VR gained maximum traction through the pandemic as it became the closest access to the outside world for consumers as well as businesses. In the field servicing industry, AR/VR can be embedded into the apps and used in situations where service delivery is not possible. Through a VR instruction guide, customers can be trained on taking up certain maintenance responsibilities reducing the need for consistent field servicing as well as costs.


IoT for asset management - Internet of things (IoT) can help automate maintenance of warehouse inventory and get alerts on specific anomalies encountered in the machines. The authorities can schedule a repair service and allocate technicians to take care of the services at the warehouse. A similar strategy can be applied at the customer's end, to automate the scheduling of field servicing avoiding emergencies, and optimizing the delivery processes.
Datamatics built a field services app for a leading NBFC in India to efficiently manage and automate their manual daily case allocation to agents. The app helped optimize the agent productivity, ultimately densifying customers served and meeting daily targets. Through real-time tracking of the agent, much greater control over financial business processes was achieved.
Conclusion
From offering data-backed insights, to customized plans of actions designed to overcome challenges in field servicing, an app can go a long way in driving growth for industries. For the organizations that consistently deal with the hardware installed on a customer site, a customized field servicing app can pave the way for success in the new and emerging, disruptive business environments. To get started, get in touch with professional field service mobile application development services.
Next Reading: