6 Cloud Solutions for multi-geography data collaborations
by R. Ashok Kumar, on Jun 28, 2021 1:32:37 PM
Estimated reading time: 3 mins
Cloud is emerging as a panacea to data conundrums and computing power issues. As businesses engage in multi-geography collaborations in businesses, such as banking, financial services, insurance, trade finance, healthcare, manufacturing, logistics, supply chain, pharmacology, education, research & analytics, international organizations, etc., the impending data issues loom large. Even as these businesses peddle with high data volumes in structured, unstructured, and multi-structured formats, Cloud is not only making headways but expressways into the boardrooms and war rooms of futuristic and future-proof businesses.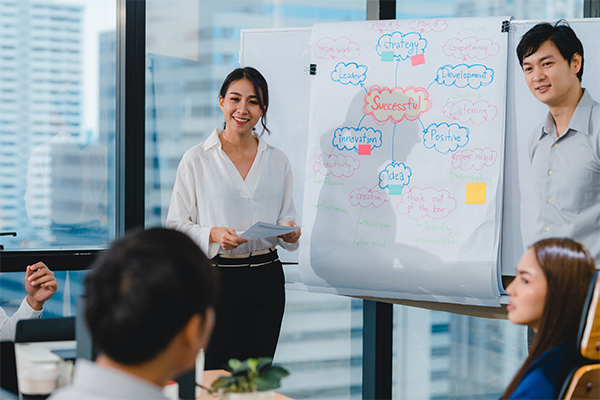 How do Cloud Solutions resolve data issues for businesses?
Multi-geography collaborations generate data by the second. This data not only needs to be curated and unified but also securely stored for quick access to fuel business processes and derive business insights. Here Cloud offers multiple solutions for data management. These include –
Data Search and Analysis
Database Management
Data Integration
Data Cloud Optimization
Data Querying
Data Visualization
Data Search and Analysis

The Cloud solution for data search and analysis allows natives to easily index and search data. With templates for data upload, handy relevance controls, in-built data visualization techniques, etc., it allows to be in control of the data and analysis and also offers –


Improved query response rate
Elastic search, data synonyms and similar vectors, etc.
Requirement based provisioning, configuration, and scaling from a single platform
Drag and drop visualization elements powered by Kibana Lens
High security across multi-cloud and distributed cloud architectures
RBAC or role-based access that provides an extra layer of security
Database Management

Cloud database management offers real-time synchronization and high visibility of data for authenticated users. It facilitates deriving insights from all forms of multi-structured data through a data lake approach. It offers –


Effective management of time-series data as well as structured, unstructured, and semi-structured data
Component library to facilitate data collection from different systems and data management
Pre-defined, timely data back-ups
Fault-tolerant scalable architecture
Role-based access for additional security
Real-time synchronization and faster time to value
Data Integration

As multi-geography collaborators generate data in vast volumes, it needs to be curated, integrated, and unified. Cloud data integration solutions offer tools and templates for storing and collating all forms of data that greatly facilitates ingestion, integration, and governance of databases. It facilitates –


Data ingestion from disparate databases
Dynamic creation of data pipelines and optimization
Integration with native as well as over the top business intelligence, analytics, and visualization tools
Data Cloud Optimization

Cloud optimization is important for streamlining Cloud operations. Data labeling allows businesses to tide over regular data cleaning while improving processes, operational efficiency, identification of data trends, and optimization. It also offers –
Building ML-powered data training models
Preparation and categorization of disparate datasets
Data label testing
Workflow customization
Accelerated execution and high accuracy
General Data Protection Regulations compliant workflows
Data Querying

It allows data unification, self-service querying techniques, and enhancement of query speeds thus improving business insights and time to value. It offers –
3000x querying speeds
Do-it-yourself query modes to quickly generate the required data subsets
360-degree analysis of data transactions
In-built security features
Data Visualization

It offers solutions for do-it-yourself visualization techniques across big data sets, share reports, and collaborate with globally distributed teams. It also offers –
Anytime anywhere access to achieve data democratization
Do-it-yourself analytics and visualization techniques with drag-and-drop features
Predictive modeling by using big data in real-time
Connecting with different data sources through a single platform and generating interactive visual reports
What Cloud Solutions work best – SaaS or PaaS?
Migrating to Cloud allows businesses to improve their multi-geography reach with enhanced computing power. Here SaaS, as well as PaaS solutions, work equally well. However, the discretion of the Cloud platform selection depends on the current data management estate. A cloud platform that closely relates to the existing data management solution works the best. Hence PaaS cloud solutions, which allow businesses to take their existing IT spread to the Cloud with the additional benefits of scalable big data storage, higher computing power, faster querying, and enhanced multi-geography reach, are more preferred.
Business Impact of Cloud Solutions
Faster time to value with actionable insights
Virtual collaborative space across geographies
Highly scalable cloud architecture
Paperless, virtual office over the Cloud
Do-it-yourself, highly responsive data management architecture
No code solutions with drag and drop elements
In summary
As business continues to generate big data in multi-structured formats, storing data, processing it, and visualizing data trends creates business challenges. Cloud allows businesses to tide over these seeming challenges. It not only offers a scalable data storage and in-memory analytics capability but also offers solutions, such as elastic search, data integration, data management, optimization, query building, and interactive visualization to facilitate multi-geography collaboration at accelerated speeds.
Next reading