6 Ways an Innovative Mobile App Skyrockets your Enterprise Growth
by Keshav Jeet, on Apr 22, 2020 10:14:26 AM
Over the last few years, the digital paradigm has been experiencing rapid growth, thanks to the explosive growth and penetration of 3G/4G/ 5G technologies across the world. However, growth for SMBs has, in contrast, been a mixed bag due to their inability to adapt to changing market trends, shifting demographics and the ever-increasing expectations of digital natives. However, enterprises today have a golden opportunity to level the playing field by embracing digital technologies that are converging to enhance the customer experience across channels.
So, given a broad spectrum of technologies, what should enterprises prioritize right now to stay ahead of the curve?
With almost 6 billion people using mobile right now, it is worth noting that a whopping 90% of the user time on mobile is spent on apps. As a result, enterprises have been redesigning their business models leveraging mobile app development services that have let them amplify their offerings, reduce customer churn, and reach new markets.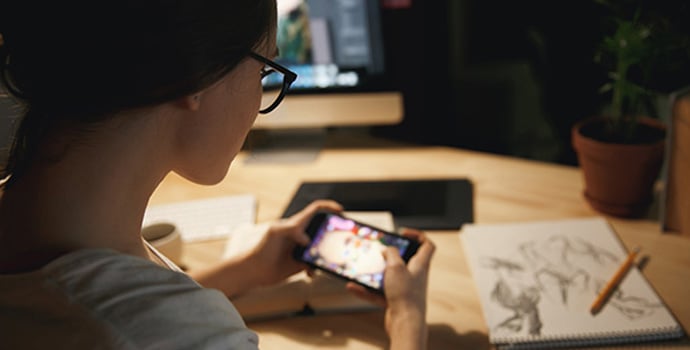 So, what are some of the most compelling reasons causing enterprises to pursue app development services? Let's go through them one by one:
Catapulting Digital Innovation
A mobile application can help enterprises identify granular consumer growth opportunities and innovate better on products, processes, services and business models. It can also improve the process and operational efficiencies. Customer-facing mobile apps represent a goldmine when it comes to customer behavioral data. Enterprises can leverage next-gen technologies like AI, AR, VR, IoT, and machine learning to analyze these data sets and design more compelling offers, promotions and campaigns to achieve revenue growth.

At Datamatics, an online furniture store leveraged our

mobile app development services

to build an interactive Augmented Reality based Mobile App that created an immersive buying experience for their users. Results? The company saw 83% revenue growth at CAGR.


Amplified Customer Experience
Enterprises today live in a consumer environment that is dynamic, demanding and often loyal only to the last satisfying customer experience. Providing a consistently good customer experience (CX) has been difficult for enterprises, particularly for those that have been slow to adopt digital technologies. Solution? Invest on CX! According to a recent study, 86% of the buyers are willing to pay more for a good CX. The study also indicated that 1 in 3 customers will abandon a brand with just one bad CX.

Hence, businesses must benchmark themselves against the CX trends and stay ahead of their competitors with a mobile-first strategy leveraged continuously for their consumer-centric and mission-critical objectives.


Increased Visibility for your Brand
Expanding to an additional channel means added brand presence and accessibility for an extra set of users, and when that channel is inhabited by over 5 billion users spending on an average of 162 minutes a day, you can only imagine the surge in your business.

So, even if you have best-in-class services or products in place, neglecting a channel as lucrative as mobile could mean missing out on your best customers and hence losing out on revenues. An interactive and intuitive mobile app lends you an expanse of high visibility and brings you closer to your customers. Datamatics helped a consumer electronics company develop a VR based app for Alzheimer patients that led to a 100% engagement rate and a positive response from the patients. This also helped the brand build a special recognition among patients suffering from dementia and the larger community as well.


Boosting demand through In-App marketing
Traditional marketing approaches have faded out with digitalization and for good. A mobile app lends enterprises a personal digital space to normalize and streamline your marketing initiatives and generate additional demand for your products and services with high efficiencies and low costs. For instance, it can help enterprises analyze consumer buying behavior and introduce new loyalty programs, promotional offers, festive sales, push notifications, customer retargeting, etc. and increase wallet share. Hence, In-app marketing can help enterprises take a lean approach in targeting their customers with a unified interface. This can mean a whole new revenue stream for your otherwise offline business.


Better Customer Service
During times of consistent tech disruption, customer service becomes a 360-degree challenge as well as an opportunity. Manual customer service can pose several challenges, in terms of productivity, resource constraints, unsatisfactory responses, among many others. When there are over a billion customers with their smartphones at arm's length all the time, it makes sense for them to expect instant solutions through it with a minimum TAT.

With automated customer service at hand through a mobile app, enterprises can do away with issues like mood-based human responses, delayed time to respond, and a large number of outstanding queries, that can be dealt with in much lesser time.


Solving a business problem
An app must always be built with an intent to solve a problem or automate a process, not just to get on to a lucrative channel. Apps serve best when they solve an exclusive issue, say connecting employees of an organization with a messaging and sharing app. Apps built with an eternal lifespan to solve a hundred different issues at a time will die out with time. One other example of such an app would be a topic-specific app delivering users relevant content daily, rather than an app with many different categories of users to tap on.

So, these are some reasons that you can bet on, to give your enterprise a digital facelift. However, it is important to understand that building a mobile app isn't a panacea for solving fundamental structural issues in your business. Actual growth requires strategy, execution, and continuous efforts even after the app is deployed to the market. Hence, digital-ready enterprises must partner with some of the experienced digital consultants in this space for an assured and profitable digital journey!
Next Reading: