9 AR/VR Use Cases Breaking New Ground in Automotive Industry
by Abin Thomas, on Oct 9, 2020 2:32:54 PM
The automotive industry has been one of the greatest contributors to humankind, ushering the creation of numerous jobs, quicker transportation, and improvement in GDP. This growth is expected to accelerate further with immersive technologies like AR/VR and their broadening implementation in the industry with the introduction of 5G. Along with a wave of cutting edge innovation, AR/VR has given manufacturers an upper hand in the market with increased customer satisfaction and competitiveness resulting from immersive experiences.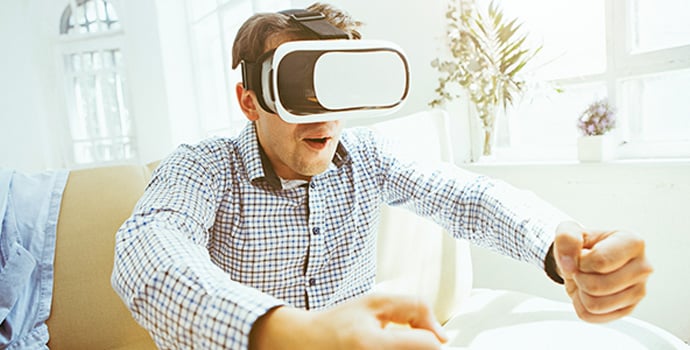 According to recent research, the entire augmented reality market for the automotive industry is expected to grow at a rate of 177% annually reaching $5.5 billion by the end of the year 2022. We did extensive research to concretize a curated list of effective AR/VR use cases in the automobile industry and how popular companies are leveraging them. Let's look at them one by one:
Remote Repairing and maintenance
AR/VR based mobile apps can offer contextual assistance to drivers and enable them to do simple maintenance jobs on their own. It also helps mechanics to independently troubleshoot issues by allowing them to detect defective parts through a VR depiction of the interiors and carry out the replacement by a virtual manual of visual instructions. A VR-based mobile app can even assist the installation process by showing

the

process along with instructions virtually on the screen. Hyundai Virtual Guide is an AR smartphone application by Hyundai that owners can use to understand their vehicles better. Instead of rustling through a thick instruction manual, drivers can just scan their car in the app and view the overlaid digital data. This can assist them to perform easy maintenance tasks such as oil changes or topping up wiper fluid.


Safety of Drivers
AR-based mobile apps can offer drivers information such as arrows for navigation, distance from the subsequent turn, as well as speed right in the field of view of the vehicle on the windshield, and warrant comfort and security while driving. It can also give you full windshield AI backed head-up screen for alleviating accident risks on roads. Toyota employs simulation of driving environment to prove the aftermath of negligent driving with the help of their software, TeenDrive 365. They invited participants to receive a call when driving through the simulator. This way drivers can learn about their loss of attention and high response time when using cell phones while driving.


AR-based Manuals and Instructions
Immersive technology-based mobile apps can offer maintenance details to customers as well as engineers like air filter replacement and conducting basic maintenance tasks on their cars. It can also give drivers a visual demo of car functions with an end-to-end instruction guide along with the video tutorials. Genesis, the luxury car manufacturer, has an app that helps owners comprehend the car's functions, such as explanations on how to pair smartphones with Bluetooth, learn cruise control, and meaning of warning indicators. AR capabilities also let users point their smartphone and tablet towards the engine and access a comprehensive guide to check the oil levels and washer fluids.


Intuitive Marketing & Sales of Automotive Brands
VR based demos and immersive trials can offer numerous opportunities for sales and marketing of the vehicle and the brand. A number of automotive companies present their products in the virtual reality ecosystem, for partners as well as their clients. Companies hereby have many different options as well as alternatives for customization, like colors and textures, from a 3D model of the vehicle. One VR simulation can replace many different vehicles, while clients can experience the insides of the vehicle and interact naturally with it. For example, they can test and gauge how a particular texture or color they prefer will work together.


Design and Visual Prototyping
Endless modifications triggered by delayed detection of errors or changes in design and directions are some problems that occur during the conception of a vehicle. This leads to the conception team making a new prototype in order to correct the current errors. This inevitably adds additional costs and delays in vehicle manufacturing. Visualizing the vehicle exteriors and carrying out iterations on existing prototypes virtually first, can help alleviate this problem. Tesla uses AR applications and computer vision to detect an object of interest and the link between the user and the object while manufacturing. With the help of this system, engineers can access instant data regarding the components they are working on.


Worker Training for Vehicle Assembly
AR/VR based apps can enable workers to understand their working environment and the factory floor plan and proceed with caution in real-time. This will also enable them to increase their productivity and reduce time-to-completion. AR/VR based modules can simulate dangerous situations and train workers to take appropriate actions for their safety through the entire course of their working.


Virtual Car Showrooms
AR and VR based apps for manufacturers and sellers can enable clients to tailor-make any car model with preferred features they want to install. Sellers can configure car functions and convince potential customers to convert by letting them visualize each of the car details remotely if they resist physical visits and enable them to choose from options like color, styling, etc.


Testing Efficiency of Self-driving Cars
AR/VR based apps can train self-driving vehicles by combining VR with testing software by employing technologies like interactive editing, importing the database, 3D geometry transformation, parallel computation virtualization, as well as modeling. It can also let them recognize and memorize the situation of the roads and test cars through multiple weather conditions anywhere in the world. Toyota employed ZeroLight VR, which is a cloud-based 3D visualization software to launch its C-HR car virtually. To test the feasibility of vehicle operation at various places people can virtually test the car even before the actual model comes out.


Virtual and Remote Test Driving
VR test driving can enable customers to pick, configure, and test their prospective car in a virtual environment. It can also enable customers to experience the variation between the novel and the old models with the help of a fully immersive driving experience. It can also help bait customers as they get to try various accessories to assemble the best available features in their car. Audi launched this technology for its cars back in 2018 which went by the name Audi VR experience. They also have a provision for pre-recorded virtual test rides so that drivers experience the test drive remotely.
Conclusion
From the above-illustrated use-cases, it has been made clear that the automotive industry intertwined with the immersive technologies and mobile platform is proving to be a significant inflection point for the automotive companies. However, widespread implementation of immersive technologies in the automotive industry is still shackled by a lack of awareness, research, budget, and resource constraints. In such cases, mid-sized AR/VR app development companies with strong teams of targeted research and development in immersive technologies can be sought out for guided expertise on mobile app development.
Next Reading: