AI-backed Omnichannel Digital Contact Centers to Deliver Superior CX
by Vishal Vadhera, on Oct 27, 2023 5:22:06 PM
Estimated reading time: 2 mins
Key takeaways from the blog
Right digital interventions can make omnichannels contact centers more interactive, seamless and personalised.
An omnichannel contact centers integrates all the other channels together enabling customers to navigate switch between them without losing context.
AI and CX based analytics offer valuable information to assist enterprise in making data-driven decision.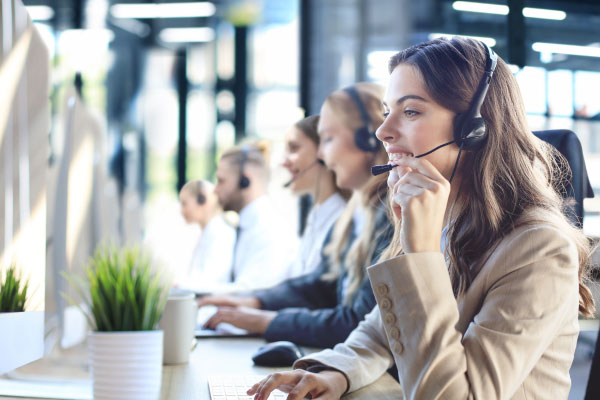 An omnichannel contact center backed by AI is a sophisticated system that caters to the diverse needs of customers to deliver seamless and integrated customer experiences across various communication channels. This approach aims to provide customers with reliable and effective support while facilitating more efficient customer interactions.
Components and benefits of an AI-backed omnichannel contact center:
Omni-Channel Experience:

Traditional contact

centers

have been functioning

in silos,

with disparate teams handling different channels like

voice

, live chats, emails, and social media sites individually

.

However,

an omnichannel

contact

center

ensures

integrat

ing

all these channels

together

, enabling

customers to

navigate

between them without losing context. This

promises the customer

a consistent and convenient experience

.

More so

,

ensure your enterprise has a unif

ied view of your customer in order to provide better and real-time issue resolution and service.



AI-Powered Virtual Assistants:

Chatbots and virtual assistants backed by Generative & Conversational AI

can be qualified to respond to frequently asked question

s

, effectively route requests

and also

m

anage complex customer inquiries.

AI-backed chatbots use natural language processing to engage in human-like interaction,

which makes it easier for customers to find quick responses or solutions.

Thus

,

making the whole interaction effortless

ensuring

superior customer experience

s

.

Data Analytics:

A

I

and

CX analytics

can help

track

and

analyze

c

ustomer

interactions in real

-

time, provid

e

insightful data on customer

behaviour

, preferences, and pain points

.

These insights

can further assist

enterprises in

mak

ing

data-driven decisions to

enhance

their services,

cross-sell

, up-sell,

and

ensure customer satisfaction

.
Personalization:

An AI-backed digital contact center

can provide

personalized customer experience

s

by collecting and analyzing customer data,

and enable simple things like

address

ing your

customer

s

by

their

name,

recommending

products

or services

on the basis of historical data like past purchases. One can also

tailor responses to match individual preference

and needs

. This

level of targeted

personalization will eventually lead to

lon

g

-term

customer loyalty

.

Efficient Routing:

In order to determine the best course of action

an

AI

algorithm

can

evaluate

each customer inquiry. If a chatbot

fails to r

esolve an issue,

the AI at the back-end

can

rou

te

the

enquiry

to the

right

human agent, who will be armed with relevant

insights

to

deliver faster and more accurate

solutions

.

E

fficient routing

is expected to

reduce

customer frustration

while increasing the

first-contact resolution.
Consistent Support:

AI can

help

maintain c

onsistency

across various interactions and touch-points with the

customer

s

regardless of the medium of communication

used

.

While

a customer

might

start a

conversat

ion on

chat

but later

switch to a phone call, the agent on the other end of

will be

aware of the

conversation

history

.

Such an integration will

ensur

e

a smooth transition and

redu

c

e

the need to repeat information.
Cost Efficiency:

AI

-

enabled contact centers can reduce operational costs considerably by automating tasks, reducing the burden on

human

age

nts. This can also help businesses

re-allocate their resources more effectively and reduce total costs.

Scalability: The system is built to accommodate fluctuations in customer inquiries.

It can handle increased call volume

d

uring peak times or special events,

ensuring that service level

s

remain consistent

and

hassle free

.

An AI-enabled contact center can

help scale effortlessly to manage volumes while providing real-time resolution. In peak events or any special

events,

a digital or AI

-

enabled c

ontact center can ensure service levels remain consistent.

In essence, an AI-backed omnichannel contact center

can be a

game-changer

to deliver customer experiences the way you and your customer

s

want

.

With the right

digital interventions

, it can

make your customers' interactions seamless and personalized, enhance customer experience, loyalty and enable busine

ss growth

.





Know more about how we can help you deliver

superior Customer Experience the way you and your customer want

.
Next reading