Bringing Businesses Back with Live Conferencing and Virtual Events
by Rajesh Shashikant Renukdas, on Nov 27, 2020 1:07:48 PM
It has been a while since COVID-19 began transitioning the world from 'highly accessible' to 'downright digital'. In the lieu of the digital advancements, one industry that has emerged as a survivor and a fighter, after months of negative growth is the Events Industry. The virtual events industry has enabled stakeholders to continue effective communication, collaboration, and marketing, in the times where physical events entail mass transmission risk of the COVID-19 virus. According to recent research, conducted in April 2020, 70% of respondents said that they have moved their face-to-face events to a virtual platform in the midst of the coronavirus pandemic. This clearly implies the existence of progressive benefits for businesses in hosting events virtually even in the post-pandemic era.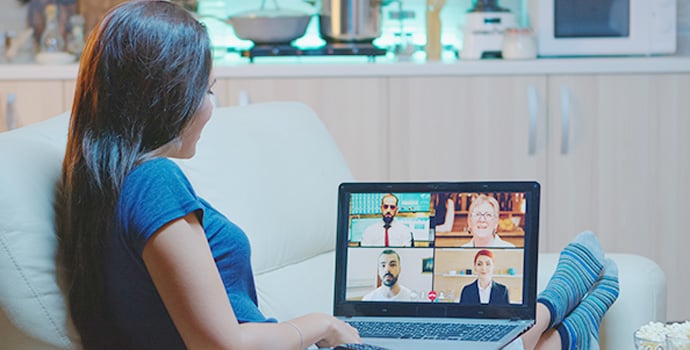 In this blog, we will discuss various capabilities of a virtual events platform that can exponentially add to the results of marketing initiatives of companies. It also enlists some imminent benefits and best practices of conducting virtual events. Let us begin by understanding how a virtual event works:
How do Virtual/ Live Conferences and Events Work?
A virtual conference or a virtual event is held in a visual simulation of the actual physical space or venue enabling face-to-face interaction of participants. Participants themselves can join or be present in their virtual avatars and experience events either through head-mount displays or with web-enabled conferencing platforms. All attendees have to do is register for the event and login through their accounts to join the virtual event through their mobile phones or laptops.
Zoom webinars and events, Cisco WebEx Events, and Jio meetings are some of the most popular live conferencing apps that have facilitated work from home for numerous companies through the pandemic. Despite these apps having the ability to access the same environment settings as physical ones, challenges remain. This to a large extent, can be addressed by incorporating AR/VR simulation functions that will recreate the way events are conducted. A number of businesses can, therefore, go digital to conduct their events online through a dedicated brand platform eliminating the need to access third-party apps. Let us look at some of the most popular capabilities that a virtual events platform can have for your business:
Events Platform Capabilities
Set up the platform for Virtual Exhibitions like Auto Expos
Auto expos are some of the most influential events garnering the active participation of youth and automobile enthusiasts. While COVID-19 was thought to bring the event to a complete halt, extended reality and live conferencing made virtual execution of the event possible. Participants can not only attend the event virtually from their homes but also interact, and enjoy the same advantages as physical events. Event organizers can hence generate qualified leads and interact with them. The 360° Auto Expo of Renault in the year 2020 is one of the prominent examples of a virtual auto expo in which the manufacturer presented its futuristic car designs to the participants. A similar experience can be created for artworks, home decor, consumables, etc.
Conduct consistent and timely webinars as part of your marketing strategy
A webinar is a shorter online event, but can still be a great way to get the word out there about your business or launch and inform or educate your audience. Webinars are like online presentations where the host speaks overtop a slideshow for a live, virtual audience. Many times webinars will even have live chats for the host or speaker to answer questions in real-time while the virtual event is going on.
Leverage modules for Digital Workshop
Hands-on workshops are where participants can experience and learn various nuances of the event agenda. These workshops can be conducted in a virtual environment where participants can engage through workstations, perform experiments, and build something innovative.
The event can show students and attendees ways to create ads, content strategies, presentations, hand-crafted blings, or any other commodity. Entrepreneurs and businesses can host the workshops online by streaming a virtual simulation of a physical event venue. There are several different types of online workshops such as boot camps, live training, Q&As, etc. that can be taken online.
Access Live Streaming without the need for social media channels
A live stream is a popular online event that has created a lot of fandom in a short span of time. It is a great way to host a quick short announcement or a product launch or simply just offer a live experience of a remote locality. This is best implemented on a brand app customized to cover businesses for their comprehensive virtual event needs. Salesforce was one of the first companies to successfully execute Live streaming by hosting a Virtual World Tour Sydney in March 2020. In addition to 80,000 Livestream viewers, Salesforce brought in 1.2 million video views across social channels.
Marketing and Best Practices for Virtual Events and Conferences
A virtual event or exhibition needs a strategy for marketing just as a physical event would. This can be carried out digitally through in-app marketing if there is already a platform in place for a brand. Otherwise, separate digital campaigns can be carried out to inform participants or a target group about event attractions.
Some of the best practices that can be followed for hosting successful live events include:
Deliver Quality Content
Keep the sessions interactive and engaging through virtual contests, leaderboards, etc.
Follow strict timelines and format for event streaming like duration, attendees, who should attend, etc.
Be transparent with your event objectives
Choose the best suitable technology with support from experienced technology companies
Collaborate with sponsors if possible to offer giveaways, prizes, etc.
Benefits of Virtual Events
Cost-effective as compared to physical events
Convenient to conduct and handle
Can incorporate a higher number of participants
Accessible to everyone regardless of their geographical location
Conclusion
The creation of new and innovative products is what fuels competition and ever-improving customer experience. With that being said, there is a constant need to educate and inform people about the respective product vision, suitability, price justification, and its use cases, regardless of any pandemic-like circumstances. Therefore, for a profitable continuation of effective product delivery, ideation, and pitching, a virtual event will play an indispensable role.
If you are on the lookout for a bespoke virtual events platform that will cater to all your virtual events needs from creating virtual simulations of remote event locations to actual event execution with an array of streaming options, get in touch with a reputed virtual events solutions provider.
Next Reading: