9 AR/VR Use Cases That will Disrupt Real Estate Industry in 2021
by Abin Thomas, on Nov 2, 2020 4:48:12 PM
Increasing FDIs, progressive demand, and attractive business opportunities, have long been persuading customers to invest enormous amounts into the real estate industry. The consumer begins with quick benchmarking, detailed browsing, followed by numerous physical site visits to make a buying decision. In a recent survey, it was found that 95 percent of home buyers use smartphones to look for homes, whereas 54% state that the use of the Internet was the first step taken during the home buying process. This implies that consumer behavior is radically adapting to evolving technology and its immersive use cases that have taken a disruptive form over the past couple of years. As a result, the consumer makes a buying decision in fewer iterations, lesser physical visits, and minimal paperwork.
In that regard, AR/VR is making boundless contributions to the real estate industry. Moreover, these contributions gaining a spotlight through the COVID-19 pandemic clearly prove that digital intervention is imperative to market sustenance and resilience in unpredictable times.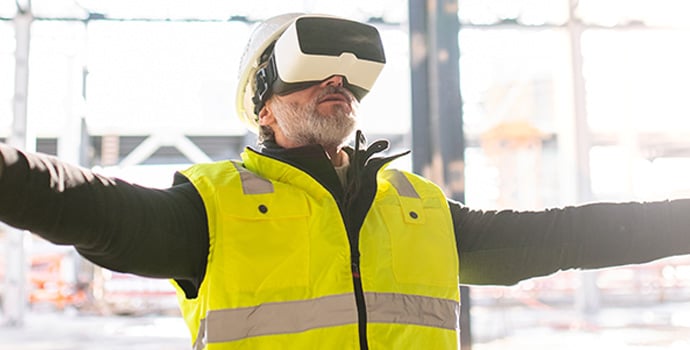 In this blog, we will have a look at some of the top use cases of AR VR immersive technology in the real estate sector that are coaxing builders to become digitally aware smart sellers:
Interior designing
AR-based mobile apps can help visualize the positioning of furniture, home decor, and other settings in a home. They can be programmed to inculcate virtual styling capabilities on real-time physical spaces to persuade buyers to make a confident and faster decision. For instance, an iOS app, iStaging limits the otherwise expensive and time-consuming trial and error staging area to a virtual environment where a user can easily create and try out various styles and designs before selecting the ones that would fit a particular home perfectly.
AR-assisted real estate marketing
AR-based apps can be developed as a repository of relevant information regarding real estate projects like pricing, space & carpet area covered, etc. These apps can help users collect significant information about buildings by merely scanning the building or space on the app. Also, the apps can be used to transform the drive or walk through neighborhoods into insightful real-estate virtual tours that would help buyers to closely interact with the environment around the area they wish to buy.
Locating and accessing commercial properties
AR-based apps can help users scan commercial properties in close proximity to the area they are willing to buy and access listing details including information of available offices, amenities, tenancies located inside the buildings, etc. The AR-based app for builders can also be incorporated with a design virtualization system and interface for communication with the marketing agents that can be implemented while the project is still in progress. Datamatics built an augmented reality based property discovery app for a leading real estate marketplace. It provided real-time 3D view of the properties on sale along with their interior architectural views, floor plans etc. The brochures were equipped with 3D models of the images that were accessible through camera scan in the app. It resulted in a 30% increase in the client's revenue and an increase in the business's market base.
Aiding construction work
AR and VR based apps can help builders envision the critical building elements like an exact map of the electricity or sewage pipes in the city. It can also aid the visualization of electricity plans for rooms that will enable electricians to expedite the house fittings.
Virtual property tours
VR based apps can help brokers and sellers to make virtual walk-throughs of properties possible. With the help of VR headsets and camera placements throughout apartments or buildings, multiple spots and POVs can be established to help potential customers experience a fully immersive demo of their chosen properties in high-resolution visual environments. Matterport is a SaaS company that creates virtual tours for real estate agents and helps them reach out to potential clients with the help of VR technology. Real estate builders can get a similar exclusive app built on a monetized subscription-based model that lets potential buyers virtually experience spaces and make suitable decisions.
Virtual bike tours
VR based apps can help potential customers to experience a visual simulation of the neighborhood surroundings and get an idea of what it would be like to actually live in a certain area of the town or city. The apps can help them ride across multiple streets and provide them with an engaging experience of residential and commercial areas.
Architecture Mockup
A VR based app can empower customers to view the interiors of the project that is still under construction or in its design and architectural stages. The AR-based app can help users to superimpose non-existent models on the visuals of the current architecture. Builders can also create or make changes to the designs of new buildings on the basis of customer preference by transforming 2D models into VR prototypes.
Virtual property staging
A VR/AR-based app can help builders and brokers stage properties enhanced with interiors done, furniture, decoration for reducing the selling-time. Thereafter, buyers and investors can browse as well as customize multiple properties to narrow down the list before making a site visit. It also offers a realistic representation of the building to refer back to later, or that buyers can show to their own clients and stakeholders.
Construction staff training
The wider construction industry is also implementing virtual reality to great effect. VR apps can help the construction industry with staff training, on-site safety as well as activities like plumbing, carpentry, etc. This in turn will help the construction industry in improving safety, maintenance, and time to market of new buildings.
Conclusion
The essence of AR/VR experiences in the real estate industry lies in evoking emotions in users through animated graphics and sound. Like video games and movies, the real estate sector can build gripping storylines in their VR home experiences. For instance, a VR walk-through of a building with kids playing safely and good commercial connectivity can create a secure feeling in the audience's mind. VR experiences with artistic merit and great UX will hence promote multifaceted growth for real estate businesses. So, get in touch with reliable real estate mobile app development consultants to emerge from ongoing pandemic distress and build great homes while narrowing down the endeavors to market it.
Next Reading: