Digital Marketplace - Why Should Enterprises Be Gearing Up For Disruption?
by Smitesh Singh, on Jan 12, 2022 6:55:48 PM
Digital Marketplace has been creating a buzz lately, especially since the pandemic hit. However, what is it about a digital marketplace that differentiates it from regular internet buying? Let's understand first.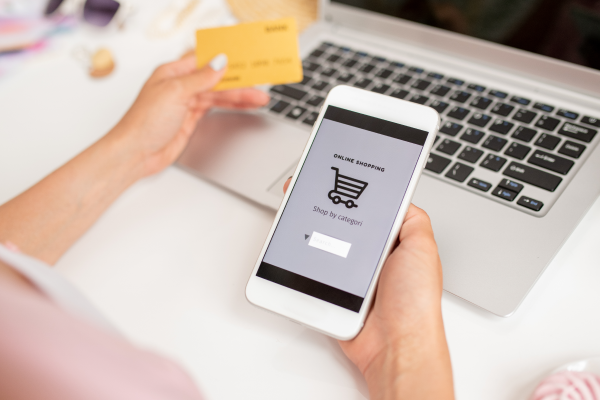 Digital marketplace refers to the business operations and purchase activities that are conducted online using laptops as well as PCs. It cannot, however, provide mobility to its users and that is where the role of a digital marketplace comes in. Digital Marketplace is independent of location and offers users the freedom to look up, shop, and pay via their smartphones with minimal hassle.
Moreover, mobile phones are the prime choice of customers for shopping on the internet. According to research, 48% of people look up a product or a service on Google via smartphones. And 77% of shoppers across the US compare prices on their mobile devices before buying from a brick-and-mortar store. Retailers who have not yet implemented a progressive web or mobile app are losing a huge amount of revenue and customers each month.
Why build a digital marketplace?
Personalized UX
Robust UX is another reason why people pick mobile apps over just mobile responsive websites. Mobile websites do okay but they do not fulfill the growing needs of tech-savvy consumers. There are multiple choices in design that can offer a good user experience while online shopping. Where PWAs are a budget-friendly option amongst small retailers, native apps guarantee a quicker and easier mobile experience for consumers.
Innovation in Payment Technologies
Cards and cash have long been widely accepted payment methods for consumers. However, the genesis of payment gateways and mobile wallets have come out to be the game-changers. Customers find these a more convenient way to pay their bills and make purchases. Moreover, people don't have to do queues at the billing desk to pay the bill for their purchase. They can quickly scan the barcode associated with the billing desk and clear bills via their digital wallets, without creating a fuss about the change.
COVID-19
COVID 19 has come out to be a driving force for many changes happening in our lives, impacting retailers and consumers alike. As people lost the freedom to go to malls, stores, and supermarkets for buying household items, they started resorting to online orders and delivery. This has hence been one of the prime drivers of the digital marketplace in the past year.
Next, we have listed some of the trends that are just getting popular in digital marketplace development and will have a great impact on the businesses in the upcoming years:
Location-based Marketing
Smartphones make it easy for retailers to target customers on the basis of their location. It can help attract customers on the go who visit a store whenever there's an offer or a brand new product gets launched in a store. Location-based marketing enables businesses to build strategies that are applied throughout the consumer lifecycle - from search, and purchase, to interaction and retention. With proper planning, businesses can send personalized offers to the mobile devices of users.
Mobile Retargeting
Advertisements are forceful and placing them around random places can irritate customers. Mobile retargeting solves this problem and allows marketers to target ads contextually. It makes it possible for marketers to target only potential customers and influence them in their buying decisions. For example, an active mobile targeted ad will be shown to the users who have entered a certain area or are in proximity to the store.
AR on Mobile
In the year 2019, the number of apps with embedded AR stood at 2282.2 million globally and is expected to grow further in the near future. Retail giant IKEA has strengthened its brand name by including AR mobile applications. For a better and richer user experience, IKEA created AR models of their furniture items so that customers can apply those models directly through their mobile application and see whether the piece of furniture fits into their homes/office or not. Not only IKEA but brands like Coca-cola, Zara, Pez, and Covergirl also leverage AR in their mobile app.
AI, Chatbots, and Shopping Assistants
Chatbots have become an essential tool for Digital marketplace businesses for things like:
Helping buyers complete the purchase
Offering product recommendations to buyers
Providing customer support
These round-the-clock chatbots are powered by AI technology. They work as shopping assistants when the customer support representative is not around. Consumers' rising inclination toward chatting on the go is the biggest reason for the growth of Chatbots.
Conclusion
If you are a small business owner or a retailer or even a startup finding a way to ensure a thriving business, you can not ignore mobile users. To attract them, you need to embed the latest digital marketplace trends into your business. Incorporating mobile payment gateways and chatbots would also elevate your business. In short, the future of the digital marketplace is bright and it would be wise if you embrace these positive changes. Get in touch with a digital marketplace mobile app development company to get started.