How AI/ML based Chatbots Are Reshaping the Future of Mobile App Development
by Smitesh Singh, on Feb 3, 2022 10:41:09 PM
Chatbots today are making a statement across a wide range of consumer apps as well as in internal enterprise processes. Consumers prefer using chatbots to buy products and services. Implementing chatbot technology according to custom business needs is therefore playing a significant role in customer experience but also the customer journey for brands.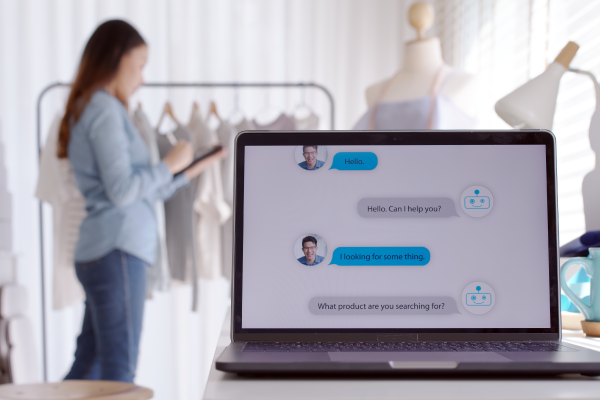 47% organizations are on the way to deploy chatbots for services like customer support, and 40% of them are inclined towards implementing virtual assistants for similar services. Tech-backed predictions suggest that the chatbot technology will be customized to be at par with human behavior, and provide improved customer service. In this blog, we will discuss some major trends that are reshaping the future for chatbots and hence, the enterprises that implement them:
Smarter and More Muman Chatbots
Some enterprises refrain from implementing chatbots due to their inability to process a customer's intent or lack of conversational intelligence. Some might also argue that chatbots are unable to understand various accents or cultural meanings to process an accurate response. Yet, chatbots are improving and are an increasingly preferred form of interaction by customers when shopping at a website, interacting with digital banks, accessing learning content, availing of digital healthcare, and so on. With AI algorithms becoming smarter with big data and analytics, these chatbots are expected to solve complex customer queries at a much faster rate.
As AI becomes more conversational and smarter, chatbots will:
Offer customized experiences, personalised according to customer needs.
Boost customer loyalty.
Improve consumer perceptions of the brand and collect positive feedback.
Rise of Messaging platforms - growth driver for voice and chatbots
Platforms equipped with chatbot functions can boost brand awareness, sales generation, marketing, and consumer support. Messaging apps that have both voice and text modes of communication, are slowly becoming a preferred way to interact with brands. Voice bots also provide a hint of personalization to combat the problems surfacing due to consumer requirements.
Chatbots impacts businesses and the way they connect with the customers, handle their lead gen marketing campaigns, and receive payments. 67% of the US millennials report that they will likely buy products as well as services through chatbots.
Chatbots can streamline internal workflows
Chatbots are also being used to resolve customer queries, speak to employees, and carry some HR functions. They are also capable of assisting the process of employee onboarding. Chatbots can execute screening questions, store answers in databases, and aid the employee induction process and protocols. Also, chatbots can resolve common IT issues, so that IT service desk agents can focus on fixing more complex issues.
AI chatbot trends are positioned to undergo transformational changes that will be implemented across several core business processes.
These processes include:
Automating business processes
Predicting consumer behavior
Recommending products and services
Streamlining customer support experiences
Customer choices and UX facilitate chatbot usage.
Enhanced customer insights for better customer experience
Without deeper AI and chatbot integration, it is tough to envision user behavior and experience. Chatbots collect, and normalize consumer feedback to train chatbots to become more intelligent and human-like. Over 2 billion texts are exchanged in customer interaction with brands via the chatbot systems. Data collected from social media is unstructured, making it difficult to use.
Implementing AI in social media can help enterprises understand various nuances of consumer behavior, like time online, the intent of using social media, and most popular social media channels. Chatbots can help organizations streamline processes by analyzing huge data sets to get a better view of customer behavior.
Chatbots for more consumer applications
Chatbots will be included in more apps with time. Chatbots are an asset to any organization. They collect, analyze, and monitor data in order to take the requisite action. Chatbots can be easily embedded in mobile apps, and the list of brands expected to craft these apps is growing consistently.
Chatbots are already being used to expedite and automate personal chores, like e-learning, health, parenting, etc. Chatbots have come out to be the most innovative solution in bringing technology and education closer.
Conclusion
In conclusion, chatbots will continue to be revolutionary. They are an innovative solution for numerous industries such as real estate, hospitality, healthcare etc. They also have a huge scope in quality improvement, marketing, cost reduction, and data aggregation. However, the actual potential of chatbot technology extends beyond these discussed markets.
Businesses have to collaborate with technology firms that help them fulfill their unique customer needs with highly personalized chatbot development. Get in touch with one of the top chatbot development companies today.