How and Why to Modernize Legacy Systems in Banking
by Smitesh Singh, on May 2, 2022 11:22:15 AM
Legacy applications are not just slow but also add exponentially to the maintenance and operational costs of financial institutions. Leaders in the BFSI industry need to be invested in efforts of modernizing legacy apps if they intend for them to perform consistently in these competitive and technologically dynamic times.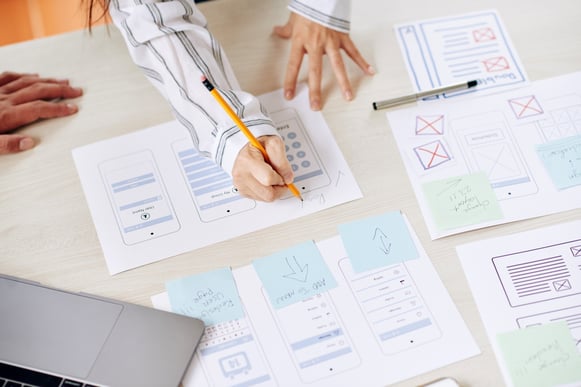 According to McKinsey, a comprehensive approach to modernizing the legacy banking system can reduce the time and money spent on achieving the same results by 70%. Modernizing the legacy systems involves replacing older, less efficient systems with new technology that's designed to meet the evolving business as well as customer needs. In this blog, we talk about how banks and other financial institutions should modernize their banking systems.
Modernizing legacy systems in banking payment - An overview
The term legacy comes from legacy code - a term for programs that are obsolete and continue operating as they have been. Typically, legacy code is 10 years old or more. This introduces unsustainability due to increasing demand for new features and improved user experiences, making it difficult for financial institutions to service customers with ease and efficiency. Modernization of this code is supposed to be siloed in nature so as to make sure that the application in production doesn't break or go down. This can be done through the right tools and processes. Let us look at some best practices of application modernization:
Guiding Principles to Updating Legacy Systems in Banking
While working on the project, stick to these key principles that analysts recommend to successfully modernize legacy systems in banks:
Establish a flexible data platform: Avoid abrupt and sudden shifts to a single new data platform, it will add to the complexity. Begin with the sources that offer deeper insights into customer behavior or performance, such as credit card transactions or mobile phone records, and work on creating intuitive interfaces for these operations.
Use microservices: Focus on decentralization, application continuity, and building apps that are customized according to modern customers' needs. Microservices are exactly suitable for modern times.
Categorize capabilities for customer journeys: Banks should identify key customer processes and map out their specific requirements for seamless digital experiences. The first step is identifying which functions are essential at each stage of a journey and which are not. It may be tempting to use new technology as an opportunity to provide every possible service, but banking leaders should be aware that they could create distracting complexity if they don't maintain simplicity at every step.
Prioritize integration: Rather than simplifying systems, leading banks use a strategy of integrating with modern tools while keeping the legacy core intact. Then, they start slowly moving core processes to their new environment over time.
Rely on SaaS for non-critical capabilities: While many enterprises still rely on internal resources for service delivery, SaaS has proven especially effective for streamlining business processes. By moving applications like HR, procurement, and other back-office systems from onsite servers to a cloud platform, IT teams can focus their efforts on upgrading their mission-critical software.
Ways to Modernize My Legacy Banking System
There are several examples of legacy systems in banking that don't require heavy changes but merely the addition of modernized parts. Here are some ways that banks can use to augment their legacy apps while modernizing them:
Online banking: Modernization will require you to create new experiences for customers through custom online banking platforms, mobile apps, security technologies, UI/UX, and system integration.
Digital wallet: A digital wallet is pertinent to the modernization of fintech and banks. These wallets enable P2P payments, facilitate digital transfers, and introduce in-app currency with enhanced security and tailored promotions.
AI and ML: AI/ML is the frontrunner in all modernization endeavors, especially in the banking industry. AI/ML for mobile app development can introduce predictive and recommendation systems, Natural Language Processing, computer vision, and data mining and analytics into your bank.
Trading and securities: Modernizing mobile stock tracking involves improving API integrations and UIs for digital brokerage, blockchain ledgers, and implementing AI & automation. This will account for a lot of your modernization efforts.
Robotic Process Automation or RPA: The RPA technology enhances productivity while providing intelligent automation via account reconciliation, automation of mailers, monthly reviews, as well as regulatory reporting.
Conclusion
If you're ready to start your modernization efforts, talk to experts to discuss the best approach to updating your legacy systems and start improving your financial business today. A banking app modernization services provider can help you seamlessly integrate new features and revamp the functioning of the app without meddling with your core business proposition. Get in touch today!