Datamatics is a Leader in Customer Experience Management, Spark Matrix 2022
by Praveer Chadha, on May 9, 2022 11:36:55 PM
Estimated reading time: 2 mins
Key takeaways from the blog
Datamatics offers a superior customer experience and delivers value to its partners with digital solutions.
The company leverages its AXIS approach for creating value in the CXM space.
Quadrant Knowledge Solutions positions Datamatics as a CXM Leader, 2022.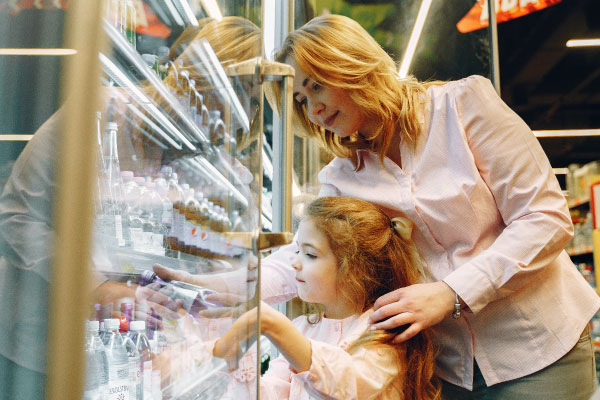 Quadrant Knowledge Solutions has named Datamatics as Customer Experience Management (CXM) Services Leader in the Spark Matrix 2022 report. Datamatics provides superior Customer Experience Management and Customer Management Solutions by leveraging its AXIS approach (Analysis, Xperiences, Insights, Customer Satisfaction) that systematically amalgamates digital solutions, domain knowledge, and Connected Data. The report competitively positions Datamatics as a Leader among tier1 global CXM service providers in its debut to the Spark Matrix.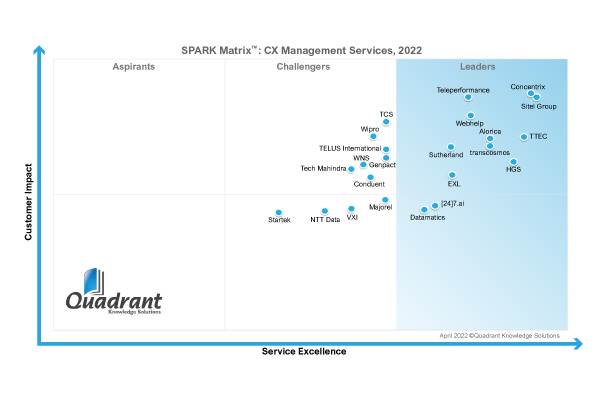 Read the CXM Services Spark Matrix 2022 report>>


What is the Datamatics AXIS approach?
Datamatics AXIS approach is an amalgamation of "Analysis" to create "Insights" and provide "Xperiences" to increase "Customer Satisfaction". It aims to deliver enhanced customer experience, superior business outcomes, and the next-best-action by enabling consumer insights.

Datamatics creates a superlative customer experience for its partners with data-driven insights derived from customer, domain, market, and industry knowledge. The company transforms existing customer information into actionable insights enabling "value creation" across the Customer AXIS.
How does Datamatics enable its partners through its AXIS approach-driven CXM?
As enterprises continue with their focus on revenue growth and expansion, delivering a personalized experience, exceeding customer expectations, and improving brand loyalty is important. While Big Technology-driven customer expectations and dynamic markets compel the acceleration of digital adoption, Connected Data is the way ahead for the enterprise CXM journey. CXM specialists and service providers enable enterprises with technology adoption to deliver quick value.
Datamatics, with its AXIS approach-driven CXM service portfolio, enables its partners scale up the CXM route at a faster pace with actionable consumer insights and enhanced customer experience management solutions. Datamatics has expertise in the globally leading CXM and CRM technologies. Conversational AI or chatbots, predictive analytics, prescriptive dashboards, integrated service and omnichannel assistance, and multi-lingual cross-trained FTEs are just some of this expertise.

Datamatics has significantly invested in building intellectual property in technology products comprising intelligent document processing, intelligent automation, robotic process, business intelligence and visualization tool, sentiment analysis, artificial intelligence/machine learning, workflow integration, and pattern mining in text/speech/image/video/social media. With this array of technology investment and intellectual property, Datamatics enables its partners to accelerate technology adoption and scale up their CXM journey.
Analyst Speak – Datamatics debut as Leader in the CXM Spark Matrix 2022
Datamatics has a significant footprint in CXM space in fast-growing technology, retail, manufacturing, telecom, BFSI, hospitality, and travel sectors across North America, Asia Pacific, and Europe. Quadrant Knowledge Solutions Analyst, Priyanka Panhale, acknowledges Datamatics continuous endeavor in delivering a superior customer experience through digital services by using its integrated AXIS approach. She states, "Datamatics offers comprehensive digital capabilities around its omnichannel, integrated and multi-lingual customer services." She validates Datamatics' presence in the CXM space and says, "Datamatics continues to provide superior value to its customers through expertise in customer analytics, process consulting, mystery audits, and AI-based solutions." She appreciates Datamatics' CXM capability as a global service provider and the future scope. She substantiates, "The company is well-positioned to expand its market share in the CX Management Services market, with its comprehensive service capabilities, deep expertise, and understanding of customer management processes."
Next reading