How Retailers can Use Beacons Powered Proximity Marketing through COVID-19
by Abin Thomas, on Jul 9, 2020 5:34:26 PM
Pandemic has triggered panic-buying all over the world, no matter in-store or online. A customer more likely will buy that pair of sneakers that he has been looking for a long time, as soon as he receives a notification of a sale on the item while he is close to the store.
Moreover, due to reduced customer time spent in-store, it becomes even more critical for retailers and store owners to make the most of that brief time their customer steps out on the street. Informing them of offers, new product launches, whenever they are close to your store will become important than ever before.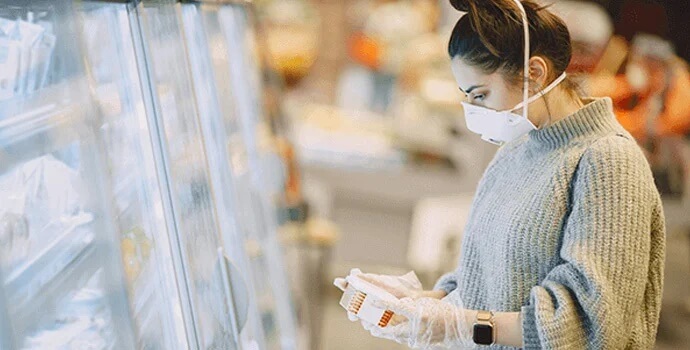 Beacons will enable enterprises to catch up with customer needs and create a more cohesive online-to-in-store experience during times like these. Cloud-based beacons can connect to any smart device within a 50-meter range. Also, users can automatically update this beacon anytime and from anywhere across the globe.
What are beacons?
Beacons are little devices with Bluetooth functionality and can send notifications to smartphones on the basis of location proximity. The technology is employed to notify people of discounts, events, promotions, or other alerts to buyers when they're buying in-store. The store's app needs permissions from the customer to track his/her location even when the app is not in use or else customers can open the store app when they're close to a store to look for offers.
Let's explore a few more use cases of this technology that retailers can actively leverage through COVID-19 and can turn challenges into opportunities:
Tracking customers' in-store movement
Beacon technology can be used to track the in-store movement of customer and deliver them the personalized information as well as discounts on the products that they are looking for during their saturated visits to store. For instance, if your customer is in the departmental store for essentials, he might avoid exploring the shirts section despite being close to it, but if he receives a notification of a heavy discount on shirts of his choice, he might make a move.

If the buyer is in the cosmetics section, the app can alert him of cosmetics he wish-listed online. This data can help convince the customer take actions like making a purchase.


Help customers' in-store navigation to expedite shopping
Huge departmental stores are daunting and time-consuming to navigate. During COVID-19, a customer would prefer spending minimal time to shop the items he is looking for. Often they'll forget buying a few items or will skip them in a hurry to leave the store. Apparently, beacons can help resolve this issue by providing an indoor navigation experience which can make it simple for them to find desired items.

For example, beacons can be employed to generate a GPS for shopping cart, which can be used by customers In-store to make shopping lists and find the item locations in-store. While they change their position, their location also changes in real-time, displaying their estimated distance from the desired item on the app.


Use beacons to build brand loyalty
According to research, 70% of millennial shoppers look up products on their smartphones while in a store. Hence, beacon technology can do more than deliver promotions and discounts. For instance, a number of retailers today can use beacons to create a mobile-first loyalty program.

They can also inform customers of the safety and hygiene precautions that brands have been taking for products onboarding.

By using beacon technology in combination with social media, retailers can let customers update a check-in to their stores with an endorsement on their social profiles in return for discounts when they're in-store. Ultimately, this strategy will empower you to use real customers as authentic brand ambassadors, while making a customer's shopping experience safe and hygienic.


Notify customers outside of your store
In modern day advertising, reaching people outside your stores is as important as reaching the ones in-store particularly during COVID-19. 61% of U.S. shoppers who have never tried in-store tracking before say that receiving discounts and coupons from a retailer would inspire them to make a move. In case you are getting started with your retail business, it is best to start with an app embedded with beacons that can also send discounts and coupons to the customers that pass by your store.


Using beacon data for ads targeting
Sending smart advertisements to customers is an innovative way to improve conversion rates. The data that can be collected using beacon technology is invaluable when targeting ads during COVID-19. A customer might put a list of things such as milk, eggs, bread, etc. on his digital shopping list, and when he is around a supermarket store or a dairy aisle, the app can notify him of those things. A customer might make a budget for shopping in a month and this data can be used to send them ads or offers that are in-line with their budget requirements. This type of targeted messaging is helpful and will likely lead to higher conversion rates.


Using Beacons for Social Distancing
Beacon technology can help retailers make social distancing easy for customers while they are in-store. Their apps can notify them whenever they're closer than 1 meter to another person in the store. They can also identify closest infected cases within a radius of 2-3 km and inform customers to be extra cautious when around those areas. Hence, if you are hesitating to build a model that is entirely digital, you can choose a level of digitization that works for you and your consumers like beacons powered app for social distancing. The beacons powered apps can also be used in workplace environments for staff to maintain social distancing.
Conclusion
The whole idea of using beacons is centered around the fact that a customer is much more likely to buy products and services while he is out shopping and is assured of his safety and hygiene compared to when he is at home. Besides, there are so many other ways beacons clubbed with IoT can be put to use to send revenue streams soaring high while building closer relationships with the customers even after the pandemic ends. Starting out with building an app for your store has become a pandemic triggered norm but it is here to stay. It will empower enterprises to explore various other ways that technologies like beacons, IoT, AI, etc., can help them meet their business goals. Get in touch with us today, to know more about our retail beacon solutions.
Next Reading: