Mobile Concierge App for Hotels - How To Develop and Benefits
by Smitesh Singh, on Jan 3, 2022 9:08:43 PM
Like numerous other industries at present, hospitality implements software as well as mobile apps to improve their customer experience, optimize workflow, and overall industrial development. According to PwC, more than 70% of executives in hospitality report having started working with technology solutions such as IoT to streamline operations like applications booking, room, as well as service management due to the benefits they offer for a hotel's brand value. In this blog, we will discuss the basic information regarding the mobile concierge app, and why they remain a popular choice of hospitality giants nowadays.
What Is A Mobile Concierge App?
A mobile concierge app is an innovative software solution for hotel room management that can radically improve the guest's experience and ensure they have a comfortable stay at the hotel. The concierge app allows clients to ask for various kinds of hotel services through their smartphones. These include taxis, flights, restaurant bookings, room service, transactions, check-in, check-out formalities, etc.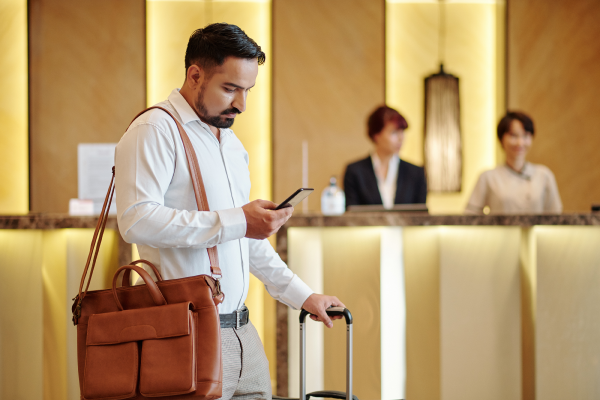 The Benefits Of A Mobile Concierge App
There are plenty of reasons for implementing the concierge service app for hotel business whether it's a single hotel or the entire chain. Let's look at the basic use cases of a concierge app for the hotel.
Communicate With Hotel Staff/Resolve Guests' Requests
The mobile concierge app can help customers find the hotel staff in one click instead of waiting hours to have them service the room. Any service option can be requested with one click through the app.
Send Important Updates
A concierge app does away with the need for newsletters, papers, and boring conversations at the reception. One can find all the information one needs in the hotel application. If customers still have any queries, they can get in touch with the hotel manager through a mobile app and get answers to them.
Offer Service Brochures
An app can offer guests a list of all extra services a hotel concierge app can offer them. They can go through these services and order the ones they like right from their rooms.
Assist Customers With Their Requests
A mobile concierge app can act as an online helper and guide customers on the weather outside, to contact a hotel staff, unlock the door or order extra food or drinks right at your doorstep.
Access Customer Insights
To get any feedback about your hotel, hotel managers can ask customers to complete a simple form through a hotel concierge app. Also, people are much more likely to respond to the surveys that take just a few taps rather than filling forms on the reception. Moreover, digital surveys are easier to analyze and execute. This can be used for hotel service improvement also.
Main Features Of A Mobile Concierge App
Transaction Payments
In the times when the world is implementing contactless payment mechanisms on their systems, the hospitality industry can easily incorporate this feature into the mobile concierge system. Thus, when a guest wants to perform actions like pay for the additional services, complete the check-out procedure, or extend the stay, they no longer have to rush to the reception. Besides, the hotel can also ensure social distancing and take care of clients' and working staff's safety. This becomes a major feature through the pandemic.
Dynamic Updates
When you implement a hotel concierge app, the main page can be personalized with relevant consumer content such as places to explore around, restaurants and cuisines, etc. If a customer is interested in local events for the week, or any other event hosted by the hotel, the mobile concierge can recommend various events or occasions that might fit the guests' needs.
Automated Notifications/Room Management
Inside modern hotels, managers have already implemented the digital hotel concierge, which is used as a digital assistant, that helps improve the guests' personal experience and makes their stay much more comfortable. These apps with some advanced features of the room service such as door opening, wake-up call, and receiving the latest updates on requests, will make a guest's stay worthwhile and make them come back again. The app helps them stay connected 24/7 with the service staff of the hotel and receive all the requests in a single tap via the app.
Conclusion
The primary idea of a hotel's concierge app is to make the guest stay comfortable and optimize a hotel's functioning. To get started with your concierge apps for hotels, get in touch with a.mobile apps development provider.