6 Trends Shaping Up the Future for Wearable App Development in the Year 2022
by Smitesh Singh, on Jan 5, 2022 8:57:28 PM
Wearable technology has been impacting the mobile app development avenue, traversing a critical and wide range of industries with its versatile, optimal performance. The modern-day tech world has had a reputation for mobilizing the next-gen technologies in the present and surpassing the expectations of the world on what is feasible.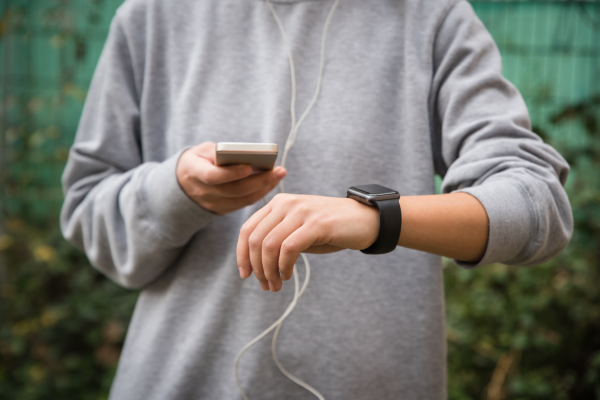 The upcoming wearable technology is one link in the chain of engineering evolution with future-headed possibilities. For one, the segment is experiencing a rapid build-up of new categories that are reforming mobile application development as we know it. In this blog, we will take a look at some of the top trends in the wearables app development technology market.
25% of the adults in the USA are projected to use wearable devices by 2022. These devices need multi-platform connectivity along with numerous user-friendly functions. This has the unilateral potential to transform the future of wearable devices and apps. Apart from the benefits of wearable devices for common people, app development in this domain is expected to attain massive momentum across enterprises for many other reasons. Let us look at some trends that will complement this momentum:
Internet of Things
IoT is the digital fabric of these interconnected devices. The main principle is to connect devices and facilitate data exchange to compute logical conclusions for smarter living. Connectivity is not just a random tenet of IoT, it is one of the primary expectations of wearable mobile device users. The future of wearable technology can be envisioned via a customized enlisting of fundamentals of the healthcare sector. Here's the list of wearable IoT devices that various healthcare institutions are launching:
Glucose trackers
Sports utility equipment to avoid concussion
Wearable defibrillators for heart patients
Remote asthma monitoring
Bluetooth enabled monitoring apps for cancer patients
Automation systems for homes and fitness trackers come under the pervasive umbrella of IoT technology. Moreover, the big tech is betting huge on IoT and shaping the wearable tech future. Apple and Google are targeting retail customers through their products like iWatch, smart lens, etc. Samsung, besides the Galaxy smartwatch, also has IoT solutions in wearables for fleet management. Therefore, the future of IoT is strongly linked with wearables and will continue to impact app development for end-users.
Wearable app developers should integrate IoT in their products in order to make a mark in the field.
Customized app functions
Wearable apps require lesser resources because their memory, as well as hardware, are lower in cost as opposed to smartphones. Consider smartwatch app development for example. While generic mobile apps can be overwhelmed with a gamut of unwarranted features, smartwatch will restrict itself to the core function, which is telling time.
Shared data ownership
The Internet of Things has come out to be rebranded itself as the Internet of Everything. According to research, there will be 31 billion connected IoT devices. Together, they will generate data worth 79 zettabytes.
The following source of data will contribute the most to this cycle:
Business Applications
Industrial control systems
Wearables
Web data
Sensors & devices
Digital media
Location tracking sensors
We are at an inflection point in the relationship between wearable device apps and humans. IoT data collection will force marketers to experiment with unconventional approaches and shun senile, old-school mindsets. Not to mention the emergence of self-governing AI algorithms that operate on minimal data minus the dependency on volumetric data sets. In tandem with Gartner's data analytics prediction for 2021, wide data will be key to the future of wearable technology.
Wearable technology devices such as fitness trackers, smart eye-wear, and body-mounted gear create data that enables hardware and software vendors to map consumer profiles. Shared data ownership enables the linking of wearable technology companies with e-commerce platforms.
GPS wearables
Google glass, Spotnsave, wristbands, etc. are examples of wearable tech that gather location data of users. At present, these devices have gained immense popularity amongst people as they are quite affordable. Moreover, a single monitor can help guardians maintain protective and remote supervision in adolescents. The future of wearable technology relies on the integration of GPS trackers in devices. Self-driving cars come overwhelmed with updates on real-time GPS helping them in navigating safely.
e-Payments through wearables
Research states that by 2025, the global contactless payments marketplace will be valued at $18 billion. According to Marketsandmarkets, smartphones as well as wearable technology in business will continue to contribute to this surge, also underpinning the social distancing norm due to the crippling pandemic. Private banking institutions are rolling out wearables and contactless payment devices for people to pay on the go.
NFC or Near Field Communication Technology connects a smart device to assets such as credit cards, and prepaid debit cards. A wearable app development company can be your end-to-end support for these projects. The experiential faculties possess the potential to create a wearables ground-up equipped with e-payment gateways. With a wireless network, users could flash their wearable device in front of the terminal and transact instantly.
Smartwatch development
Consumer psychology shall stay the same, perform more number of tasks in lesser time. Smartwatches provide an exhaustive experience for smartphones at a far lesser price. Smartwatches can double up as a fitness tracker and a mini-smartphone. In the age of instant interaction, they help you receive social media notifications. Some wearable devices also come with built-in support for YouTube. People who are health-conscious can monitor their sleep, level of glucose, calories burned, stress levels, and more with the right smartwatch. Hence, facilitating smartwatch interface interaction with home appliances is supposed to be the next big thing.
Beacon technology
Beacons are wireless transmitters that work on low-power Bluetooth technology using which they can interact with the devices in proximity. They can link up with the closest smart devices and exchange data to facilitate location-based lookup. Talking about the hardware, it is akin to a setup that includes a CPU, radio, and a couple of batteries. Given the simple logistics of beacon devices, it is easily being integrated into devices like smartwatches. A wearable app development company can predict a measurable growth of the beacon technology in the imminent future.
Conclusion
Apart from the wow-factor endowed by wearable devices, they also have numerous lifestyle benefits. Touchless business activities, on-demand facilities, and an immersive experience, wearable devices sanction enough reasons for adoption during the pandemic. A corroborating factor of this is that wearable device manufacturing is picking up pace and so is the corresponding app engineering. To get started with your wearable apps development, get in touch with a trusted technology partner.
Next Reading: