Importance of Wireframing in Web and App Development
by Smitesh Singh, on Aug 8, 2022 1:46:48 PM
Building a good website or an app comes with building a successful structure that can support a progressively exceptional user experience. This structure is typically called a wireframe in the app development process. Creating a wireframe becomes a critical step in the whole app/website development process. This blog highlights exactly what a wireframe is and how you can begin working on your wireframe to build a web or mobile app that appeals to your cause.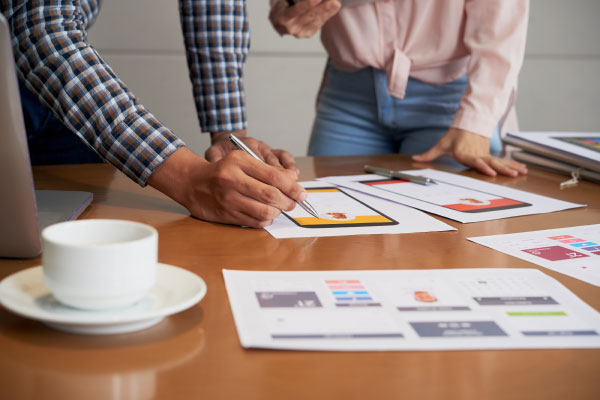 What exactly are Wireframes?
They may seem like a complicated endeavor but actually, wireframes are built upon a simple concept that promotes a faster, easier, and cheaper web or app development process. Wireframes are the final layout of a product that offers coders as well as developers some details on how they can craft the front-end of an app or design. It can also be called a navigational map that depicts how the visuals of your app idea will manifest, or a skeleton outline that demonstrates the basic functions and pages of your website.
Let's look at some technicalities along with some micro details of wireframing before looking at the importance as well as advantages of mobile and web app development.
Kinds of Wireframes:
Wireframes can be divided into three main categories and the differentiating factors in the three include the detailing, complexity, and the amount of features that they use.
1. Low-fidelity
This is the most uncomplicated kind of a wireframe. This kind of wireframe is often drawn as well as outlined in black & white over the paper. Design enthusiasts typically overlook grid, pixel, and scale to make use of features like squares, block shapes, lines, images, Latin filler texts for labeling and content, etc. The motive of these low-fidelity wireframes is to offer developers some conceptual sense, narrowing down various choices for a layout.
2. Mid-fidelity
The medium-fidelity wireframes remain the most widely adopted kind of wireframe offering a detailed as well as an accurate design layout. Similar to low-fidelity ones, these wireframes use shades of black and white, but one can experiment with different shades to distinguish one from the other with respect to features. To segregate the body of the wireframe into segments, one can use various text weights. Mid-fidelity wireframes are used through the first stages of a project to help adjust add-on features as well as the functionality of the primary features.
3. High-fidelity wireframes:
High-fidelity wireframes are different from the rest two kinds, these wireframes use various colors for the images alongside some written textual content to construct a replica of the app that is in question. Their low-level detailing enables them to become a suitable choice for improved documentation on complicated concepts. Moreover, these wireframes enable the exploration of interactive maps as well as menu systems easier than ever before.
Advantages of Wireframing:
Adapt and Change Efficiently: A website or an app's front end will need frequent updates and changes. Regardless of how good your design or your layout is, readjustments cannot be avoided at any cost. When working with a website or an app with multiple pages and use cases, these tasks become even more cumbersome, and time-consuming, taking up to weeks or even months. This is the reason why developers use wireframes because inducing a change in full-fidelity designs can incur huge costs for the company as well as the customers and end-users. Hence, wireframing can help you make changes effectively saving you time as well as money.
Enhanced Visualization of the App Structure: One cannot create a structural blueprint of an idea in the head. It has to be laid out through a tangible hard copy or a digital counterpart. Wireframes become the best way to visualize the structure of your web app or idea. New and fresh ideas need constant tweaks as well as modifications which can be easily done in the wireframe. Also, to manifest what you're thinking for your client to have a look and get their thoughts on the ideas, a wireframe can act as a working prototype of a project.

Improved User Experience: To make sure that your brand or company stays ahead of the competition, user experience is something that you need to prioritize. An intuitive user interface enables you to attract new customers and also retain the existing ones. With wireframes, one can try and test everything that you expect from your app, and make changes while looking at the app from the end user's point of view. Ultimately, you are telling your potential customers as well as your competitors that you prioritize user experience and expectations over everything. Companies as well as developers that don't create wireframes choose to keep the usability overshadowed as they can not show the page layouts or the app clearly.
Understand Site as well as the App Features:
Every website and app needs updates, upgrades, as well as new features. In case you include a brand new feature or introduce a code in the backend, wireframes can better help you comprehend the features as well as the way it will visualize with your UI. If your client is unsure about the brand new feature and where it could be positioned on the website and app, wireframes can be very useful as well as influential. When you as well as your client become content with a new feature, both parties can confidently move ahead with the app.


Conclusion
To stay afloat in a market that is competitive, you need to make use of all tactics as well as tools to cut down on time and hence, money. Wireframes can help you make the changes to your project more effective as well as efficient, having both short as well as a long-term effects on saving time as well as money. To get started with your project's wireframe, get in touch with a UI/UX design and development company.