RPA scalability issues bring focus back to "process" and implementation
by Saurabh Sharma, on Oct 30, 2020 1:18:58 PM
Industry analysts and consulting organizations have published several surveys indicating that despite the hype and quick sell of software licenses, enterprises have struggled to scale RPA implementations. A survey published by Deloitte* mentions that of the surveyed enterprises, 38% are piloting (1-10 automations), 12% are implementing (11-50 automations), and 8% are automating at scale (51+ automations). These survey results do not paint a rosy picture for the state of RPA adoption, in the end, RPA needs to move beyond the chasm of initial excitement and experimentation towards automation at scale.
While it may not always be a good idea to gauge scalability by just looking at the number of bots in production, it is still a ready reckoner of how much RPA has penetrated in the broader enterprise automation initiatives. It is also worth mentioning that such scalability issues are not necessarily resulting from RPA as a "technology", software bots break with changes in user interface (UI) or process flows. At times, the RPA initiative leaders do a poor job at picking the right processes for automation and little, if any, consideration is given to check if the version of a process being automated is appropriate or not. Achieving success with process automation initiatives calls for synergies between People, Process, and Technology facets, which is clearly missing in many enterprises.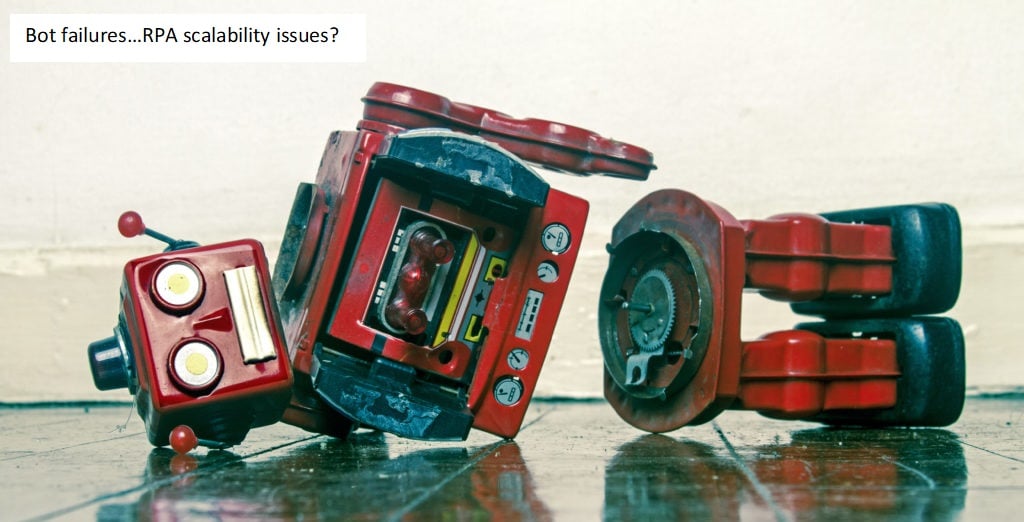 Source: Chief Executive Group, LLC
Do not forget the "process" in process automation
With the current marketing hype surrounding RPA, it is a common notion that throwing software bots at processes in "as-is" state, without much planning or oversight will still deliver appreciable value (or simply, cost savings). With that background, it is not surprising that process variations are not considered upfront and enterprises end up having several iterations of the same process, with bots breaking every time there is a change in the process or the UI. The overall cost of maintaining bots and re-building automation scripts can quickly add up to an equation that makes the proposition of "cost savings with RPA" a not-so-easy objective to achieve. Process experts and BPM practitioners can be handy from this perspective and traditional BPM principles and Lean six sigma practices are equally valuable if you are automating with RPA. In an ideal scenario, all relevant stakeholders should come together to develop what is the "best-first-version" of a process and only then the actual endeavor of process automation should start. Lean six sigma approach can reduce waste and help in picking the "right candidate" processes for automation.
One of the frequently asked questions is how to justify and build a business case for investment in RPA? The often cited notion of "start small, grow big" is appropriate for most RPA implementations, start with processes that will help you in realizing "quick wins" and then demonstrate that "automation with RPA" can deliver significant value – be it cost savings, ability to free up resources to focus on more-strategic and higher-priority initiatives, or just reduction in time-to-automation. Forrester's "Rule of Five"**, which is a good reference in this regard suggests that one should identify processes with less than or equal to:
5 decisions made
5 applications connected
Five hundred clicks.
Some enterprises follow a different approach and start with complex processes that they have not automated otherwise, which more often than not results in failures or lesser than 50% automation of a process. It is always good to pick up processes that have a direct business value so that "good" results realized from "automation with RPA" are significant enough in the eyes of the business, and then they are more amenable for a "go ahead" for a wider-implementation of RPA.
Business-IT alignment is key, there is no secret sauce to success in RPA implementation
While Business-IT alignment in not-so-easy to achieve, there is no workaround available if RPA has to be institutionalized at an enterprise level. If IT is not on board and lines-of-business (LoBs) have a free run in picking up RPA tools, which they think are appropriate for their purposes, there can be a plethora of automation software creating a spaghetti architecture that is difficult to manage and maintain. The occurrence of a data breach cannot be ruled out as well. We have seen the issues with the rise of "Shadow IT" in enterprises and discrete RPA initiatives without IT's oversight can potentially create a similar scenario.
From a similar perspective, setting up an automation center of excellence (CoE) can provide a structured approach to how RPA initiatives are implemented and governed. Then there is a need for "change management", with digital workforce becoming a part of the overall enterprise workforce. Development of internal skills and competency for RPA implementation can be handled via an automation CoE. It is therefore easy to understand that "LOB-led and IT governed" implementations are less likely to result in "avoidable" failures. RPA is definitely a tool aimed at less-skilled users targeting non-invasive integration at the UI level (i.e. surface automation), but that does not imply that IT does not have a role to play in RPA implementations.
Another cause of failure in scaling RPA is enterprises' decision to go with a consulting or professional services partner that does not have required process or domain expertise. If one does not understand the nuances of how specific processes work in a vertical industry, there are likely to be gaps that lead to several process iterations and bot script development exercises, and still a greater degree of automation may remain elusive. Look for a strategic partner that has substantial process and domain expertise, and has delivered large-scale implementations in the past. This would safeguard, to a great extent, against failures in the future. With the current RPA hype, many a times enterprises are sold RPA software licenses for use cases that are not at all a good fit. Trying to deliver that specific use case can be a daunting task, with far lesser degree of automation realized, that too after months of time, effort, and professional services costs. It is better to avoid such situations and instead work with a strategic partner that can handhold in the starting phases and later help in developing internal skills and competency within the enterprise.
*Source: Deloitte Insights, Automation with intelligence, 2019
**Use the Rule of Five to Find the Right RPA Process, Forrester, 2018