Successfully tread the risk & compliance management tightrope with RPA
by Rajesh Agarwal, on Jan 23, 2021 4:04:33 PM
Estimated reading time: 4 mins
The banking, financial services, and insurance (BFSI) sector is highly dynamic and is under continuous evolution. The primary reason for this dynamism are the regulatory compliance measures and procedure upgrades mandated by the federal authorities from time to time to protect the interests of the BFSI institutions and their clients. Besides, as the economy opens up in a multi-directional mode, monitoring each and every financial transaction has become an imperative as bad actors are continuously on the lookout for loop holes in the otherwise secure and protected BFSI environment.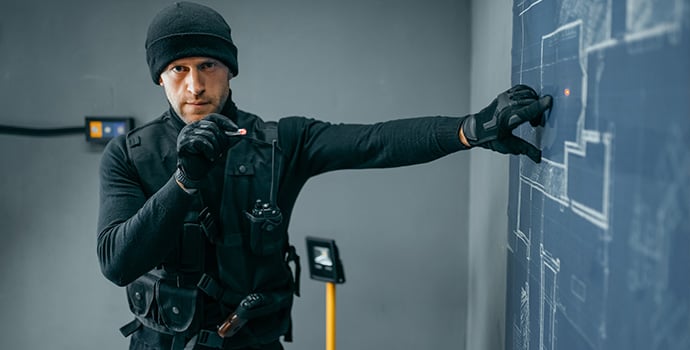 Today, the BFSI institutions have to meet close to 500 different compliance requirements for their retail and corporate customers almost on a daily basis. While treading the tight rope between managing risk and compliance, the BFSI segment needs to be precocious in every respect and as a result, they have to heavily rely on automation. Manual transactions can result in an error or a slip; however, automation practices are adept at continuous, hawk-eyed surveillance in a 24 x 7 x 365 mode. Robotic Process Automation (RPA) also referred to as Robotics, has always proved its mettle in BFSI along with other process-intensive domains. Intelligent Automation or Artificial Intelligence (AI) / Machine Learning (ML) enabled RPA allows the BFSI institutions to go that extra mile and automate the regulatory and compliance processes where otherwise human intelligence and human decision making is required.
How RPA and Intelligent Automation enable risk and compliance management in BFSI
Risk management and compliance entail systems communicating to each other within the enterprise domain and with third party government sites, creating reports by collating information from different systems and sending those reports to internal stakeholders and regulatory authorities, information validation with third party government sites, continuous 24 x 7 monitoring of high-value transactions, etc. RPA and Intelligent Automation allow BFSI institutions to not only automate these key BFSI functions but also most support functions, where swivel chair operations are predominant.
Use case 1: Information collection & validation for core banking process
Regulatory reporting requires a lot of information collation from different systems and a number of reports from different departments, validating the information, and releasing the report to the regulatory body at a predefined frequency. AI / ML-enabled RPA allows to streamline the underlying operations, expedite the information sourcing and validation as well as auto-schedule report submission to stakeholders at a predefined frequency.

Use case 2: Information collection, collation, & validation for support processes
RPA coupled with AI / ML allows banks to follow directives, streamline, and automate processes in the support functions too. This includes all data collection, validation, as well as internal and external reporting in the Finance & Accounting, Taxation, Audit, Human Resources, and Information Technology departments that involve risk and compliance management in a highly dynamic environment.

Use case 3: Regulatory compliance automation
BFSI entities have to fulfill umpteen number of regulatory compliances at a periodic frequency for millions of customers. Right from customer onboarding and validation of their information through Government portals to closure of accounts to many intermittent processes, such as monitoring of high-value transactions, outliers / potential fraudulent transactions, forensic investigations, money laundering, dispute management and resolution, creation of reports for federal authorities, etc.

Use case 4: Loans and Mortgages
Many countries have processes for federal tracking of loans and mortgages so that unscrupulous elements don't take loans against the same collaterals from different banks and financial service institutions. For this tracking, the BFSI enterprises have to upload information from their core systems onto federal sites for thousands of their loan applicants under various tabs which can be a very tedious process. RPA helps banks with this compliance. This enables regional banks to be aware of the loan limits availed on those properties, curtail the limits of top-ups, and prevent loans from becoming non-performing or NPAs.

Use case 5: Anti Money Laundering & Account closures
RPA bots help BFSI enterprises to continuously monitor trade finance operations, other high value transactions, and account opening operations with respect to negative listings. Here, even if the full name is registered in any order in the bank and the negative list, the RPA bots are able to throw up nearest matches so that authorities can do detailed in person enquiries and checks. Manual processes sometimes have scope for errors and slippages; however, RPA automation does a fool proof monitoring of the operations, eliminates unauthorized access to confidential information, and closure of accounts that are dubious.

Use case 6: Credit monitoring / Credit surveillance
Some customers frequently request for credit limit extensions and exhaust it completely indicating that some risk could be associated with that customer account. Manual monitoring and reporting allows for slippages and oversight. However, bots perform 24 x 7 monitoring and trigger alerts to all stakeholders, when credit limits are frequently touched, so that further investigations and actions are performed before NPAs are formed.

Use case 7: Model Performance
BFSI entities deploy many automation models for performing their day-to-day operations. These models need to be monitored for performance enhancements on the different enabling parameters. Sometimes, intermittent process and workflow changes give rise to process latency and errors in the automation models. RPA enabled with AI / ML algorithms offer that indispensable third umpire check. This step is quintessential for risk modeling and operational modeling.
Automation Expert, Rajesh Agarwal @ Datamatics explains how Intelligent Automation and RPA enables risk and compliance management in the BFSI domain. Watch now >>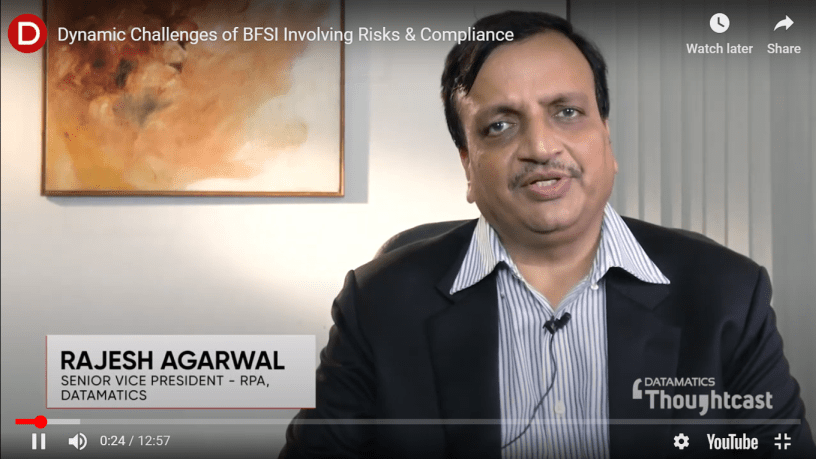 Stack of important RPA use cases for the BFSI sector
Stack of key RPA processes in the BFSI sector
Simply put
Even as the BFSI domain scales new heights of automation, the continuous evolution in the regulatory compliance space keeps the executives in tow. Intelligent Automation and RPA enable the BFSI entities to tread the tight rope between the risk and compliance management with confidence with a complete focus on the interests of their clients in a highly dynamic environment.