Top Tech Trends Transforming Institutional Education in 2021
by Rajesh Shashikant Renukdas, on Jan 29, 2021 2:44:11 PM
The education industry, having won half the battle against covid, is now embracing the new learning era that is strongly coupled with technology. Academic curriculums laid down as supplementary learning sources have now become fully-functional online Schools/Universities with exceptional results. However, in spite of an exponential surge in the digital transformation of educational institutions, there is a constantly widening gap between demand and supply in the ed-tech industry.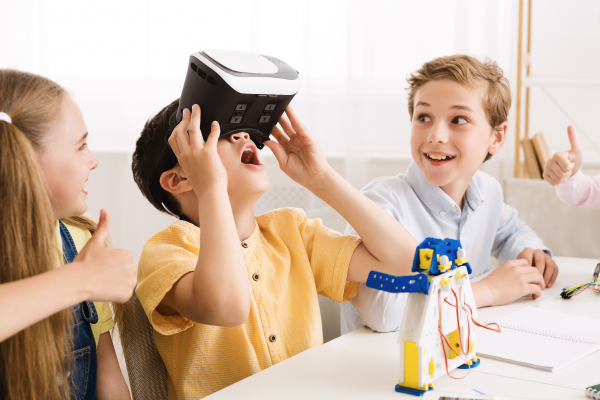 According to research, in mid-April of 2020, COVID-19 caused nationwide school shutdown in 190 countries, affecting 90% of the learners, which accounts for approximately 1.6 billion people globally.
Even with an abundance of e-learning portals like Skillshare, LinkedIn, etc the learning needs of individuals from corporations, universities, and schools aren't accurately addressed or are offered through bad UI/UX interfaces making learning extremely mundane. Moreover, free YouTube tutorials along with other learning content on web makes it even harder for schools as well as institutions with mediocre digital functionalities to penetrate the market. This gap can be actively filled by adopting innovative tech solutions in an environment customized with institutional rules and governed by approved faculties and staff with admin privileges.
These mobile solutions customized by institutions can surpass traditional online portals in every respect with a comprehensive integration of an institution-level academic curriculum through technology. Let us explore some recent trends, that is fostering the adoption of these custom app solutions:
Bring Your Own Device (BYOD)
BYOD is one of the recent trends that have made physical classroom learning extremely resourceful and rich in content. These devices could be basic smartphones that can be loaded with academic content in the form of graphics, AR/VR-based explanations through an app interface. These concepts can further be elaborated on by a teacher in a physical classroom. As schools resume their normal operations, BYOD can help students keep up their momentum of online learning alongside attending schools. Moreover, mobile devices are most convenient when it comes to portability, and are also cost-effective.
Social Media Integration as a Teaching and Learning Tool
Social media platforms specifically designed for learning can make remote communication extremely simple. Apps like Whatsapp, Telegram, etc. are already the prime choice of communication for many institutions. As an alternative, posts for instructional practices and learning material can be made on social media modules in a custom app solution that will be devoid of any non-academic or promotional content. Here, institution-registered students, teachers, and special instructors can post about events, functions, and journal their day-to-day activities in the institution besides making announcements on important exams, and learning content, etc. These apps can also fuel peer-collaboration within a secure environment.
Micro-learning
For some students from diverse backgrounds and ethnicity, certain academic sections may look daunting with excessive industry jargon and presumed knowledge of core concepts. Micro-learning is designed and delivered in rich media formats and provides just-in-time training for these sections, accessible through mobile devices. This allows the learner to control what they want to learn. For example, Bloomingdales used Axonify, a Micro-learning Platform to train its employees. This adoption alone contributed USD 3m in annual savings of the company. Similar initiatives can be made through a tailor-made mobile solution where the institution's professors and teachers can offer paid crash courses apart from regular institutional lectures.
Cross-selling Low-cost skill-enhancement Material
Online skill enhancement courses are more affordable than offline alternatives for many. Many prestigious universities and institutes such as Harvard University, Berkeley University of California, and Boston University have expanded their online offerings on numerous subjects. Short crash courses can be made and sold for a minor fee on mobile learning platforms of schools and universities that come bundled up with the institution's assessment framework and other cultural, ethical, social, and visionary notions which even the most comprehensive online courses cannot provide.
Virtual Classrooms Besides Regular Ones
Many organization are adamant to build a hybrid model of brick-and-mortar schools and online courses. This is expected to garner a significant traction as people still view classroom learning as superior to online education. This trend has further given rise to the trend of supplemental learning that can be made accessible to foreign and officially unregistered students through recorded sessions or AR/VR based classrooms through the mobile channels. This can help schools to expand their network and invite people from far away places to attend classes virtually with regular students but at a lesser cost and access to limited college resources.
Adoption of Gamification
Many global firms have reaped the benefits of gamification tools for ages. For instance, a gaming start-up MindTickle in India, helped the travel company, MakeMyTrip to build an engaging game in which new joiners were given a pair of headphones to play the videogame. It helped the joiner to get well-acquainted with the culture as well as values of the company more effectively. Such a trend can be globally incorporated making mundane orientation programs and other introductory courses much more fun and engaging.
Conclusion
The education industry is undergoing multi-faceted and opportunistic growth as the world progresses towards the post-pandemic era. Institutions are actively gearing up with the latest technologies and technically aligned teaching methodologies to make up for the prolonged period of stagnant, unregulated, or loosely monitored remote learning. This blog highlights just a few of the many disruptive use cases of tech in the institutional education system. Hence, following the trails isn't enough, devising new and innovative initiatives to enhance student learning with the right education app development company is critical. Get in touch with companies that have demonstrated tech expertise in the education sector and are acquainted with insights on prior technology intervention in the sector.
Next Reading: