How Gamification in EdTech Enhances Student Learning and Retention
by Rajesh Shashikant Renukdas, on Jan 17, 2021 11:08:21 AM
The technological contribution of gamification in education isn't new but the support and attention it has garnered to become widely adopted across institutions is a recent phenomenon. With COVID-pandemic ushering an ubiquitous digital transformation, gamification has become one of the most fundamental components of an online academic curriculum.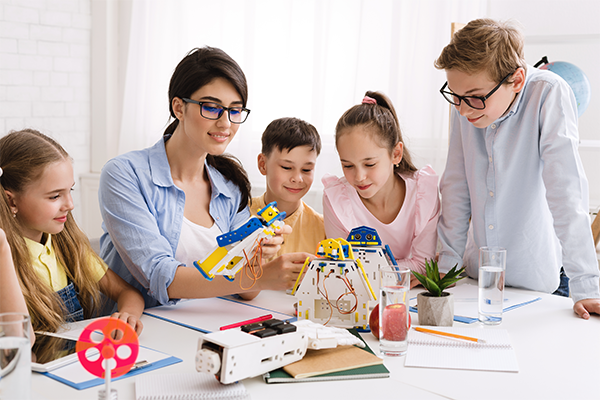 Gamification in education aims to make learning more engaging for students and instills motivation by enhancing their competitive spirits. Many institutions have embraced the fundamental tools and theories from video games to retain students and keep the fun element intact through the entire remote learning era.
In this blog, we will have a look at the most innovative and effective use cases of gamification in education aimed to fuel remote participation and enhanced learning. There are primarily two ways gamification can aid digital education.
Game-based learning and Gamification
Game-based learning requires creating the academic content around a gaming storyline whereas Gamification shapes the video games around learning content. Both the concepts however, involve active participation and interaction of a student with the software in an educational conduct. This influences the nature of the student and makes learning super easy and fun. The motive behind both is to encourage students to study in an engaging, challenging, and safe environment. Now let us have a look at the use cases.
Use Cases of Gamification and Game-based Learning in EdTech
Engineering of gamified content
Participation in quizzes is an active element of every offline and online institution. Recently, a new trend that requires students to engineer a competitive environment and content that quizzes involve is seen. A number of platforms and digital apps have been developed that students can use to create their own contests such as math word problems. This entails active student involvement in the course content and also understanding the concepts from a tutor's perspective. Kahoot, a game-based learning software, is a popular example of a platform that lets students create their own problems by brainstorming the solutions upfront.
Role-playing digital games
One of the key propelling forces in learning for kids is the elimination of any kind of fear, be it stage fear, fear of judgment, or any other fears rising from insecurities. When a student steps into a gaming environment, the appeal of fun overshadows fear and students can put in their undivided attention to win the game. Role-playing games can range from enacting a role from play in literature, to being a doctor or a scientist from a particular lesson, a computer programmer, or even being a teacher. A dedicated digital environment for a particular role can be set up through a mobile app and a combination of technologies like ML, IoT, and extended reality. This will help participating students to actively learn and the spectating students to indulge in an otherwise boring recitation of a lesson.
Games for corporate learning
Games can be designed to enable students to get an idea of the corporate working environment and skills they would need to master to excel in the corporate world. For instance, Ribbon Hero is a game that teaches students to use Microsoft Office products like Word, Powerpoint, and Excel. Students are given different challenges they need to complete to earn reward coins. These coins or rewards can be redeemed for gifts that a student desires such as a PlayStation console, or anything else that keeps up their excitement. Such apps and games can also be integrated with progress tracking, notes features, for teachers to assign and guide students wherever required.
Gamification of digital career counseling
More often than not students are greatly influenced by the movies they see and the roles they see people play around. This gets them excited about a career option without knowing what it entails. Game-based career counseling will involve letting students have hands-on experience in a particular career option through AR and VR environments in mobile apps. This will greatly reduce drop-out rates that result from lack of interest, unexpected and new environments, etc. Mindler is one such platform that analyzes a series of answers to questions to give insights on the suitability of a career for a student.
Games for getting organized and sharper
Gamification works on the principle of end-rewards that motivate students to perform actions that they otherwise won't. Special games that involve completing minor tasks like eating green vegetables, waking up on time, tidying rooms, studying in a clean and quiet environment, etc., in return for reward will help students to become organized and disciplined in their behavior. Lumosity is an app that aims to train students on aspects like logical ability, concentration, vocabulary, etc., with interesting games and generates regular reports on individual performances.
Conclusion
Positive reinforcements are imperative, and students and kids, more than anyone, need them. The small gestures of positive reinforcements can boost their confidence through the remote digital learning process. Here are some ways of rewarding students in a gamified learning environment:
Coins — Students can be rewarded with thousands of coins, 10 at a time for one single learning activity. These coins can further be redeemed for a gift.
Leaderboards — Leaderboards will help students gain more confidence in their learning when they compete against their yesterday's self.
Badges — Good students or even average students can be awarded a badge for recognition of their efforts.
Trophies — Trophies are shiny, regardless of a physical or a digital format. The one awarded to a student will keep reminding one of his/her capabilities and a job well done. Perhaps a kid didn't get a trophy for winning the quiz, but he/she can be rewarded for their work with access to their favorite superhero movie.
So, when students experience fun and associate positive thoughts with learning activities, everyone's work gets better and efficient. Gamification can do wonders at levels from kids to adults in college.
To create your own custom gamified learning experience for students, as an educational institution, or even as a teacher, or a parent, get in touch with a renowned digital transformation customer experience provider.
Next Reading: