The Power of On-demand Apps through COVID-19 and Why Your Business Needs One
by Abin Thomas, on Jul 6, 2020 9:15:50 PM
The past decade has been all about on-demand apps. From enjoying hassle-free rental rides in Uber to enjoying salon services from the comfort of their homes, customers have developed an innate affinity for On-demand apps. With the world fighting a global pandemic, the ability of On-demand apps to deliver technology-powered experiences that otherwise would involve risky physical contacts, would be time-consuming, or simply inaccessible during an emergency has got enterprises as well as customers hooked than ever before. According to Harvard Business Review, the On-Demand economy is every year attracting more than 22.4 million consumers, and the spend is about $57.6 billion.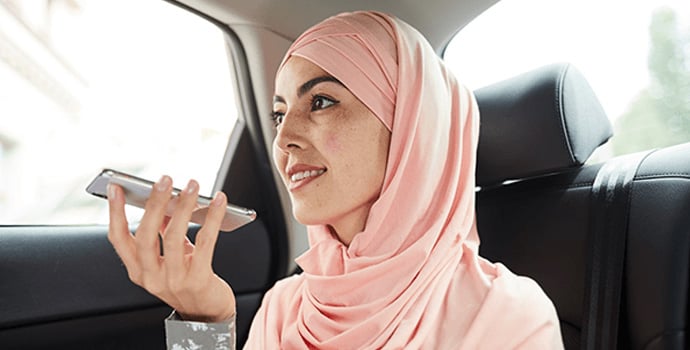 Hence, it won't be wrong to say that regardless of your industry vertical, it might soon become difficult for you to retain your customers without an on-demand app for your business or being listed on one. In this blog, we will see how a number of different industry verticals fit into the criteria of on-demand offerings through COVID-19 and how exactly they can accomplish their business goals through it. Let us begin by understanding what On-demand apps are:
What are on-demand apps?
On-demand apps are a connective, technology-driven, and data and analytics backed medium of conducting business online. They are basically an exhaustive matrix of services from a particular domain, say healthcare, integrated into an app with all customer experience modules from onboarding to help and support at an arm's length.
An on-demand app is also an entity that binds your consumers to your brand 24x7, 365 days a year. All of these apps work towards a common goal, fulfilling the instant gratification needs of their customers with just a few taps on their phone.
On-Demand apps can be made across a number of sectors. Users can use them to avail any goods or services. These services can be anything from groceries, food delivery, laundry, renting cars, or even services for personal health.
Industry-wise applications of on-demand apps - Where does your business fit in?
Automobile
Technology has radically impacted the automotive industry enabling people not only to avail automotive services without actually buying the vehicle but also to conduct business online with their personal vehicles. Uber led the introduction of the revolutionary rental-rides business model followed by a number of other start-ups that began offering on-demand services for two-wheelers, four-wheelers, and larger vehicles. As a result, the business model expanded to other small enterprises like packers and movers, courier services that began offering their automotive services through on-demand apps. Porter is one of the most popular on-demand start-up in Bangalore which specializes in deliveries of heavy goods across the city. Datamatics' ride sharing app development services enabled a leading client to create India's first two wheeler ride sharing app.
Healthcare
Medical emergency is one of the areas that require immediate attention with prompt care especially during pandemics like COVID-19, and hence mandates an integrated on-demand framework as a part of all medical facilities. People today can book lab tests, doctor consultations, request for diet plans, medicines, call an ambulance, buy medical equipment with just a few taps on their smartphones. Today, even the most remote areas of the world have Medicare facilities, thanks to on-demand apps and internet connectivity. No wonder every pharmaceutical brand and hospital chain has their own on-demand apps that make it super easy for their customers to avail their services.
Home Essentials and services
Buying home essentials used to mean consistent weekly trips to the supermarket, not anymore. All departmental stores have embraced the power of on-demand apps, serving their customers instantly within a timeline of 30-45 minutes through an app with an interface to track orders in real-time. Buy, pay and book services like plumbing, carpenting, cleaning, salon and other services can also be availed on-demand by scheduling them on an app. With the pandemic, a number of startups are catering to the consumer expectations of social distancing and contactless deliveries. Fatafat is one of the start-ups that has quickly gained traction with its essential services in tier 3 cities with home delivery amidst COVID-19. Another trend for 'Buy Online Pickup at Store' (BOPIS) has been observed which involves ordering goods online and getting them delivered to local retail stores and from there to your homes, reducing store foot traffic.
Entertainment
Nobody can deny the fact that the introduction of Netflix completely changed the way people consumed content. But, the inception of on-demand services in the entertainment industry dates back to the days when people began booking theatre tickets online. Today, every business from the entertainment industry, from opera houses, theatres, to comic shows and club gigs, has made it convenient for their customers to book and even watch their favorite performance online. With the COVID-19 pandemic, the surge in on-demand entertainment is expected to be even more prominent.
Hospitality
Booking stays for vacations and executive visits have never been easier. With an exclusive app, enterprises from the hospitality industry can cater to every guest need from booking, checking-in, and payments to nearby locations, and culinary options, etc. One cannot emphasize enough the meteoric growth that businesses have experienced with Zomato and OYO rooms in terms of revenue, customer experience, and loyalty. Beacon technology and NFC technology have added to the demand with advanced customer tracking capabilities that enterprises can have to send special offers, push notifications whenever the customer is around. On-demand apps also let enterprises exercise better control over their services, their customers, inventory, revenue, offers, loyalty programs, etc.
Banking and Finance
According to a report, 80% of customers are willing to use digital and remote channels for a broad range of tasks and transactions. Policyholders are comfortable using their smartphones, tablets or desktop devices to manage their accounts and profiles, get quotes, pay bills, submit claims and receive notifications of claim status etc. With a cashless economy in full swing, on-demand wallet apps have already become a norm.
Hence, banks and financial institutions must steer towards better customer experience with an on-demand app for sustenance in a digital economy.
There's much bigger scope for forward-thinking financial institutions and innovative start-ups to make an impact & disrupt the landscape for mobile banking rolling features like secure and easy sign-in interface, management of bank accounts, smart chatbots, QR code scanner, ATM locator, monitoring spending habits, service for cashback, discounts and offers etc. Check out how Datamatics built an on-demand Expense Management App for a Leading Provider of Personal Finance and Budget Applications.
What essential features do On-demand apps have?
Every business online/offline endeavors to solve a certain or set of pain points for customers. Hence, there needs to be at least two participating actors in an on-demand association. In cases where fulfilment and delivery are done by two different stakeholders, such as in restaurant delivery apps, there can be more participating actors. Hence, an on-demand app needs to have a set of indispensable features pertaining to each participating actor.
Once you have defined the actors, it is time to define the feature-set of each set of applications, web, or mobile. For a customer app, push notification, live tracking, payment system, reviews and ratings, help, and support are some of the essential features.
Service provider app features can differ based on the industry and the type of service. For instance, a banking on-demand app will have a different set of features like customer onboarding, KYC, etc. whereas a restaurant delivery app will necessarily have integration for accepting or rejecting orders, module for beginning & ending service module, etc.
There is also a third admin app console, with an easily accessible and customized admin dashboard to navigate accross various sections that monitor service providers as well as users effectively. With the help of an automatic or manual matching logic, a reliable service provider can be linked with every customer request. Admin can handle all customers' issues ranging from payments, cancellation charges, offers to resolving any complaints along with analytics that has information on the number of services that are taken up, cancelled, and retaken. It can also display statistics on which part of the business was flourishing and which one is not.
Conclusion
Once the app is developed, enterprises can embed them with their previous management system while making them operate in unison or in silos. To develop a successful on-demand app, enterprises need to follow an analytical approach to identify the scale and complexity of services that can be built. Not every enterprise may benefit from building an on-demand app. Therefore, it is wise to get in touch with an experienced team of app consultants to figure out the odds of winning at it!
Next Reading: