6 AI Use Cases that will Transform Mobile Apps
by Keshav Jeet, on Jun 19, 2020 1:09:06 PM
AI has been consistently bridging the CX maturity gap for channels, boosting profit margins for entrepreneurs for some years now. With the peak smartphone era and full-blown 5G technology around the corner, AI is expected to penetrate into the deeper ends of the mobile app realm with consumers eager to embrace the benefits. Competition is going to be tougher than ever.
Entrepreneurs and marketers need to accelerate their investment streams into the field of AI. IDC expects global spending on AI systems to grow from $35.8 billion in 2019 to $79.2 billion in 2022.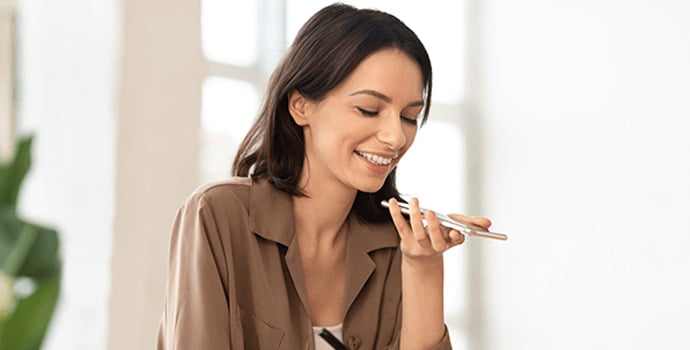 So, what are some fundamental contributions of AI to mobile technology? What are the key investment areas that will yield returns for the manufacturers, marketers, and consumers alike?
We will discuss this in this blog.
For years now, smartphones have been gathering data on consumers, their buying behavior, and market trends through sensors. AI / ML is implemented to use the data they produce and intelligently process it to generate results that can be used to take important customer-centric market decisions. Let us look at a list of use cases that AI backed by this data is used for:
AI for search voice assistants -
AI is consistently enhancing the performance of voice assistants and predictive keyboard suggestions by improving the comprehension power of the software even with the most incomprehensible inputs. AI can be used in Digital Marketplace apps to help users search for the exact product they are looking for, with voice commands or even by uploading images. It can be used in IoT apps to give voice commands for home automation, in hospitals for apps that can manage infrastructure, patient devices, reports, etc.


AI for facial Recognition and camera apps -
AI mobile app development can help high-end camera apps to identify the right set of lenses for certain lighting. These apps can also be used to set the right camera settings for a certain background and light conditions. AI can be implemented in beauty apps that can identify if a user is capturing a panorama or a person and can customize the filter type that can give optimum results. AI also finds use in facial and age recognition and can help create 3D face IDs or any other biometric authentication for apps, authenticating payments, user logins, etc. Applicable in a wide range of industries like banking, digital marketplace, healthcare, etc. this use case can help establish a secure user login interface in enterprise apps.


Location tracking in apps -
AI algorithms can be used in location-based tracking of a user and hence retailers and marketers can use it in their apps to send offers, product discounts, nearest stores, etc. when a user enters the proximity of a store. It can also be used to recommend related products that a user may like based on their past purchases.


Secure smartphone apps -
AI can also aid the strengthening of cybersecurity measures. With rapidly evolving technology, smartphones demand sophisticated and advanced security apps that can secure sensitive data on phones from hackers. AI models help in minimizing security issues by providing alerts to smartphone users regarding prospective threats and weak points in their cell phones such as weak passwords, classifying suspicious emails, etc. AI models can learn from past experiences and data to recommend best practices that ensure the safety of data and privacy. All these functionalities can be offered as a part of your service app or as a dedicated app.


AI for health apps-
Artificial intelligence in mobile app development can help monitor a user's or patient's health by keeping a track of their everyday activities such as distance covered walking or running, medication reminders, diagnosis, suggesting diet plans based on blood sugar levels and BMI, monitoring heart rate, booking appointments, report management etc. Healthcare apps have huge potential when it comes to AI in the presence of the right expertise. According to research, AI revenue for healthcare enterprise applications worldwide is projected to generate 6.16 billion U.S. dollars as revenue in 2022.


Chatbots: AI has been a critical component of Chatbot technology. Chatbots have significantly improved customer satisfaction since their inception. According to research, chatbots will contribute more than $8 billion in global savings by 2022. They also have the capacity to serve a number of customers at a time. Moreover, every time they communicate with a user, they learn and improve with the experience. These chatbots have a wide range of applications in apps from digital marketplace, education, banking, gaming, healthcare, due to their seamless 24×7 conversation experience and exceptional problem-solving capabilities.
Conclusion
Where a number of businesses have been transformed by AI today, success is still intangible and is an ongoing process, given the consistent evolution the technology entails. Every industry from medicine to hospitality is undergoing a dramatic change with AI capabilities today, and disruption is inevitable to those who refuse to embrace the dynamics of this next-gen technology. Hence, a competitive edge can be attained by staying updated with transformational trends and use cases that surface every day and making the right investment decisions. To make your apps more intelligent and tech-driven, get in touch with our customer journey consultants.
Next Reading: