7 smart ways in which RPA helps the Telecom industry
by Rajesh Agarwal, on Apr 19, 2019 8:20:41 PM
Estimated reading time: 2 mins
Telecom is a traditional industry vertical with monolithic architectures for B/OSS systems coexisting with comparatively new technologies including Internet of Things (IoT) and requires multi-domain integration.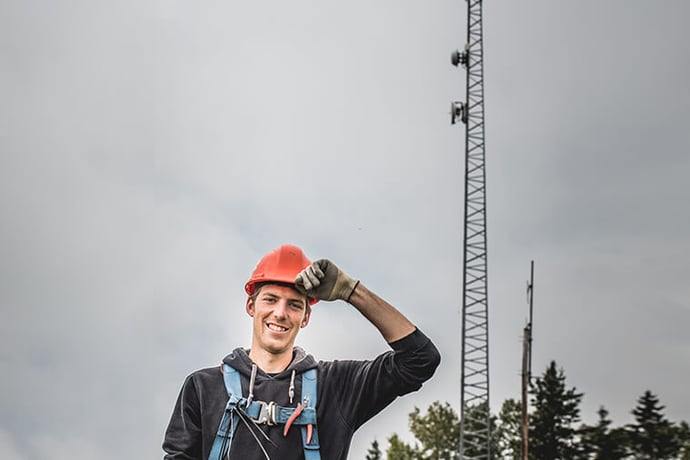 The telecom industry already rife with aggressive campaigning in order to best connect with customers towards gaining a competitive advantage is facing unprecedented price wars and correspondingly diminishing margins. Further, with the entry of over-the-top (OTT) service providers, the already frail margins are still becoming frailer. Thereby, it has become a business imperative for the telecom service providers to do more with the existing technology infrastructure.
Given the enormity and complexity of the task, Robotic Process Automation (RPA) coupled with Artificial Intelligence (AI) / Machine Learning (ML) can function as a great leveller and integrate the various technology infrastructure investments done over a period of time to provide a seamless customer service and a quick data-driven response.
Here is how RPA in Telecom industry helps do more with less
7 smart ways in which RPA in Telecom industry makes it future-ready -
Migrate from legacy
Simplify operations
Regulatory compliances
Rapid responses to customer queries
Digital transformation
OSS orchestration
Network inventory management
Migrate from legacy
RPA helps to migrate, integrate, and consolidate data from legacy and bespoke systems in the Telecom industry to the customer front-ending BSS systems for faster response and better customer engagement.


Simplify operations
RPA along with Optical Character Recognition (OCR) digitizes paper work and simplifies the swivel chair operations between multi-domain IT infrastructure.


Regulatory compliances
RPA helps in posting data to third party systems in a safe and secure manner. It helps to maintain a controlled environment and fulfil statutory compliances as per the uniform regulatory frameworks, such as The Wireless Association (CTIA) in USA, Ofcom in UK, and Telecom Regulatory Authority of India (TRAI) in India.


Rapid response to customer queries
RPA helps in listening to customer queries and feedback, auto-respond to queries, and auto-route them to the concerned department for faster resolution within the prescribed SLA. It helps to facilitate omni-channel service management and deliver the desired quality of service (QoS) towards enhancing end-customer experience.


Digital transformation
RPA helps to ensure seamless connectivity between billions of sensors as well as IoT solutions through hyper-automation and orchestration between services, platforms, and devices towards enhanced analytical capabilities.

With the use of AI / ML algorithms, telecoms can discover information from the vast data sets generated to make faster and better data-driven decisions, thus highly improving sustainability even amidst competition.


OSS orchestration
RPA helps to facilitate end-to-end orchestration and service fulfilment within multi-domain topologies involving legacy infrastructure.


Network inventory management
In the Telecom industry, RPA facilitates to maintain up-to-date network inventory in real-time in face of network limitations without involvement of significant operational costs.
The Telecom industry is headed for a massive change with the movement towards technologies such as LTE-A and 5G. With this, telecom service providers cannot afford to compromise on the speed of service at various levels of customer interaction. RPA is a great leveller and can harness together all the monolithic systems intertwined in the telecom ecosystem to deliver a seamless customer experience.
Next reading