Drive CCaaS productivity through CRM Integration
by Sandeep Arora, on Oct 17, 2023 5:08:09 PM
Key takeaways from the blog
CCaaS and CRM synergy deliver Smart Contact Center experience.
It helps go beyond mere transactional operations.
It helps build healthy customer relations and drive growth.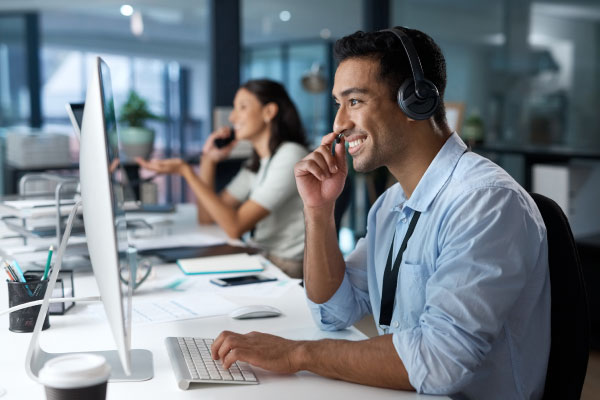 Futuristic business enterprises are transitioning their frontline contact centers to the CCaaS paradigm and creating scope for focusing on their core business. Specialized CCaaS providers and AI/ML-enabled CRMs drive exceptional customer engagements toward customer-centric business operations and revenue growth. The People-Process-Technology synergies enable traditional businesses to seamlessly adopt the best practices of new-age business enterprises and improve enterprise productivity.
How does CRM enable CCaaS?
Customer Contact Centers are the frontline interfaces for any business. They facilitate customer interaction and engagement for query resolutions. Synergizing the CCaaS operations with a GDPR-compliant CRM enables businesses to tap into historical customer data, interactions, and customer preferences to retrieve a 360-degree holistic view of each customer. The unified data management helps the frontline executives retrieve real-time customer data and effectively engage with customers during each call in a context-rich framework. It fuels data-driven decision-making for cross-selling/up-selling. The CRM plays the role of a growth catalyst for people-driven business growth.
What are the challenges in CCaaS integration?
Transitioning from traditional Contact Center environment to CRM-driven CCaaS paradigm has its own challenges. Some of them are –


Lack of unified data management: A real-time single source of data or a set of golden records is crucial while interacting with customers and resolving their queries. A data disconnect can lead to errors. Unified data management through an integrated CCaaS and CRM eliminates the gaps. Regular system audits and validations also help maintain data sanity.
Increasing complexity: Integrating business systems can increase complexities in the transactional business environment if not conducted in the right manner. Streamlining the process flow with widely accepted integration platforms, such as Mulesoft, improves business efficiency, accuracy, and speed.
Data privacy: Handling massive data of customers and prospects along the lifetime journey can give rise to data privacy concerns. GDPR-compliant CRMs, such as Salesforce, enable businesses to fulfill statutory compliance requirements through inherent data protection policies, data masking, and access controls.
Change Management: Enterprises usually face change resistance while adopting a new paradigm. The CCaaS and CRM integration approach should be driven as a change management program involving all departments and stakeholders. The outcome should be user-friendly complete with single sign-ons, single point data entry, single user interface, and user trainings.
Customizations: Businesses cannot leverage off-the-shelf technologies and CRM products. Customizing the CRM and CCaaS according to the business requirement may require extended timelines. Driving the process as a change management project helps encompass the customizations along a pre-defined timeline.
Best Practices for CCaaS and CRM Integration
Unified CRM-powered data platforms: The customer-facing representatives should ideally work with unified data. The CRM maps the data to erstwhile databases till they are sunset.
Single Sign-on: The customer representatives should have SSO-based single operational interface, such that they can seamlessly navigate between the customer data and the contact center operations tools.
CATI with CRM: Seamlessly integrating the CCaaS infra with the CRM allows customer representatives to view the respective customer's data on the screen as a popup on receiving a customer call in the contact center.
Automated data capture: It integrates customer interactions directly in the CRM thus eliminating data entry and associated error.
Omnichannel CRM integration: Going beyond CATI-CRM, the CCaaS infra should automatically record email, chat, and social media channel customer interactions.
CCaaS and CRM Integration – Business Impact
The frontline executives are the face of the business enterprise. The frontline of a productive enterprise requires information at their fingertips to field questions on their feet. The CCaaS and CRM integration delivers this goal and much more -


Personalized after-service: Real-time information available in the unified data source helps the agents tailor their customer interactions on the fly within the authorized permits. It helps reference historical interactions and preferences thereby improving customer engagement.
High productivity and efficiency: The unified and real-time information reduces logging in and out of multiple systems allowing the frontline executives to focus on resolving customer issues.
GDPR-compliant CRMs with Contextual Insights: GDPR-compliant CRMs, such as Salesforce, enable agents to operate within the purview of GDPR and yet predict and anticipate future customer requirements using the data to create opportunity for cross-selling/up-selling.
Holistic Customer-view: The unified CRM data gives a 360-degree holistic customer profile view within the GDPR compliance ambit for strategically targeted marketing efforts. It improves enterprise frontline productivity by manifolds.
Historic data management: The CCaaS, AI/ML layers, and CRM integration in compliance with GDPR helps track customer pain points, trends, and areas of improvement.
Management and Statutory reporting: The People-Process-Technology integration supports in-depth reporting, statutory reporting, and metrics tracking, e.g. First Contact Resolution (FCR) and Customer Satisfaction (CSAT).
Future-proofing the CCaaS experience with CRM
The outsourcing of the contact center operations on the back of CRM technology will help futuristic business enterprises deliver a transformative experience to digitally savvy customers. AI/ML and CRM will offer a levelled field for leveraging contact centers through a CCaaS experience. Natural Language Processing (NLP) powered sentiment analysis and AI/ML mechanisms will enable enterprises conduct sentiment analysis and gauge customer sentiment in real-time. Augmented Reality (AR) mechanisms will enable business enterprises to build apps that help customer's resolve product related issues through self-service.
Simply put
The CCaaS and CRM integration helps businesses deliver customers a smart Contact Center experience. The People-Process-Technology integration brings forth unique customer insights to build healthy customer relations and drive revenue growth. The integration helps go beyond mere transactional operations and paves the path for a transformative customer experience. The CCaaS and CRM integration enables business enterprises to navigate the critical space of customer engagement and yet drive enterprise productivity, efficiency, and growth.
Next reading