Reinstating Post-COVID Education Industry with 7 Ed Tech Capabilities
by Rajesh Shashikant Renukdas, on Dec 21, 2020 10:20:03 AM
COVID-19 has ushered the greatest transition ever in the education industry. From the overnight incorporation of virtual collaboration tools to refining and innovating on teaching methods, the majority of educational institutions have laid a foundation for remote learning, through high-end Ed Tech frameworks. As a result, the pace of addressing challenges like internet connectivity, or unproctored assessments has accelerated to a level where the education industry has become largely immune to the repercussions of the pandemic, fuelling both short and long-term operational efficiencies. According to recent research, the global EdTech market size is anticipated to grow from USD 85.8 billion in 2020 to USD 181.3 billion by 2025, at a CAGR of 16.1%.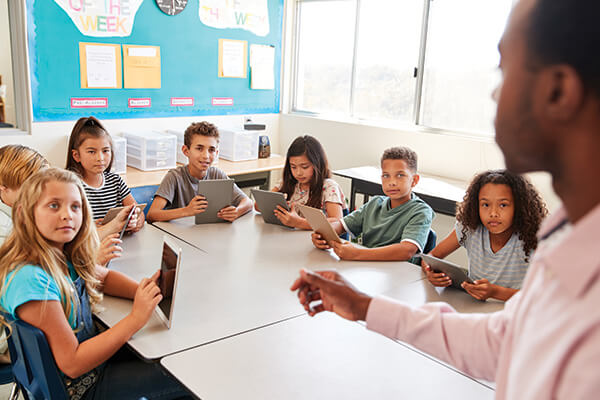 Moreover, as progressive benefits are realized, both long-time industry veterans and generalist investors continue to support the initiatives of educational enterprises. For enterprises and institutions unaware of critical prerequisites, or incapable of addressing unprecedented challenges of digital adoption, this blog will provide insights on valuable Ed Tech use cases and case studies that can be brought to life with the help of technology experts:
Running digital competitions
Online competitions have gained an enormous surge in the past decade and the year 2020, in the lieu of pandemic, became a tipping point for the edTech industry. STEPapp, a gamified learning app, has added three lakh users since March 15, 2020. According to another research, time spent on the Byju's app has increased from pre-lockdown 70 minutes to 91 minutes during the lockdown. Competitions and contests conducted through online brand platforms have drawn mass attention propelling students to learn through fun elements in the knowledge delivery model. This, in turn, is expected to add indefinitely to the brand name and garner numerous monetary benefits through prizes, ticket sales, or marketing of added services.
AR/VR Integrated Learning
AR/VR tech has already established itself as a backbone of online learning offering conveniences and immersive use cases like face-to-face interaction, augmented overlay of data pertaining to assignments, scanning of handwritten texts for a graphical explanation of content, access to remote geographical locations, flora, and fauna, or human body anatomy, etc. These use cases act as enhanced layers, making up for quality and emotional connection in the standalone training modules offered through tailor-made mobile apps.
Proctored Assessments
Unproctored tests and training remain a major challenge when done remotely through digital channels. Yet, there have been advances that have enabled tutors to monitor the test duration and activities of the students through live video proctoring, audio-proctoring, taking on-screen screenshots and recordings intermittently, restricting certain features like opening or closing of new tabs and dedicated network with blocked access to certain websites, etc.
Artificial intelligence & big data
Educational institutions are heavily inclined to the analysis of the data collected through their online learning portals to enhance their offerings and personalize experiences for individual students. This directs them towards artificial intelligence and big data use cases that can be employed in mobile channels to teach students with voice-to-text recognition integration and 24/7 assistant chatbot whenever required. Ed-tech institutions also use AI and ML in enhancing their performance assessment protocols. The deep insights generated with data analytics also help the faculties in revamping their teaching styles in order to match student expectations.
Personalized learning through dedicated dashboards
According to a survey by the Center for Digital Education, personalized learning is the topmost educational technology priority in the US. Adaptive learning or personalized learning offers students a precise and more productive experience. Students have central control over their learning speed and can pick the subjects they are most passionate about. Students can hence independently decide how they want to learn, and at what pace. All of these use cases when unified with other aspects of mobile learning such as gamification, videos, flashcards, adaptive repetition, etc. can offer an immersive learning style to students.
STEM Learning
Technology has contributed immensely to the design and implementation of STEM activities in multiple ways. Platforms integrated with word processors, spreadsheets, enable students to collaborate on projects related to STEM initiatives, and also securely record necessary documentation that was otherwise done on paper. High-end technologies namely, virtual reality systems, classroom response systems, flipped classrooms, etc. open up the immense potential of technology to students, manifesting the role of 'T' in STEM. Students henceforth become inquisitive about the world that surrounds them. The comfort of hands-on training through online workshops and seminars in these platforms helps students collaborate better with students of the varied disciplines.
Conventional Online Classes
Conventional online learning has faded to the background with the surfacing of flamboyant references like competency-based education, personalized learning, or social-emotional learning. However, for low budget and rural educational institutions, conventional online learning platforms are a boon. These platforms integrated with basic collaboration functionalities like messaging, assignment submissions, progress bars through learning modules, and graphic and media content can help institutions create digital awareness as well as continue knowledge delivery to the underprivileged.
Conclusion
Despite the advances, the global education system remains in dire need of smart sources and education intelligence to hone the skills of youth. Global institutions need to reach out and have access to global education innovation and trends in technology and strategic data, insights on investments, and the future of modern learning models. All this can be accomplished through the right assistance from the industry-established technology experts who'll be responsible for end-to-end support throughout the digital journey of the educational enterprises. Get in touch with an esteemed digital experience solutions provider.
Next Reading: