How gestures and animations are changing the UI/UX game for mobile app designs
by Smitesh Singh, on Sep 16, 2021 11:22:41 AM
Optics hold a profound significance when it comes to a mobile app. More often than not, the entire USP and brand value of an enterprise sits on a compact mobile screen size. This has given rise to an era of gestures and animations. As creative and appealing as they are, they also help brands incorporate critical customer actions and interactions leaving much of the screen real estate for core customer activities like logging in, searching for products, etc.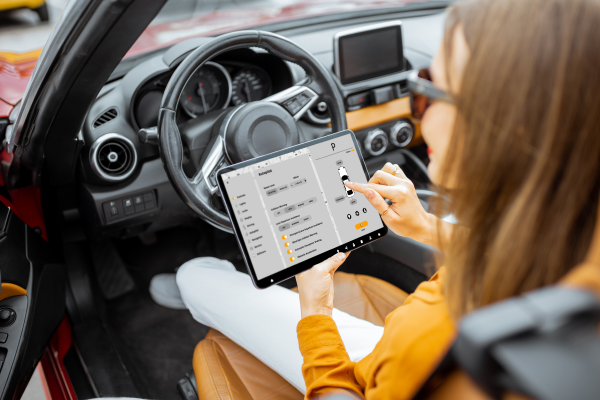 Moreover, if there is one thing that the last decade of technological disruption has taught us is the power of interactivity. Interactivity makes the customer feel welcomed and cared for. Gestures and animations form critical components of interactivity in any web or mobile interface.
In this blog, we will speak about how animations and gestures have been game-changers in the customer experience space.
Gestures
Accelerated with evolving hardware and software capabilities, gestures have a critical role in responsive design of the mobile app development arena. Gestures constitute any physical action by the end user to initiate a certain control inside the design. Gestures typically involve movements of hand, and can include shaking, moving or tilting the device. If we have a glance at popular gestures in the mobile app market, we find numerous ways to let users interact with apps like calendar, messaging, or the image gallery.
Types of Gestures
There are two primary gestures largely used today: Tap and Swipe. The tap is a short soft touch on the surface of the mobile screen with a fingertip. General use of the gesture in iOS or Android devices revolve around:
Select/submit
Toggle on/off the home screen
Initiate
Cancel/exit
Enable/disable
Zoom in/zoom out
Zoom to fit
On the other hand, the swipe is a subtle brush over the screen with the thumb or an index finger. Most frequent interactions that swipe gesture constitute are:
Scroll
Dismiss notifications
Pan
Refresh
Downward paging swipe from top to bottom to exit a screen
Menu open
Multi-select data
Android unlock phone
More often than not, tap and swipe gestures are often similar and nature and help users accomplish similar actions. A very popular epitome of these gestures is Tinder's swipe feature that enables the end user to swipe left or right in order to interact with the UI and convey a choice of the match.
Animations
A good thing about animations and gestures in mobile apps is that they are ingeniously intuitive and interactive with the users, giving a feel of real life object interaction. Animations are generally used to please users by showing mind blowing visuals that sometimes may go against the laws and visions of nature. The parameters like timing, screen sensitivity, velocity, image/color transitions, scrolling along with certain other settings enable designers to change the UX in limitless ways that will surprise and amaze the users.
Types of animations for mobile and web apps:
Visual feedback animation
The primary intention of a visual animation is letting user know if his action was completed, aborted or is under process. successful or failed. It's a crucial component of any user interface. A good animation is all about crafting experiences that are closest possible to the real-life events like the feeling of winning a physical game or pressing a button. Animated switches, buttons, color transitions, and tick guides a user and help them know the result of an action.
Progress and Loading Animation
Progress animation informs a user of a progression towards a target action or a goal. An intuitive progress animation doesn't just sets the mood of the user right but may also become a creative design feature that can distinguish the mobile app in the ocean of others. The animation that signifies loading, for example, informs users about forward movement in certain processes and sometimes even entertains users while they are waiting. We have various types of animations for loading like loaders, pull-to-fresh animations, and preloaders.
Navigation Animation
The designer's mission is to simplify user journey of a product to the maximum possible extent. This means that the more complex a structure of an app is, the more time the designer invests to seamlessly set up navigation that is easier and intuitive to understand. Navigation animation here is the key. Navigation animation helps an app user to easily figure out a hidden element in-app if it is displayed using animation.
Marketing animation
The animated logos, mascots, and other elements can have a crucial role in growing the brand awareness. The marketing animation usually is used to attract a user's attention towards the brand elements and value proposition. It helps build emotional connections with users, especially, when they are fun and engaging. Marketing animation often is popular over the welcome screens of app.
Conclusion
It's a great time for the mobile design, and the use cases of how gestures and animations are interactively implemented in mobile apps and UX journeys are growing everyday. Gestures, and animations are the primary goals that designers must keep in mind when crafting mobile app interfaces for year 2021 and ahead. Today, the UX industry is striving to deliver interactive products to the end users especially since the pandemic. To get started with animations and gestures, get in touch with a UI/UX development company.
Next Reading: