Top Use Cases of AI in Healthcare Mobile Apps for 2022
by Smitesh Singh, on Feb 23, 2022 10:12:34 AM
Key takeaways from this blogpost:
AI helps healthcare providers with various aspects of patient care, operational and administrative processes
AI-based health mobile apps can use wearable device data to recommend treatment plans and habits
AI can help doctors make accurate diagnoses, detect high-risk profiles, and manage time for critical endeavors
Artificial intelligence is an omnipresent technology in modern business settings and is steadily being implemented in healthcare. According to research, the global artificial intelligence in healthcare market size was valued at 10.4 billion dollars in 2021 and is expected to expand at a compounded annual growth rate of 38.4% from 2022 to 2030. This data can be directly attributed to the potential of AI to help healthcare providers with various aspects of patient care, operational and administrative processes.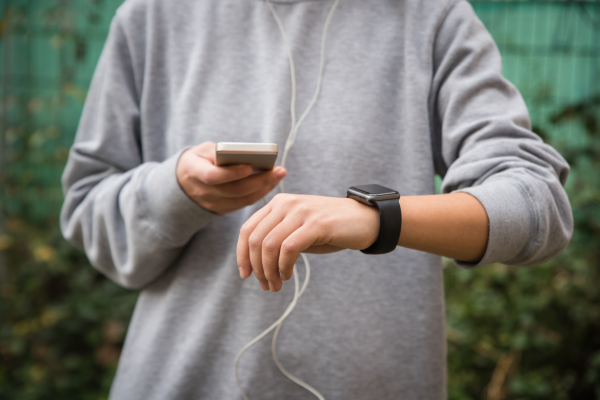 So, what exactly are the benefits and use cases of AI in healthcare? In this blog, we will take a look at some of the use cases of AI in healthcare that can be implemented with ease.

Top use cases of AI in mobile apps for healthcare:
Virtual assistance in healthcare
There are various health and fitness apps on the App Stores. Modern smartphones are embedded with voice bots and a combination of these bots can help deliver medication alerts, content - educational and entertainment, etc. to the patients. This level of assistance can push people to lead healthier lives without needing any human intervention.
Analytics for research
Machines embedded with AI have become a go-to way for doctors to help patients live healthier lives. AI apps can also assist surgeons in performing surgery by offering them details on a patient's body or organ that requires surgery. It can also help doctors create a personalized treatment plan for the patients. For example, Watson by IBM has the ability to process unstructured and structured patient data and offer evidence-based alternatives for the treatment of cancer patients.
Personal health assistance
Routine check-ups are a critical part of any treatment plan. In many of the hospitals, doctors provide regular follow-up and consulting uptill a certain point after the treatment begins. However, these services could be costly, and not all patients can avail them. However, unique wearable technology and an AI-enabled mobile app can help solve the problem. A mobile app can capture the data coming from the wearable device and recommend the required medication, exercises, and even habits, that will help them lead healthier lives. With mobile cameras improving their quality day by day, in the near future dermatologists and ophthalmologists will also benefit where they can actually see the face of a patient, and can accordingly identify the diseases. In the United Kingdom, a similar tool is already in trial.
Healthcare bots
It is quite obvious that chatbots will replace human customer service assistance altogether. Chatbots can help patients resolve queries faster than typical counseling interaction with healthcare providers. AI-based bots can help patients schedule instant follow-ups. They can also aid patients in paying their bills in just a few clicks. Bots can also help providers in improving customer service and help patients with faster service request processing, beginning from scheduling to appointment and bill payment.
Diagnostics assistance and imaging


Medical imaging is a revolutionary technology that has been offering services in healthcare by offering a better view of anomalies. However, these anomalies can at times be invisible to human eyes posing serious life and death challenges. AI apps can help detect these anomalies and prevent them with accurate resolution mechanisms.
Dictation assistance

Healthcare professionals go through various documents at all times to ensure they don't overlook any important detail through the diagnosing process of the patients. Missing out even a minute detail can be damaging to the patient as well as the doctor. NLP or Natural Language Processing helps filter out unnecessary information in lengthy reports while keeping only necessary data in their authorized mobile phones. Doctors can also listen to it audibly on the go or while performing a procedure.
EHR

In the realm of digital healthcare, electronic health records can be the most effective way for data filing. This enables healthcare providers to rapidly store and access patient information. AI-powered EHRs also help doctors provide faster and more accurate diagnoses, access educational resources, and get appointment reminders. For patients, they can offer facilities like prescription refills, imaging, diagnosis, immunizations, and making appointments, from the comfort of their homes.
Cyber security

Hospitals, as well as clinics, have a lot of data that is private and confidential. This information has to be protected from cyber invasions at all costs. Even a tiny data leak may at times cause a lot of harm to patients and healthcare providers. It also may not be feasible for the cybersecurity teams of hospitals to detect each advanced threat in their systems. AI can aid the security teams in identifying each risk and mitigating it by following respective procedures. The algorithm can even rank the threats on the basis of their priority and lend the reports to the teams.
Conclusion
Healthcare apps empower patients to take part in their health conditions, which will inevitably lead to better outcomes. AI can help doctors attain better treatment outcomes by helping them make a more accurate diagnosis, detecting high-risk profiles, managing time for critical endeavors, and hence saving lives. The ultimate goal of using AI is to give patients the freedom to manage their health conditions while freeing up time for doctors to perform more crucial and urgent tasks without burning out. To get started with AI-based healthcare apps, get in touch with an AI healthcare app development services company.
Next Reading: