6 reasons why Shared Services should use Robotic Process Automation
by Mitul Mehta, on Apr 3, 2019 7:48:57 PM
Estimated reading time: 2 mins
Shared Service Organizations (SSOs), usually instituted to drive economies of scale, partner between multiple groups within large conglomerates for providing support to different organizational functions. These include support functions such as Finance & Accounting, HR, Legal, etc. They are highly SLA driven and abide by a gruelling schedule. They follow the paradigm of creating efficiency through industrialization. To cut it short, SSOs are instituted to simplify, standardize and centralize operations.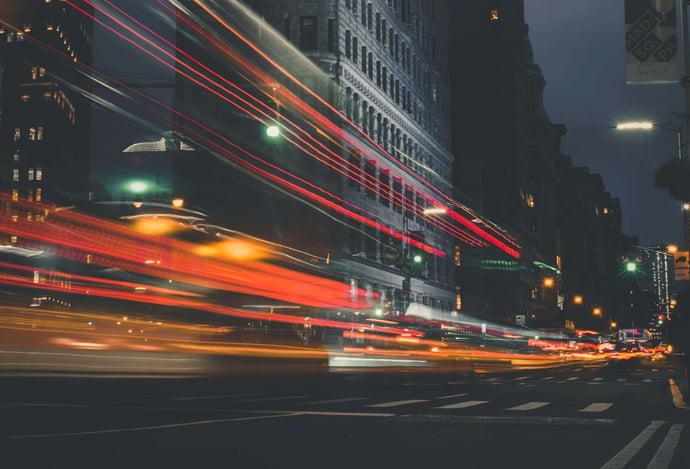 However, in the bargain of centralization, wastage in the form of error, rework, and duplication creeps in during hand-offs between teams working in different shifts thereby sidelining the aforementioned SSO ideology. The primary goal of an SSO is improving performance towards becoming a world class organization; however, that goal is lost in the process of standardization and building redundancy in the organizational machinery. Robotic Process Automation - RPA helps here in not only cutting the rut but also taking the enterprise performance to an entirely new level.
RPA as a technology is a great enabler. It helps SSOs gain global, competitive advantage by improving the core enterprise parameters.
6 areas where RPA helps SSOs
RPA enables SSOs across the following key KPIs:
Customer service
Enterprise agility
Cost competitiveness
Compliance
Confidence of participants
Customer satisfaction
Customer service: The technology helps to expedite tedious processes thereby improving SLA performance, cycle time, and customer service.


Enterprise agility: RPA functions with high accuracy in a 24x7 mode without a break resulting in faster turnaround leading to optimized delivery and high agility.


Cost competitiveness: RPA significantly reduces OpEx in the multi-functional SSO mode and helps the enterprise optimize cost and drive value.


Compliance: RPA functionalities such as role based access (RBA) management, audit trails, and pre-programmed data transfers to ERPs or third party systems help in reinforcement of compliance mandates across the ecosystem.


Confidence of participants: The resulting high performance invokes the confidence of the participating entities leading to accelerated engagement at all levels of people functioning.


Customer satisfaction: Improved agility, accurate delivery, high compliance, and competitive pricing results in customer delight and repeat business.
RPA helps SSO entities realize the true value of operating in the shared service model. By automating tedious, rule-based activities using a few bots across various levels of organizational functions, enterprise grade RPA products help to derive maximum efficiency while reducing error and rework. During this endeavour, the skill of the vendor helps in selecting the right processes, which allow the SSOs achieve maximum mileage.
Robotic Process Automation Vendor Assessment 2018 for Asia/Pacific (Excluding Japan).
Download now >>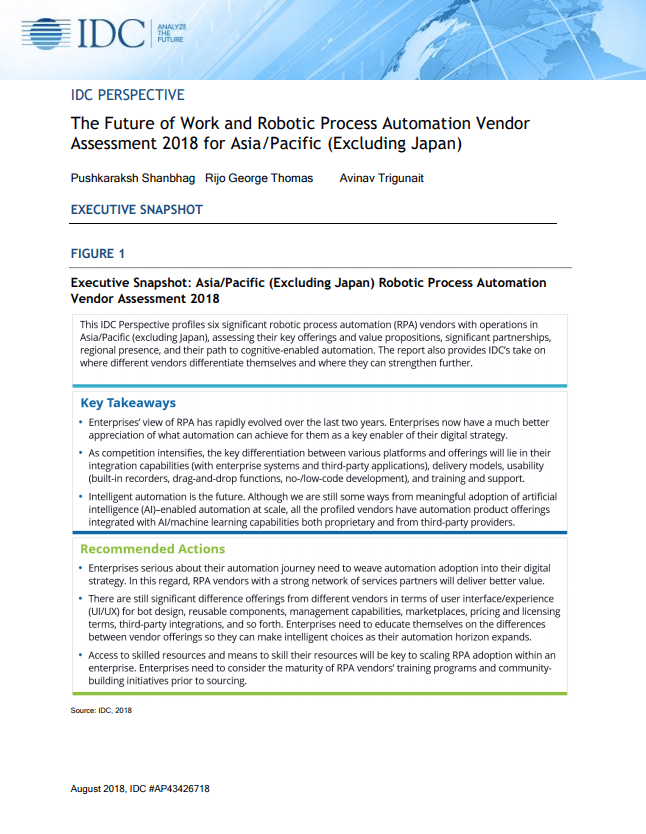 Next reading