Cutting-Edge Use Cases of AR/VR to Reshape Media & Entertainment Industry in 2021
by Abin Thomas, on Nov 3, 2020 1:34:34 PM
The potential of AR/VR is immense and the possibilities are endless, but it will be unfair to forget that it all started with fun and games. Entertainment was one of the first few industries to implement AR/VR whilst successfully garnering the attention of users, and inviting leaders to make a determined move towards exploring its potential across other verticals. Today, the AR/VR ecosystem stands as a vertically shared entity, and yet, the entertainment and media industry tops the charts when it comes to the viewer's interest as well as investor's returns. Moreover, with the COVID-19 pandemic making it a more mainstream and preferred form of content consumption, a definite increase is expected in its markets and investments.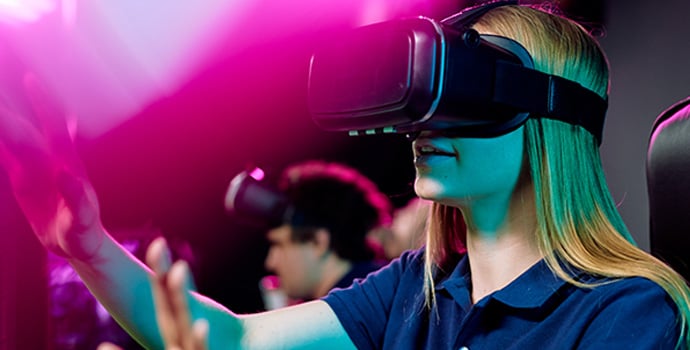 According to a survey conducted by Mindshare on XR content creators, 75.9% of respondents reported that VR had a positive impact on their business while 72.3% said the same for AR/MR. Evidently, the whole paradigm is driven towards a disruptor model, and only the ones to embrace it will survive and grow.
In this blog, we will look at some of the new age use cases of AR/VR making an impactful statement in the entertainment and media industry:
Real-time sports data and live streaming
AR-based mobile apps can assist in obtaining real-time data on speed as well as the trajectory of balls. It can also help determine the weather conditions, player details, and records at sporting arenas merely by scanning an area or a person. VR-based apps on the other hand can broadcast numerous live sports events in 360-degree formats and provide immersive and engaging experiences to audiences located in various locations across the world. A project from Scape Technologies and Nexus Studios leveraged the AR cloud and 5G technology to map the AT&T Stadium in Dallas and bring a football game being played there live. Throughout the game, player statistics were highlighted with text over the field.
Virtual music shows
Augmented and virtual reality apps have successfully proved their capabilities in virtual music concerts. The physical events that saw mass-attendance became digitally accessible in the lockdown periods of the pandemic through AR and VR based apps. The ticket sale can also be promoted with coupons and prizes through these apps. By pointing AR-based apps on a flat surface, concerts can be streamed remotely. Embedding GPS and beacons will prove essential for navigating event venues and practicing social distancing respectively. VR based apps with 360-degree videos and VR headsets can help create a lasting impression of the show on the audience.
AR advertising for print media
3D models, videos, JPEGs for the print media can be leveraged to offer a more intuitive way of interaction with print media such as business cards, catalogs, etc through AR-based mobile apps. AR tech can also be implemented in marketing collaterals like magazines, flyers, and pamphlets through a digital distributor model. Simple and intuitive 3D animation for 3D models can help improve brand marketing.
Engaging AR ads
Extended reality models are particularly known to evoke emotional connect between the customers and the content. AR-based apps, for example, enable prospective clients to have a truly immersive experience of ads by enabling them to experience the product use cases on AR billboards and banners just by scanning their mobile phones over the board. Toys "R", the international baby products giant launched an engaging AR-based campaign for the Easter holiday known as Virtual Easter Egg Hunt. Kids would use their tablets or smartphones to follow augmented Easter bunnies and hunt for eggs. These eggs' coupons were to be redeemed for real toys in the store.
AR and VR for films and TV
Augmented reality apps can be used to retrieve additional information regarding the content on TV such as scores of the match, food options, coupons and offers, betting options, etc. On the other hand, Virtual reality apps and hardware can empower film and TV shows to become much more immersive than 3D-glasses. These apps can be used to bring films and TV shows to reality extending the visual story to experiencing it in real-time. The civilizations app is one such app developed by BBC that consists of 3D models of over 280 artifacts from popular museums and galleries. It allows the users to explore these art pieces in exhibitions while learning about their history and origin.
Audience engagement in amusement parks
VR mobile apps can empower customers to experience unique theme parks right from their homes. They are already popular in various areas of the world with minimal gear requirements such as a mobile app and goggles for theme parks. With the computer-generated sonic and visuals that surround users, VR can virtually take park lovers to exciting fictional and inaccessible places of the world. It can also help build supernatural and paranormal characters that can't exist in the real world.
Audience engagement in museums
AR mobile tech can help make exhibitions much more interactive, entertaining, and helpful than before. They can hence be used to invite more visitors. In 2017, a British Museum launched a VR based app to let users experience the Museum by using a computer or mobile device, and become completely immersed into its exhibits and interiors using a VR headset. The virtual British Museum could be accessed from anywhere in the world. This can also prove very helpful in changing the perception of the viewers for the museum and cultural heritage.
Conclusion
Entertainment is an immortal industry vertical that will continue to adapt to the changing consumer needs and the market. Creators are striving to amaze, captivate and overwhelm as audiences lean towards a tech-savvy content format. Moreover, with the wide availability of augmented reality development companies and professionals in AR/VR app development, the documented barriers of high costs and inaccessibility can be done away with. None of the subsets of the industry be it gaming, music, movies, or theater producers must therefore hesitate to invest in creating an unforgettable show for their viewers. The development quality, however, should be considered a priority to offer viewers a truly exhilarating experience of visual, sensory, auditory, and haptic modalities.
Next Reading: