Connected Classrooms - Recreating Education System of Tomorrow with IoT
by Rajesh Shashikant Renukdas, on Jan 4, 2021 4:22:53 PM
Ever since the internet was first invented in 1987, connectivity has become an essential ingredient of all social, economic, and industrial endeavors. The education industry is no exception. With decades of evolution, the Ed-tech industry has overcome imminent challenges of network latencies, digital awareness, and high costs of infrastructure while making digital education a reality for every living individual. Hence, what started as a conventional extension of the global learning ecosystem, now stands as an independent industry capable of disrupting every offline educational institution. According to research, IoT in the education market is expected to increase from USD 4.8 billion in 2018 to 11.3 billion by 2023 at a CAGR of 18.8%. India is expected to contribute 20% of the global market value.
In this blog, we talk about how this prominent industry 4.0 component is poised to drive this value transition in the next successive wave of digital transformation.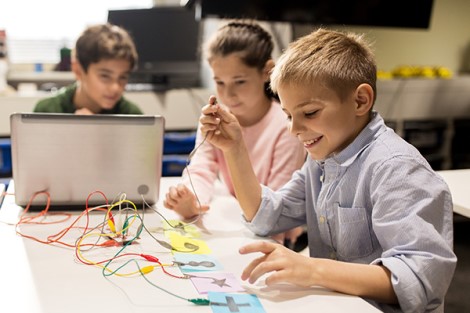 Here are some exceptional use cases of IoT deemed as growth drivers for the next-gen framework of digital education:
Connected Academic Content
Interactive screen displays, multi-touch and erase natural writing technology, all embedded in a cloud-based mobile app or web platform, is personalizing education for both teachers as well as students. The textbooks can be linked with web-based content repositories that can be retrieved during lessons in the form of explainer videos, materials, animations, etc. to aid the learning process. The interactive IoT devices connected to students' cell phones can be installed in media centers, tutoring centers, and schools and individually operated on mobile apps. With limited staff and low hiring capacities of institutions, this will not only enhance the interactive quotient of the academic material but will also pave the way for students to exercise control over their learning outcomes.
Accelerating the pace of learning
Through wired or wireless, scanner IoT technology, students can access the text content of books, websites, or other documents in the form of audio and store it directly inside the smartphone app. That text can also be translated into a language preferred by the listener with an extended feature of listening while scanning. This becomes an impeccable and error-free way of learning and understanding the depth and real-life relevance of the content being studied.
Connected Blackboards and Whiteboards
Blackboards and whiteboards can also be used to offer students a connected learning experience along with a support network for individuals from K-12 as well as higher education. A digital whiteboard or blackboard can be designed just as physical boards, and linked to websites, important notices related to academic and competitive exams, latest grades and performances of students, and attendance, etc.
Connected Payments
The primary module of the mobile app can be integrated with credential support and authentication that will enable students to validate their original IDs and wallet in wearable devices like watches in order to perform campus building chores like pay for canteen, laundry, stationery, etc.
Technology Training
In areas like training for programming and robotics, bots can be implemented to teach students Python, JavaScript, C, and other popular technologies. It can also teach students to build connected IoT frameworks from scratch. These bots can be equipped with sensors to respond to sensory elements like sound, touch, light, among other things. Together with machine learning capabilities, it can learn and grow from its interactions and experiences. Programming for kids can be taught using visual code blocks representing code snippets before teaching them advanced concepts.
Student Smart Cards
Student smart cards can be presented to an authenticating reader and linked via IoT to an access control system. These cards can be used to access physical facilities of campuses like a library, time and attendance, logical access to coursework, learning material, printers, secure internet, medical facilities, emergency rooms, food, furniture, etc.
Smart School Buses
Smart school buses equipped with Wi-Fi capabilities can be used for location tracking of buses and monitoring routes to school campuses for child safety. Moreover, Wi-Fi can also be used by students to complete their homework, check out their schedules, and timetables. The bus drivers can also help the assessment of students by providing data on the behavior of individual students through integrated apps to improve onboard safety and prevent bullying.
Conclusion
IoT in schools means a better-connected and more collaborative future for education. IoT devices can give students better access to everything from learning materials to communication channels, and they give teachers the ability to measure student learning progress in real-time.
Just as important, the IoT can improve things that complement a solid education — stuff like security via the use of smart cameras, climate control via the use of smart HVAC systems.
IoT isn't just about connecting the classroom, it involves knowledge and information sharing in ways no other technology can. Build learning communities, and create a culture of professionalism in institutions through connected learning platforms. Get in touch with an established wearable and IoT development company today.
Next Reading: