Top 4 benefits of OpenText Documentum in Pharmacology and other regulated environments
by Sachin Rane, on Jun 10, 2022 4:35:30 PM
Estimated reading time: 3 mins
Key takeaways from this blog
OpenText Documentum seamlessly supports the Pharmacology product development lifecycle through the regulatory compliance procedures.
Its integration with core business applications extends its value beyond product management.
It offers a collaborative environment for clinical trial documentation and expedites the overall process of regulatory approvals and hence the time-to-value.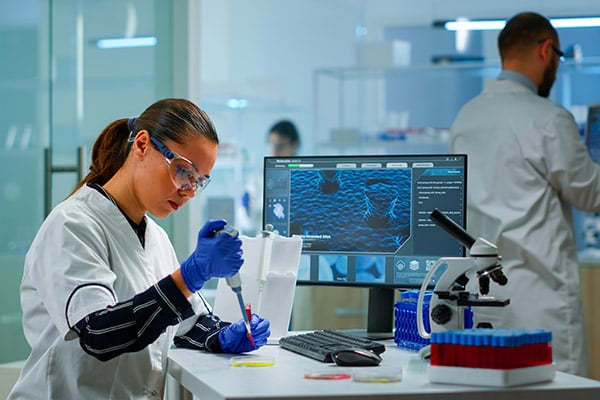 The recent spate of force majeures and the combined efforts of global pharmacology companies to bring life-saving drugs and medications to market at an accelerated pace have reiterated the requirement of single-source documentation solutions, such as OpenText Documentum. The crux lies in passing through the stringent FDA regulations, thorough clinical trial documentation and improving the time-to-market and time-to-value.
What is OpenText Documentum?
OpenText Documentum is a content services platform, which is highly integrable with core business applications. The seamless interoperability allows businesses to bridge siloes and integrate product-specific data that lies scattered across isolations at one centralized location. It allows role-based access to all stakeholders who collaborate across the product development lifecycle to incorporate the product development-related details. It enables businesses to comply with policies related to regulatory compliances, security, and privacy.
Why is OpenText Documentum important to Pharmacology and other regulated environments?
In dynamic scenarios, Pharmacology companies and other regulated business environments have to deal with many issues in the course of the business processes. This calls for stringently managing the product information, its access, and distribution. This helps to disseminate the information across the business and the regulatory authorities.

OpenText Documentum ensures centralized information management across the product management lifecycle. This product information maintained on OpenText Documentum is easily integrable with the core business applications, thus bridging the content siloes and integrating the information workflows. This approach allows the Pharmacology business to extend the content value right from product management to governance, regulatory practices, and business processes. OpenText Documentum thus supports faster time-to-market and time-to-value.
Top 4 benefits of OpenText Documentum
OpenText Documentum goes much beyond the regular document and database repositories. Some of the top benefits include –


Information at the fingertips: It allows to maintain centralized and real-time information about tests and clinical trials that can be produced before any regulatory authority. As OpenText Documentum is Cloud-based, centralized information is available anytime, anywhere to authorized users.
Improved efficiency and productivity: The centralized information at the fingertips, ease of use, seamless user experience, and real-time clinical trial results streamline processes to a significant extent. It improves process responsiveness and cycle time as well as allows seamless process orchestration.
Risk management: The auditable data and synchronously maintained trail of documents future-proofs the product management across its lifecycle and supports regulatory compliances and risk management.
Agile product development: User-friendly documentation interfaces through role-based access to all stakeholders allows to update the product information according to changing business requirements in an agile and collaborative environment.
Business impact of OpenText Documentum
Go-Green with a higher ESG rating: The paperless office scenario enables to save expenditure on paper and filing cabinets. At the same time, it improves the environment-social-governance (ESG) rating score.
Higher compliance scores: The auditable documentation trails enable fulfillment at all compliance levels, including Sarbanes-Oxley (SOX), FDA Title 21CFR Part 11.
The business continuity promise: OpenText Documentum towers above all business continuity measures and offers an infallible solution in case of business disruptions and force majeures.
Improved process agility: Centralized content and digital workflows enhance approval turnaround time by manifolds, thus improving the time-to-value.
Simply put
OpenText Documentum supports the Pharmacology and other regulated environments through the product development and management lifecycle. It ultimately expedites the time-to-market and time-to-value.
Next reading